California Booksellers Face Power Outages, Evacuations Due to Wildfires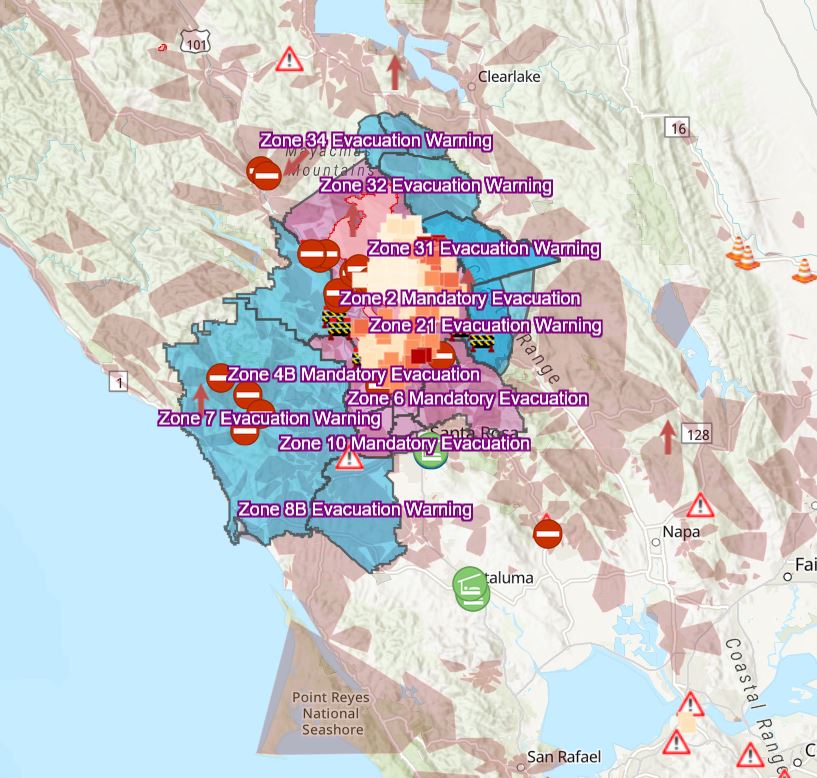 Kincaid Fire evacuation zones
As wildfires continue to burn in Northern and Southern California, booksellers throughout the state have had to face power outages, closures and even mandatory evacuation orders. In Northern California, the Kincade Fire had burned more than 75,000 acres in Sonoma County as of Tuesday evening, while in Los Angeles, the Getty Fire has burned nearly 700 acres and may continue to grow with severe Santa Ana winds expected to arrive overnight.
According to Calvin Crosby, executive director of the (Northern) California Independent Booksellers Association, some Copperfield's Books staff members based in Sonoma County have been evacuated, as have staff at Levin & Company Community Bookstore in Healdsburg; Crosby added that they are all "dispersed but safe."
Napa Bookmine in Napa still has power, and has invited customers who have lost power to come and charge their devices. Readers' Books in Sonoma has power as well, as does the (N)CIBA office, which is also in Sonoma. Treehorn Books in Santa Rosa had power and welcomed community members to drop by, charge phones and hopefully find a distraction from the chaos.
In Marin County, Pacific Gas & Electric shut off power Saturday evening and it remained off for many through Tuesday. Stephen Sparks, co-owner of Point Reyes Books in Point Reyes Station, reported that they are "well south" of the evacuation zone and the town is full of displaced people from west Sonoma County. The store closed at 3 p.m. Saturday in advance of power going out that evening, and Point Reyes Books has remained closed. Power was still out as of Tuesday afternoon and Sparks said the power will likely remain off until at least Wednesday afternoon.
Stores throughout the East Bay have also faced blackouts. East Bay Booksellers in Oakland lost power on Saturday night and was closed for the rest of the weekend. Several stores, including Rakestraw Books in Danville, A Great Good Place for Books in Oakland and Mrs. Dalloway's Bookstore in Elmwood lost power but remained open. Alibi Bookshop in Vallejo came close to being evacuated, but ended up staying open and did not lose power.
Many booksellers have reached out to the Book Industry Charitable Foundation, and Binc encourages any bookseller or comics retailer affected by the wildfires to continue to do so. In a message to booksellers, Binc said the organization may be able to help both owners and employees with expenses related to the fires and power outages, such as rent and utility expenses for stores that saw slow business or had to close, temporary housing and supplies for booksellers forced to relocate, and various personal expenses for booksellers who missed half of their scheduled weekly work hours. The foundation can be reached at help@bincfoundation.org or booksellers can call 866-733-9064.
---

---