Shelf Awareness Business Initiatives During Covid-19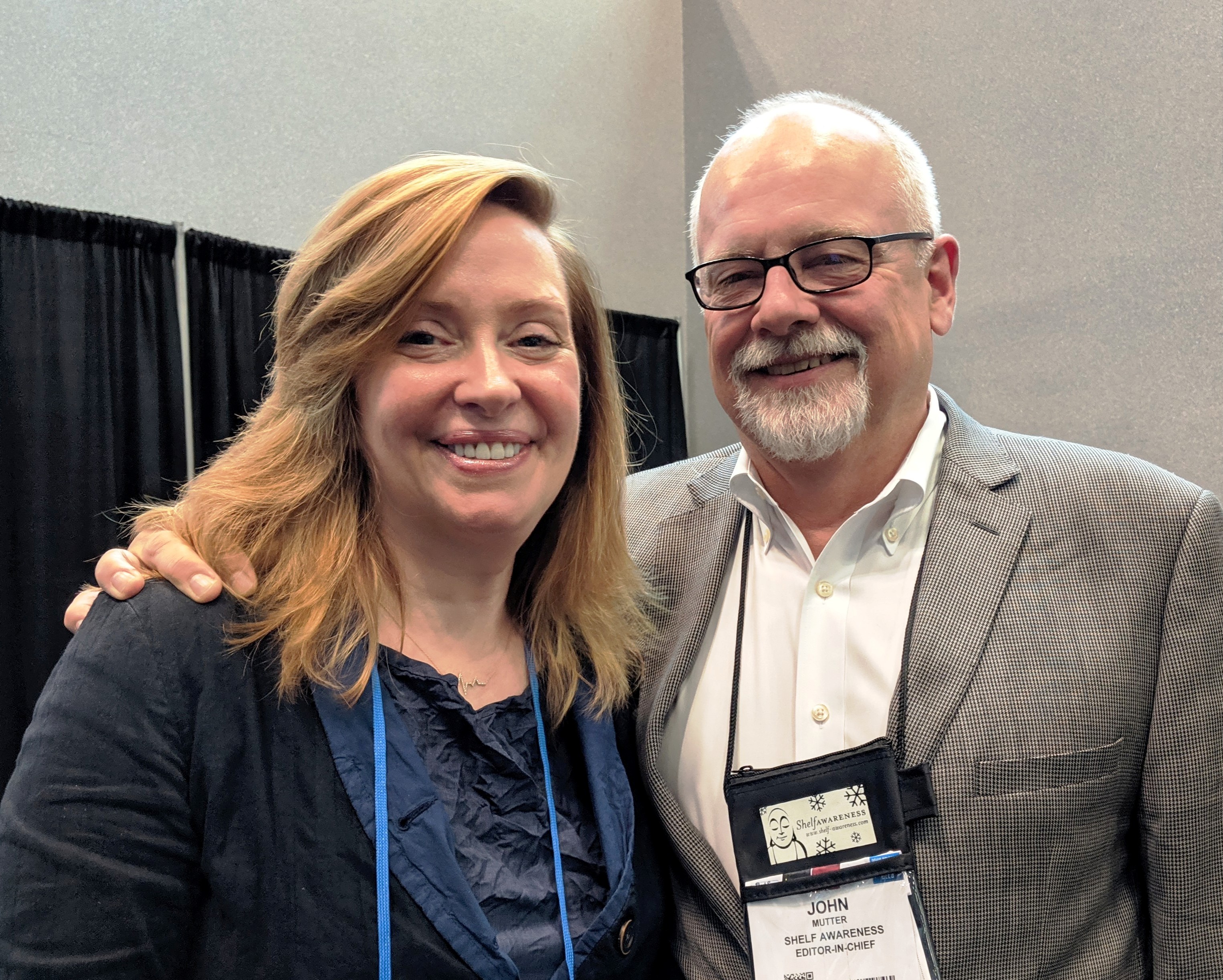 Shelf Awareness's Jenn Risko and John Mutter
We're hoping this all finds you well. This simple phrase we've all used casually a million times has never had more meaning or gravity than it does now. Many of us know someone who has or had this terrible disease, and some of us have lost someone because of it. It is not only a pandemic of illness, but of loss and worry.
Recently in our bookverse, we've seen layoffs, furloughs, salary cuts involving friends and colleagues. We've seen fundraising campaigns to keep stores alive. At the Shelf, our editorial team has never been busier: inundated with hundreds of reports every day about how booksellers are innovating in their fight to survive, and the stories of customers, publishers, wholesalers and distributors rallying behind them. Bright spots in our day are the many wonderful e-mails that thank us for connecting everyone, when we've never felt more disconnected. Keep them coming, send them here.
On the business side, we've been working hard to figure out what we can do to help indies and publishers. Here's what we've come up with so far:
1. Beginning with tomorrow's issue of Shelf Awareness for Readers, our proprietary audience (those who subscribe directly with us) will notice buy buttons that lead to the Shelf's Bookshop.org site. During this time, we will donate all proceeds from these sales to the Book Industry Charitable Foundation (Binc), first through SaveIndieBookstores, created with the help of James Patterson, and then directly to Binc to help booksellers in need. For the entire life of Shelf Awareness for Readers, we've grappled with where to send folks who have signed up to receive our newsletter directly from us, and this new initiative will make it easy for our audience to help indies--and avoid a major online competitor.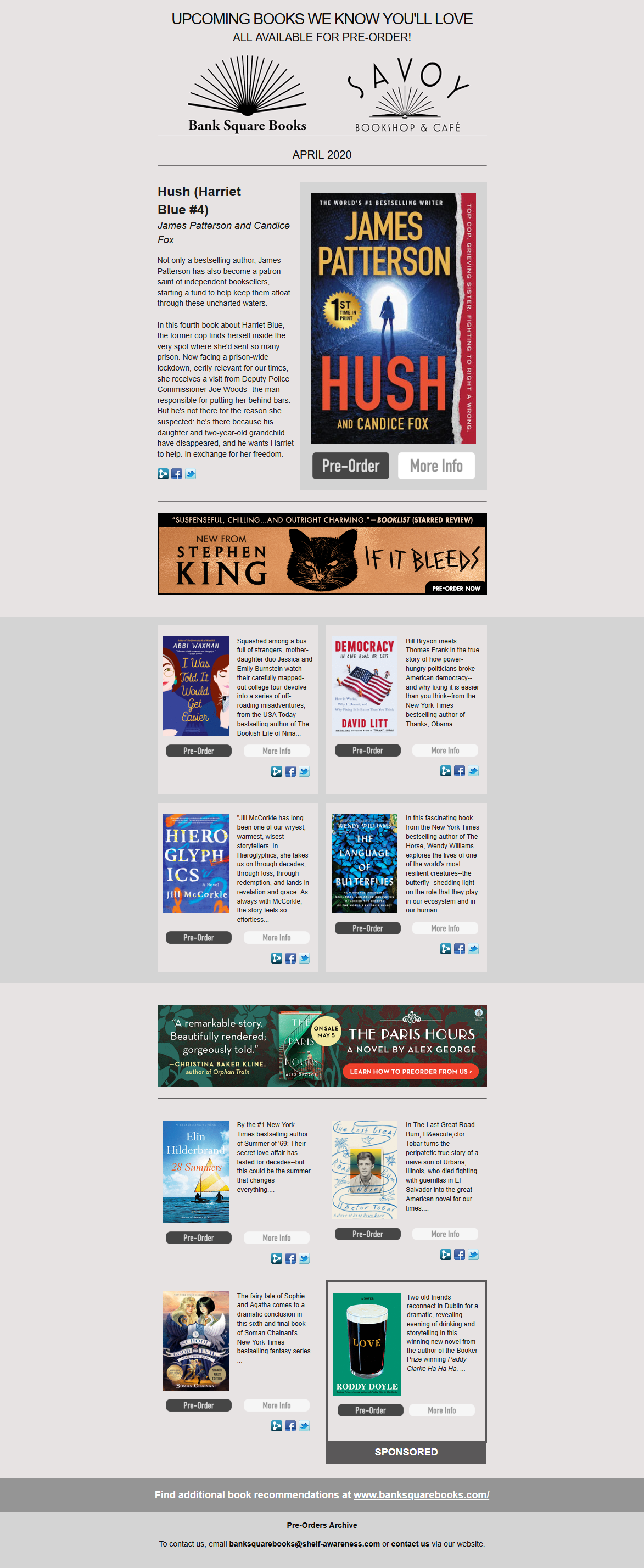 A sample of our new Pre-Order E-Blast
2. In the next few weeks, we are launching our Pre-Order E-blast, a once-a-month, consumer-facing e-blast, store-branded and including buy buttons that will drive pre-order sales to our partner bookstores. Our editors will pick the eight featured titles, but stores will be able to easily change the selection to whatever titles best suit their customers. At a time when every sale is crucial, we can't think of a better moment to launch a product that will give indies a new bucket of revenue. To see an example, click here.) Interested in joining? Contact us here.
3. One good thing has come out of all this terribleness: indies are getting better at selling books online. (And given that a certain e-tailer has deprioritized books, there's a rare opportunity to gain some market share here.) In a concerted effort to help more stores sell more books online, we're offering an incentive to all new Shelf Awareness for Readers partner bookstores. Get us your material by April 21 and let us start delivering our proven e-newsletters to your customers, and after a month of giving this program a whirl, we will buy a $50 gift card to your store. (It will make a very nice "welcome back" gift to a favorite customer!) Join the ranks of our 160 partner stores who already know that this free and zero-effort program helps them sell books. Learn more about this program here or contact us here.
4. Additionally, to help publishers market their books to indie customers, beginning today through the end of June, we are offering all ads in Shelf Awareness for Readers at 50% off our normal rates. This means you can buy an ad for $350 to reach almost half a million indie customers. Will your ROI look good? Yes, it will. But more importantly, you'll feel good about helping indies sell more books online so that they can help replace some of their lost in-store sales, and keep the future of our industry as bright as possible for us all. Here's your code: FIDDY. (We need all the levity we can get, right?) Interested? Need an expert to help you craft a campaign? Matt Baldacci and Devon Ashby are at the ready here.
If you have other ideas of how we can help, our publisher Jenn Risko is all ears here.
Every single sale by an indie has never been more important than it is now, and Shelf Awareness is here to help indies--and the rest of the book world--get through this unprecedented situation. We're all in this together. We will ALL persist--and thrive again!


---

---