New Co-owner for Beaverdale Books in Des Moines, Iowa
Hunter Gillum has become a co-owner of Beaverdale Books in Des Moines, Iowa, joining Alice Meyer, who founded the bookshop in 2006. The Register reported that regular customers "will likely already recognize the local bookshop's new co-owner... who not only worked at the store for years but has his own book club." Gillum became store manager in 2017 and was officially instated in his new role effective January 1.
Born in nearby Indianola, Gillum "moved to Iowa City for college before graduating in 2015 and making his way back to central Iowa, where he eventually began working at the local bookstore," the Register noted.
"I was a book person before coming here, and it's just like... kind of a book person's dream, doing all this stuff, like reorganizing your books, or sorting your books and stuff like that, stuff that I would be doing at my home," Gillum said.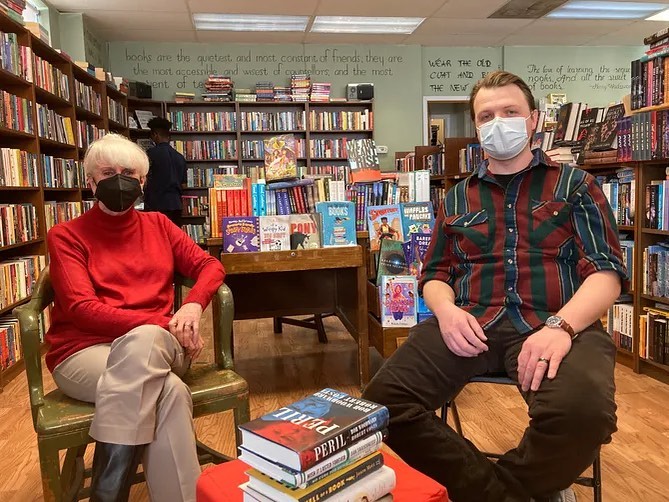 Beaverdale Books owners Alice Meyer and Hunter Gillum
Meyer recalled that sometime last year Gillum "took over the buying for the store. Because at the time, I think I was doing the buying, the events and the accounting. He just developed great relationships with our sales representatives, and just really amped up the titles that we carried in the store just by virtue of being able to meet with them and increase our inventory."
The ownership transition had been in the works for some time. "I always had a time frame for me," Meyer said, "and just recognizing that (Hunter) is the right person for the job.... We actually were aiming to do it last fall, but things were still kind of crazy and it just didn't get done.... I think that the first thing I always look for when hiring somebody is their reading habits. I knew that that was there. And he's so good with the customers and people rely on him for recommendations... and (him) taking over the buying was a godsend for me."
---

---