Amazon Closing All Amazon Books Stores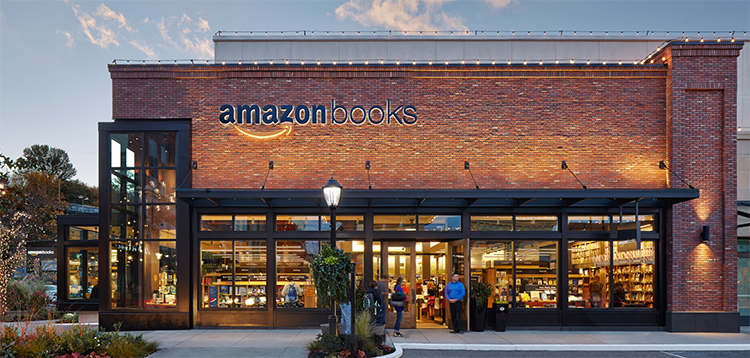 Big news from Amazon: the company is closing all of its Amazon Book books and electronics stores, as well as all of its pop-up and "4-star" stores, a move that was first reported yesterday by Reuters. Altogether, 68 stores are involved--66 in the U.S. and two in the U.K. There are some 24 Amazon Books stores around the country.
The company said it was making the move to concentrate its bricks-and-mortar efforts on Amazon Fresh, Whole Foods, Amazon Go and a new venture, Amazon Style fashion and accessories stores, the first of which is set to open in Los Angeles this year, and will feature a variety of high-tech touches, including "just walk out" cashierless technology.
Amazon Books initially opened in Seattle in 2015 (a story first reported by Shelf Awareness) and slowly expanded over the years. Observers noted that one of the main functions of the bookstores was to promote Prime membership as well as introduce Amazon's electronic products. The selection of books, usually displayed faceout with much room around each, was thin. Especially since the pandemic started, Prime membership has grown dramatically, to about 150 million in the U.S., possibly a saturation point, making the stores' function as a Prime signup spot moot.
The AP quoted Neil Saunders, managing director of GlobalData Retail, stating that Amazon's non-food stores "were designed for people to pop in and browse rather than as destinations where people would head on a mission to buy something. Ultimately, this wasn't great for driving footfall--especially in an era where people are visiting shops less."
CNBC noted that the closing comes after Amazon recorded its slowest growth rate for any quarter since 2001, and that its bricks-and-mortar stores, including Whole Foods and Amazon Fresh, had lower sales in 2021 than 2018.
Tom Nissley, who worked at Amazon for a decade before opening indie bookstores Phinney Books in 2014 and Madison Books in 2019, told GeekWire that Amazon's decision to close its bookstores "emphasizes that it's not what they're good at and it is what we're good at." He continued, as GeekWire put it, to say that "the stores, like the company's website, should have seized on what Amazon was good at, which is being able to provide everything. Instead, Amazon's super curated, face-out approach to selling books was the opposite of that."
Nissley added, "I always wondered if they would try to do something like Powell's or something where, 'Yep, we're Amazon. We have everything. And now we have it right here.' I'm sure the cost would have been immense."
Allison Hill, CEO of the American Booksellers Association, commented: "The closing of Amazon's physical bookstores proves that there is more to a successful bookstore than the transaction of selling books. Amazon learned the hard way that what independent bookstores do is special, and it's hard. Especially when faced with an unfair competitor. Hopefully, these closures bring the book business one small step closer to a level playing field. In the long-term, breaking up and regulating Amazon is the only way to achieve that goal."
---

---