Noir Bookshop, St. Louis, Mo., to Host Soft Opening on IBD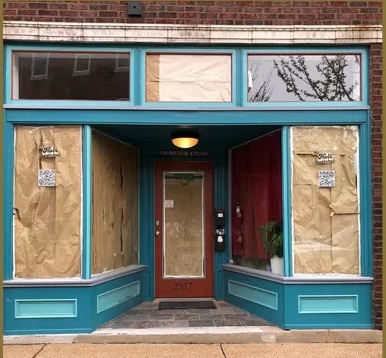 Noir Bookshop in progress.
The Noir Bookshop, a new and used independent bookstore in St. Louis, Mo., specializing in Black and POC literature, will host a soft opening this Saturday, Independent Bookstore Day. Store owner Ymani Wince told St. Louis magazine that she plans to host a grand opening in June, but will open the storefront at 2317 Cherokee St. for a one-day preview this weekend.
Wince has envisioned a three-part mission for the store that includes education, inspiration and community. In addition to books, the store will carry gifts, art and other items made by Black and brown makers, and Wince's event plans include author signings as well as free lunch programs and clothing drives.
Wince said that when she was a kid, "the books that I knew, the authors that I knew, they weren't Black. They were Beverly Cleary. They were Judy Blume, Stephenie Meyer from Twilight—all of those series books that centered around white, female, heterosexual characters. I never saw myself when reading those books, so now I'm getting deeper into Black authors."
Wince announced her plans to open the Noir Bookshop in December. She started out by selling books online and in February held her first in-person pop-up at clothing store Profield Reserve. Last week she launched a crowdfunding campaign to help her fill out the store's inventory, which has brought in nearly $1,400 so far.
---

---