Fighting Book Bans: PEN America/PRH/Authors/Parents Sue Florida School District & Board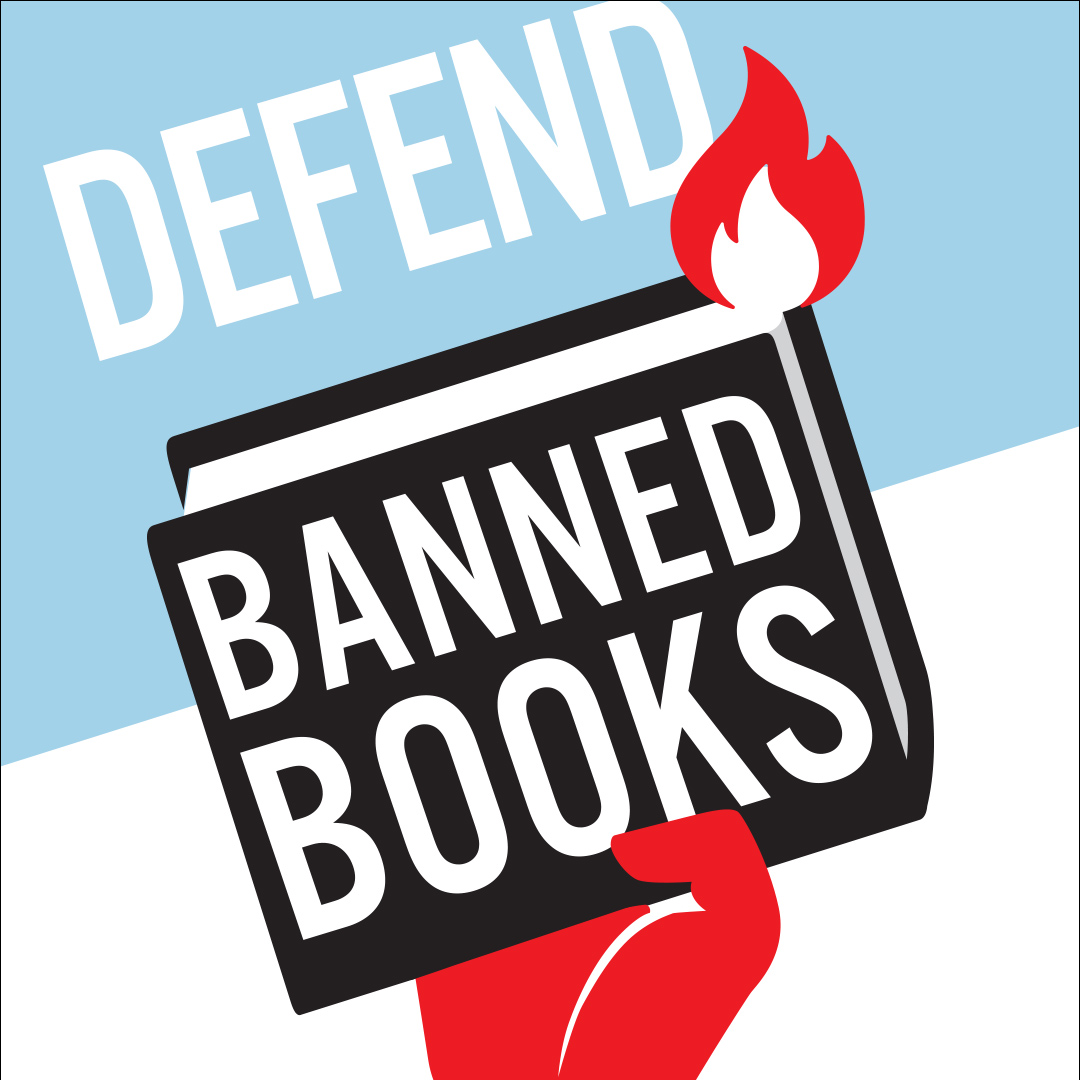 Yesterday, PEN America, Penguin Random House, five authors--Sarah Brannen, George M. Johnson, David Levithan, Kyle Lukoff, and Ashley Hope Pérez--and two parents on behalf of themselves and their student children sued the Escambia County School District and School Board in Florida over book bannings and access restriction in the area's public school libraries.
Altogether nearly 200 books have been challenged in Escambia County, whose county seat is Pensacola and an area the plaintiffs described as "at the heart" of efforts in Florida to ban books coordinated with national book-banning groups. Ten books have been removed by the school board; five books were removed by district committees; and 139 books are restricted, often while "under review" for an indeterminate time, and require parental permission for a student to see the book.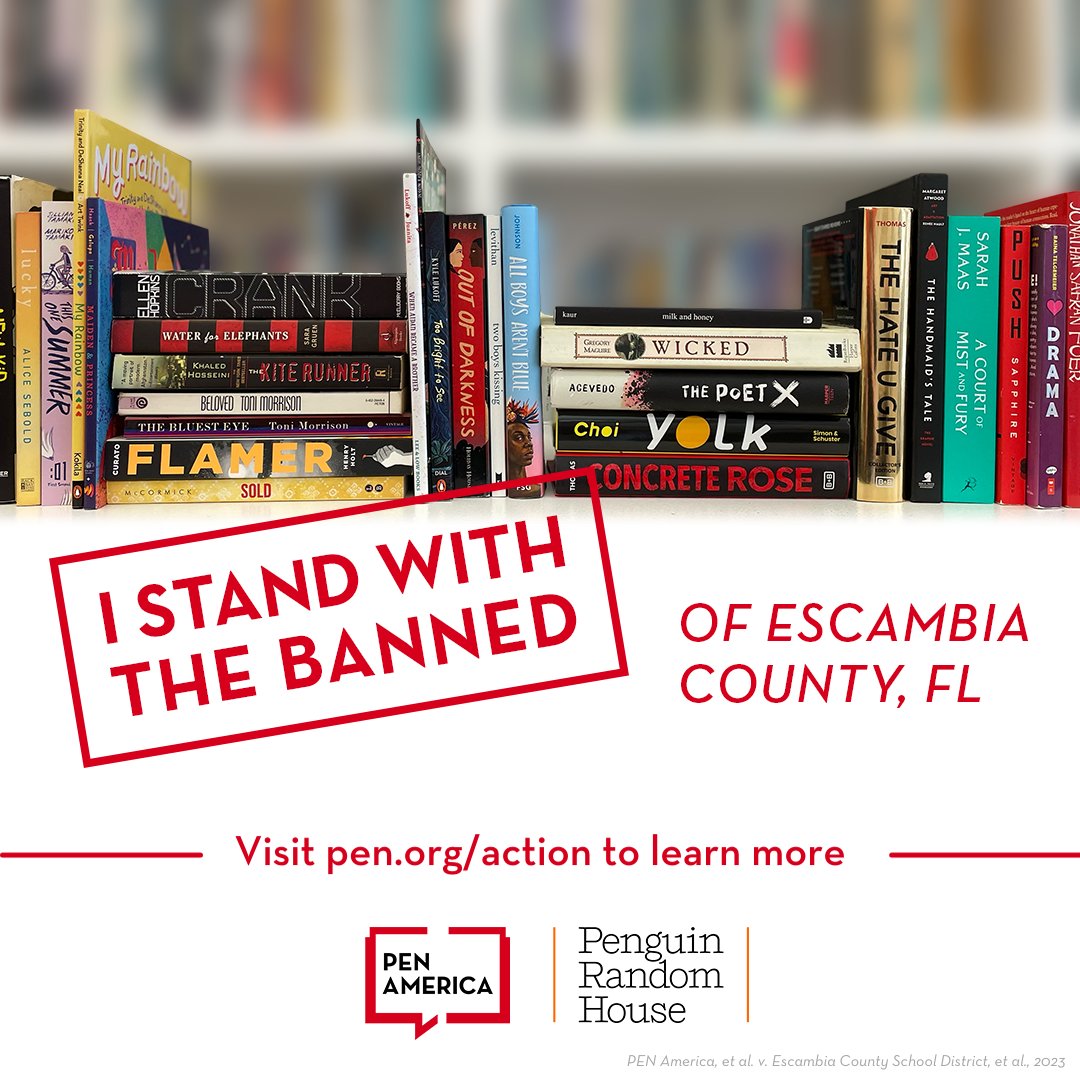 In the lawsuit, filed in federal district court, plaintiffs said that the school district and school board have banned and restricted books based "on their disagreement with the ideas expressed in those books. They have repeatedly ignored their existing policies for review. In every decision to remove a book, the School District has sided with a challenger expressing openly discriminatory bases for challenge, overruling the recommendations of review committees at the school and district levels. These restrictions and removals have disproportionately targeted books by or about people of color and/or LGBTQ people, and have prescribed an orthodoxy of opinion that violates the First and Fourteenth Amendments."
In particular, the First Amendment "bars a school district from removing books from school libraries, or restricting access to such books, based on political or ideological disagreement with the ideas they express." In ordering the removal of some titles against the recommendations of experts within the school district, "the School District and the School Board are depriving students of access to a wide range of viewpoints, and depriving the authors of the removed and restricted books of the opportunity to engage with readers and disseminate their ideas to their intended audiences. Such viewpoint discrimination violates the First Amendment."
As for the Fourteenth Amendment, the plaintiffs argue that the actions of the district and school board "violate the Equal Protection Clause because the books being singled out for possible removal are disproportionately books by non-white and/or LGBTQ authors, or which address topics related to race or LGBTQ identity. This is no accident. The clear agenda behind the campaign to remove the books is to categorically remove all discussion of racial discrimination or LGBTQ issues from public school libraries. Government action may not be premised on such discriminatory motivations."
The suit focuses in large part on the ongoing efforts of Vicki Baggett, a language arts teacher at the School District's Northview High School, to ban or limit access to particular titles, relying on national book banning organization's characterizations and recommendations. The plaintiffs cite a range of titles that have been banned, restricted, and/or are under review, including Slaughterhouse-Five by Kurt Vonnegut (because it includes "bestiality, nudity [and] crude language"), Draw Me a Star by Eric Carle (because it contains an image of a naked man and woman), and The Kite Runner by Khaled Hosseini (because of its depiction of a sexual assault, "horrific language," and "indoctrination").
The five author plaintiffs all have titles that have been affected by the bannings, restrictions, and reviews, including Uncle Bobby's Wedding by Sarah Brannen; All Boys Aren't Blue by George M. Johnson; Two Boys Kissing by David Levithan; When Aidan Became a Brother and Too Bright to See by Kyle Lukoff; and Out of Darkness by Ashley Hope Pérez.
In addition, plaintiffs note that the defendants often cite Florida's "don't say gay" law for their bannings, but that applies only to classroom instruction, not libraries.
The plaintiffs are asking the court to require all the books at issue be returned to the shelves of the school libraries or retained in the libraries.
Speaking about the suit, Nihar Malaviya, CEO of PRH, said, "Books have the capacity to change lives for the better, and students in particular deserve equitable access to a wide range of perspectives. Censorship, in the form of book bans like those enacted by Escambia County, are a direct threat to democracy and our constitutional rights. We stand by our authors, their books, and the teachers, librarians, and parents who champion free expression. We are proud to join forces with our longtime partner PEN America."
Suzanne Nossel, CEO of PEN America, commented: "Children in a democracy must not be taught that books are dangerous. The freedom to read is guaranteed by the constitution. In Escambia County, state censors are spiriting books off shelves in a deliberate attempt to suppress diverse voices. In a nation built on free speech, this cannot stand. The law demands that the Escambia County School District put removed or restricted books back on library shelves where they belong."
Author Ashley Hope Pérez added, "Young readers in Escambia schools and across the nation deserve a complete and honest education, one that provides them with full access in libraries to a wide range of literature that reflects varied viewpoints and that explores the diversity of human experiences. As a former public high school English teacher, I know firsthand how important libraries are. For many young people, if a book isn't in their school library, it might as well not exist."
Macmillan CEO Jonathan Yaged said, "Macmillan staunchly supports our author, George M. Johnson, PEN America, and all the plaintiffs in their lawsuit against Escambia County School District and Escambia County School Board, Fla. As future leaders of our democracy, children need and deserve access to the full breadth of who we are as Americans. The censorship of books is a direct attack on the founding principles of our country and our constitutional rights as citizens."
---

---