Ahoy, Mateys!
Next Thursday, September 19, is International Talk Like a Pirate Day. Here are some books to help you and yours brush up on your lingo and avoid walking the plank.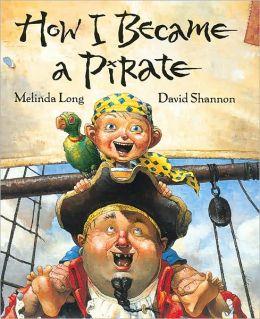 In How I Became a Pirate by Melinda Long, illustrated by David Shannon (Houghton Mifflin Harcourt), young Jeremy Jacobs can't resist a pirate crew's invitation to join up, but discovers he's a landlubber at heart (there's no place like home). Lest you think girls have no place among pirates, the heroine of the charming early chapter book Kylie Jean, Pirate Queen by Marci Peschke, illustrated by Tuesday Mourning (Capstone), sets out to prove otherwise.
In a similar vein, for readers aged 12-up, orphaned Mary "Jacky" Faber passes for the titular ship's boy in Bloody Jack by L.A. Meyer (Houghton Mifflin Harcourt) and finds herself battling pirates on the high seas. Don't miss the captivating audio version (Listen & Live audio), read by Katherine Kellgren. A new entry in this gender-bending genre is The Very Nearly Honorable League of Pirates #1: Magic Marks the Spot by Caroline Carlson (HarperCollins), reviewed below.
But let's not forget the boys! Intrigue abounds in Jennifer Nielsen's The False Prince, in which four orphans attempt to impersonate the missing Prince Jaron. In the sequel, The Runaway King (both Scholastic), the chosen orphan winds up face to face with the pirates who purportedly dispensed with Jaron. How to Train Your Dragon, Book 2: How to Be a Pirate by Cressida Cowell (Little, Brown) makes the pirate life look like pure fun, as does the highly interactive Pirateology by Dugald E. Steer (Candlewick). For two visually imaginative takes on classics, check out Robert Sabuda's 3-D interpretation of Peter Pan (S&S) and his archnemesis, Captain Hook, and Treasure Island by Robert Louis Stevenson, recently reissued with gorgeous full-color illustrations by N.C. Wyeth (Atheneum). --Jennifer M. Brown, children's editor, Shelf Awareness