Fat Fall Nonfiction
Yes, more big books--although when a nonfiction book is lengthy, it's usually described as "substantial," rather than fat. Worthy of serious consideration is Norman Mailer: A Double Life by J. Michael Lennon (Simon & Schuster, $40, October 15)--at 960 pages, possibly the winner in the length sweepstakes this season--an authorized portrait by a Mailer friend and scholar. The heft can be increased by pairing it with Mind of an Outlaw: Selected Essays, edited by Phillip Sipiora (Random House, $40, October 15), at 656 pages--Mailer's witty, opinionated and smart short pieces.
Another contender in the length sweepstakes is A Life of Barbara Stanwyck: Steel-True, 1907-1941 (Simon & Schuster, $40, November 12). Victoria Wilson has turned in 1,056 pages for just the first volume of what the publisher calls a groundbreaking biography with the historical overview of a Robert Caro or a David McCullough.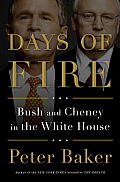 Days of Fire: Bush and Cheney in the White House by Peter Baker (Doubleday, $35, October 22): 816 pages. "The real story of Bush and Cheney is a far more fascinating tale than the familiar suspicion that Cheney was the power behind the throne."
In Fosse by Sam Wasson (Houghton Mifflin Harcourt, $32, November 5), the author reveals "the deep wounds that propelled Bob Fosse's excessive appetites--for spotlights, for women, and life itself." It would be facile to say, at 736 pages, that the length is also excessive, but dip into the book anywhere and it will hook you.
Johnny Cash: The Life by Robert Hilburn (Little, Brown, $32, October 29): 688 pages. "People don't just listen to Johnny Cash--they believe in him. But no one has told the Man in Black's full story, until now." For his fans, the book won't be long enough.
Fat books provide the proverbial more-bang-for-your-buck reading pleasure; at the same time, they can be mightily impressive on a coffee table (right next to your Proust), with a bookmark casually tucked about halfway through. --Marilyn Dahl, editor, Shelf Awareness for Readers