The Power of Locavesting
I'm a big believer in farmers' markets. The Shelf's Seattle office is only a block away from the famous Pike Place Market, and my daughter and I go almost every week to our neighborhood farmers' market, surveying the local farmers' bounty. Okay, I survey the bounty, she eyes the ice cream truck.

But recently I began to see the farmers' market and the people in the booths behind them differently, thanks to a book by Amy Cortese.

Locavesting: The Revolution in Local Investing and How to Profit From It, published by Wiley in June, teaches you how to think about what you do with your money and how important it is to invest in your community. It's heartening, of course, for those of us in the book business to read in the pages about some of our favorite bookstores, championed because the community invested in them. Reading the stories of how every time you choose to spend your money locally and how it directly enriches your everyday life is, well, life-changing. My pals are almost sick of me lecturing them about this, but truly, pick it up, read it, and I dare you not to feel completely compelled to take all your money out of that big evil bank and find one that does something to better your community. They exist; go find them.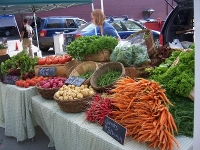 At the farmers' market I've insisted my daughter ask vendors to tell us about their journeys. We hear stories of farms, the acreage they're protecting, the people they employ and details about how they make that incredible blackberry ice cream--because it was their grandmother's secret recipe and is from the cows that are descended from their favorite bovines of childhood. My daughter looks up at me with expectant eyes, and I can only hear the wondrous call of "locavesting" and say, "Yes. Ice cream. Before dinner. Yes." --Jenn Risko, publisher, Shelf Awareness