Jacqueline Kennedy in Her Own Sharp Words
In this age of hyperbole, it's refreshing to come across a new book truly that is historic--even if it's also rather catty.

In early 1964, only months after the assassination of her husband, Jacqueline Kennedy sat down seven times with historian Arthur Schlesinger, Jr., as part of an oral history project on the Kennedy presidency. Their conversations, which lasted a total of six and a half hours, focused on the legacy of John F. Kennedy but also touched on her role as First Lady; the relationships between President Kennedy and his brothers; and her views on the major political figures she met. She also talked about her husband's personal opinions about figures in history, political adversaries, his reading habits and more. The interviews were recorded and then sealed at the Kennedy Library, unheard and unread by more than a handful of people. Until now.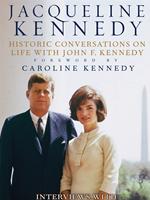 Today Hyperion is publishing Jacqueline Kennedy: Historic Conversations on Life with John F. Kennedy, a rich multimedia title that includes 100 photographs, eight CDs of the interviews, a transcription of the interviews, an introduction and annotations by historian Michael Beschloss and a foreword by Caroline Kennedy. Excerpts quoted in yesterday's New York Times portray a First Lady who was engaged on many levels, protective of her husband and his legacy, old-fashioned about marriage and brutal in her comments on most people.
This new title fills a striking gap in the Kennedy record: the key person missing in all the millions of words written and spoken about the presidency of John F. Kennedy has always been his intensely private wife, known by the public mainly from paparazzi photographs, for her personal story, for her sense of style and, in the book world, for her work for two decades as an editor at Viking and Doubleday. "This is the first time we hear her talk in her own words about that time," said Gretchen Young, editor of the book. "It's extraordinary to hear her finally."
Caroline Kennedy is campaigning energetically for the book and will appear on a variety of shows, including tonight a special edition of ABC's Prime Time with Diane Sawyer. You'll hear a lot about this book this week and the next few months. You'll also hear an American treasure, warts and all. Happy reading--and listening! --John Mutter