Happy Birthday, Alice Walker!
Tonight on American Masters on PBS at 9 p.m., Alice Walker: Beauty in Truth, the first film biography about the novelist, poet, nonfiction writer and activist, makes its debut. It's timed to honor both Walker's 70th birthday, which takes place on Sunday, and Black History Month.
Directed by Pratibha Parmar, the documentary tells the story of an author who's tackled some of the toughest topics a writer can: racism, sexism, class and economic inequalities, as well as female genital mutilation. Parmar follows Walker's life from her birth into a family of sharecroppers in Eatonton, Ga., her relationship with her mother, early poverty and her participation in the Civil Rights Movement, all of which were major influences on Walker and her writing. (Parmar and Walker collaborated on the book Warrior Marks: Female Genital Mutilation and the Sexual Blinding of Women, which Parmar made into a documentary.)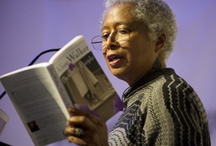 Of course, the film also highlights Walker's books, the best known of which is The Color Purple, which won the Pulitzer Prize and National Book Award. It was also adapted into a musical, as well as the film directed by Steven Spielberg and starring Whoopi Goldberg, Danny Glover and Oprah Winfrey. (Alice Walker: Beauty in Truth includes interviews with Spielberg and Glover, along with Quincy Jones, Gloria Steinem, Sapphire and the late Howard Zinn.)
More than 20 years ago, I had the fortune of tagging along for part of Walker's tour for Possessing the Secret of Joy. In one memorable day in Atlanta, Ga., I saw her dazzle SRO crowds at the Shrine of the Black Madonna Bookstore and Cultural Center and at Charis Books & More--leading African American and feminist bookstores in the country--demonstrating the breadth of her appeal. Walker spoke slowly and intensely, each word measured, in the style of poets. Both crowds--who looked very different--listened in awed silence.
Don't miss this tribute to one of the legends of American literature. And don't miss her books! --John Mutter, editor-in-chief, Shelf Awareness