Will You Be Mine?
Let's admit it: from homemade folded-paper hearts in kindergarten to imported chocolates as adults, we love getting Valentines. Here are a few favorite books to express your affection to loved ones, from toddlers to teens, and even a little something for yourself.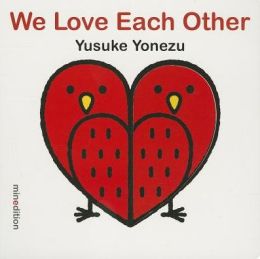 As the animals in We Love Each Other by Yusuke Yonezu pair off, they form shapes that youngest book lovers will easily recognize, such as the back-to-back birds on the cover, which form a red heart, and the two half-circle turtles that complete a green circle. The Silver Button by Bob Graham portrays familial love, as a girl witnesses her toddler brother's first steps. Aphrodite by George O'Connor may at first blush look like a book for girls, but boys will find just as much action and intrigue in this graphic novel addition to the fabulous Olympians series.
It wouldn't be Valentine's Day without a book of poetry, and this one's a knockout: What the Heart Knows: Chants, Charms and Blessings by Joyce Sidman, illustrated by Pamela Zagarenski. You'll find 29 poems of friendship, romance and creativity, plus artwork with a visual poetry all its own. It's a gift for friends and lovers alike.
No date for Valentine's Day? Settle in with some chocolate and Cress by Marissa Meyer, the third book in the Lunar Chronicles begun with Cinder. And if you haven't yet started this (literally) stellar series, you'll be grateful that Monday's a holiday so you can devour them all in one weekend.
You think you're tapped out on vampire books? Then you haven't yet read Holly Black's The Coldest Girl in Coldtown. A vampire to rival Tim Curry stars in a dance of predator and prey more sensual than violent.
And if what you really want is an old-fashioned, well-written, realistic love story, then How to Love by debut author Katie Cotugno is just the ticket. --Jennifer M. Brown, children's editor, Shelf Awareness