Visual Epiphany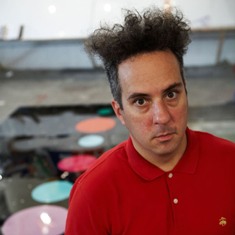 Stephen Powers started as a graffiti artist in Philadelphia and now his work has been commissioned from Coney Island to Johannesburg, from Dublin to São Paulo. A Love Letter to the City (Princeton Architectural Press, $24.95) collects his murals, created in close collaboration with the communities displaying them all over the globe.
In the 1980s, PAGN--the Philadelphia Anti-Graffiti Network--sought to channel young graffiti artists like Powers into a more constrained idea of what graffiti should be. He said, "PAGN was a first attempt at stopping graffiti by rerouting graffiti writers onto a job track.... Nowadays I think organizations want writers to write graffiti, but just the fancy version without the criminality."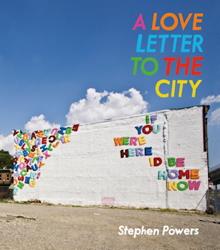 We asked him about the work he's most proud of. "What's interesting in the development of an artist is I think you pass a point where you stop being proud of anything, and you really measure success by what is working. The last time I said 'this is the best thing I ever painted,' it was a graffiti piece. Graffiti doesn't work, it hangs out beautifully."
Discussing influences he would point younger artists toward, Powers said, "If you have anything in your life that you see that you think is really special, I really believe that's the universe speaking to you personally. For me, it's an old version of the Singer sewing machine logo. As a four-year-old I felt profound wonder looking at this logo of an S with words inside the letter. I still think about it and it's carried through to my work to this minute. I imagine everyone has their own epiphany; you might already be carrying with you. Go look, we'll wait." --Matthew Tiffany, LCPC, writer for Condalmo and psychotherapist