Synchronicity
I recently received a copy of And There Was Light, written in 1963 by Jacques Lusseyran and just reprinted by New World Library--the memoir of a blind hero of the French Résistance in World War II. Shortly after that, we interviewed Barbara Brown Taylor for her new book, Learning to Walk in the Dark. She was asked about why she included Lusseyran's story in her book.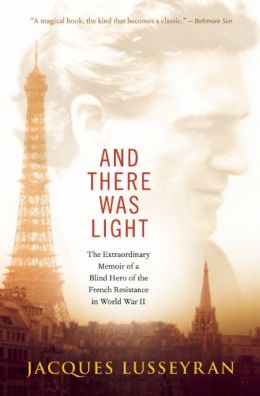 She said, in part, "Once I began reading everything I could find with 'dark' or 'darkness' in the title, I fell in love with so many authors [who] came at darkness from so many angles that I knew I could not write the book without their help.... Lusseyran's angle was physical blindness, and his writing was so luminous that I could not figure out why I had never heard of him before. He writes like an angel, like a mystic. His response to losing his sight at an early age is so surprising that it will change the way anyone thinks about blindness. You end up almost envying him."
Exactly two weeks later, we interviewed Anthony Doerr for his new novel, All the Light We Cannot See. In his acknowledgements he writes that he owes a debt to Jacques Lusseyran's memoir: "He lost his sight at a young age.... What's beautiful about it is that his parents didn't see it as a disability; he never gave in to despair. He led a busy boyish life, and he became convinced, in an almost mystical way, that the world is composed of light and that he figured out some ways to actually see it. He becomes involved in the French Resistance because he is so good at listening to voices that people think he is like a lie detector."
What endorsements! I'm reading the book now and am just as entranced as Brown and Doerr. You will be, too. --Marilyn Dahl, editor, Shelf Awareness for Readers