Authors in the Flesh
One of the harder things for booksellers to admit is the number of acclaimed authors they haven't read. Sure, you can't read everything, but a book like Joseph O'Neill's Netherland (Vintage, $15.95), winner of the 2009 PEN/Faulkner Award, certainly blips on the radar. Last week, I enjoyed lunch at Ravenna Third Place Books in Seattle while O'Neill spoke to a small crowd of us readers about his new novel, The Dog (Pantheon, $25.95). Following the often comic adventures of an American called only by his initial, X, in the startling metropolis of Dubai, O'Neill's fourth novel landed on the longlist for the 2014 Man Booker Prize. It was about time I became acquainted with his work.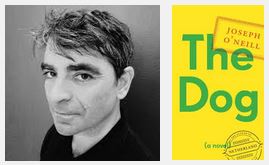 What's remarkable about an author event is the opportunity it affords a reader to experience the work in the writer's own voice while engaging with other readers in attendance, who are quite likely already avid fans. In one sense, we're allowed to sample a book, or an author's oeuvre, without yet investing in a reading experience we're unsure of. In another sense, a reading is a place to introduce yourself to a new world of possibility.
Many bookstores offer author events, free of admission, many times a year. I can't tell you how often I have overwhelmingly enjoyed a reading by an author I knew next to nothing about at the time. Plenty of them now rank among my favorite books: The Orphan Master's Son (Random House, $15), Alif the Unseen (Grove, $16), Incarnadine (Graywolf, $16), A Tale for the Time Being (Penguin, $16), History of a Pleasure Seeker (Vintage, $15.95). The list goes on, but I think you get the picture. I can't recommend author events highly enough. Check out your local bookstore's events list, and maybe pick a couple to go to this month. You might just find your new favorite author! --Dave Wheeler, publishing assistant, Shelf Awareness