Chillers & Thrillers
As Halloween draws near, we have some favorite chillers and thrillers, from board books to YA novels to audiobooks. The Hallo-Wiener by Dav Pilkey (Scholastic), debuting in a board book edition, stars a Dachshund named Oscar, teased by his canine peers for his shape, size and bun costume--until he proves to be the perfect foil to a menacing "monster."
Two beginning readers emphasize the treats of friendship: Dog and Bear: Tricks and Treats by Laura Vaccaro Seeger (Neal Porter/Roaring Brook) and Katy Duck's Happy Halloween by Alyssa Satin Capucilli, illustrated by Henry Cole (Simon Spotlight). Don't forget Adam Gidwitz's original spin on the Brothers Grimm, closing with The Grimm Conclusion (Dutton). Another book to keep readers up nights (in the best way) is Guys Read: Thriller, edited by Jon Scieszka (HarperCollins). Candace Fleming uses a real cemetery as a backdrop for her collection of spinetingling tales On the Day I Died (Schwartz & Wade); the audiobook (from Listening Library) would make a sensational soundtrack for a haunted houseparty.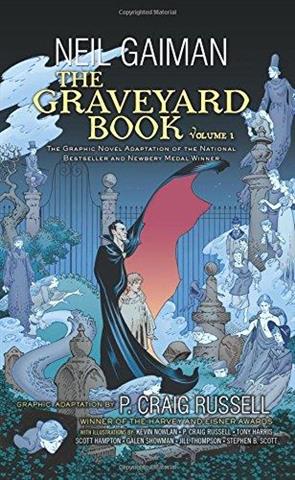 The YA short stories in Monstrous Affections, edited by Kelly Link and Gavin J. Grant (Candlewick), include as many psychological thrillers as situational chillers. Two teenage friends drink down a petrified bat with unnerving results in Glory O'Brien's History of the Future by A.S. King (Little, Brown). Hitting close to home in the wake of the Ebola virus, Love Is the Drug by Alaya Dawn Johnson (Arthur A. Levine/Scholastic) combines spies, intrigue and a deadly pandemic. (These last two are reviewed below.)
Readers can now enjoy Neil Gaiman's Newbery Award–winning The Graveyard Book three ways (all from HarperCollins): the original novel, the audiobook (read by the author) and the new two-volume graphic novel set (adapted by P. Craig Russell). Check out Kevin Nowlan's rendering of the bloody knife that opens Volume 1, and Scott Hampton's climactic scene in the Frobisher Mausoleum in Volume 2. --Jennifer M. Brown, children's editor, Shelf Awareness