Time Behind Bars
After making its debut on Netflix last year, Orange Is the New Black this year was nominated for 12 Emmys (it won three) and renewed for two more seasons. It's safe to say we're hooked on this captivating glimpse of life in prison, and after binge-watching the first season, many viewers picked up Piper Kerman's memoir, on which the series is based.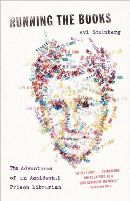 There's no reason to stop with Kerman, though. Avi Steinberg never expected to work in the penal system, but when the need for health insurance sent him job hunting, he found himself a prison in Boston. His memoir, Running the Books, catalogues his time at the prison's library counter, detailing the inmates with whom he worked and the myriad ways they used the library to learn, connect with the outside world and even break the rules.
Rene Denfeld works as a death-row investigator, a professional experience that shapes her stunning, imaginative novel, The Enchanted. The book tells the story of a group of death-row inmates by focusing on the prison as a whole, rather than on their individual crimes. With just a touch of the fantastical, Denfeld masterfully brings to light the despair that lurks in one of the darkest places in our society.
Kathy Page's novel Alphabet centers on one inmate, Simon Austen, in prison for murdering his girlfriend. Austen wears his history quite literally on his skin, as he tattoos onto his body all the names and words he has been called: "dumb," "waste of space," "threat to women." As Alphabet tracks his incarceration over many years, what emerges from beneath his crude exterior is not the cold-blooded killer one might expect, but a surprisingly sympathetic character caught in a web of startlingly cruel prison politics. --Kerry McHugh, blogger at Entomology of a Bookworm