Veterans Day Reading
To commemorate Veterans Day, we recommend some stellar books that may give readers a deeper understanding of the men and women who serve.
Karl Marlantes raised the bar for war novels high with Matterhorn in 2010; he knows the "mad monkey" inside combat veterans. In his next book, What It Is Like to Go to War, he presents ways to preserve the humanity (and sanity) of our military while honoring the humanity of those they kill--both are essential reading.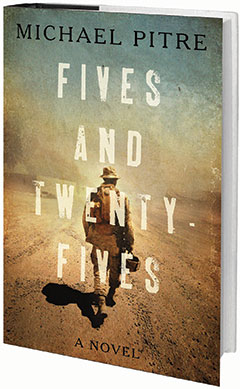 In Fives and Twenty-Fives, our reviewer wrote that Michael Pitre limns "the quiet pathos of war, its aftermath... and the inability of a tone-deaf society to relate to [our veterans]." His characters--three Iraqi vets--are authentic and mesmerizing; the story "is sometimes difficult to abide, but is also necessary; we are lucky to have such a fine voice as Pitre's to tell it."
Ben Fountain's debut novel, Billy Lynn's Long Halftime Walk, also touches on the theme of a society unprepared (or unwilling) to understand the military. In it, the eight remaining men of Bravo Company are brought to a Dallas Cowboys game to be trotted out for spectacle, while knowing they are facing a return to war. Our review called this a "sad, true story about what adventure wars do to us, all of us.... If it doesn't bring you to your knees, read it again."
We applaud our men and women in uniform at sports events, we allow them to board first on planes but, as Howard Schulz and Rajiv Chandrasekaran say in For Love of Country (Knopf), "we hardly know their true measure." They aim to change that with accounts of heroics both on the battlefield and at home.
Three woman forged bonds in Afghanistan and Iraq, bonds that they continued for support after returning home; their story is movingly told by Helen Thorpe in Soldier Girls: The Battles of Three Women at Home and at War. --Marilyn Dahl, editor, Shelf Awareness for Readers