Gift Books: Creatures Great and Small
I was horrified to learn that there are at least 89 Christmas radio stations already playing "Little Drummer Boy" over and over. On the other hand, that means it's time to begin thinking about gift books. We'll ease into one of the pleasures of the holidays with animals, dogs in the forefront.
Two years ago, Underwater Dogs was a big hit; this year, Dogs in Cars by Lara Jo Regan (Countryman Press, $19.95) is just as much fun--they smell the breeze, they howl, they help steer. Dogs in other places are represented by War Dogs: Tales of Canine Heroism, History, and Love by Rebecca Frankel (Palgrave Macmillan, $26) and Top Dog: The Story of Marine Hero Lucca by Maria Goodavage (Dutton, $26.95). These stories will move readers to tears, but mainly happy tears.
But what about cats, we feline lovers ask? Lisa Erspamer has collected letters celebrating kitties in A Letter to My Cat (Three Rivers Press, $25), coupling them with charming photos. Cats (and owners) will like Mouse Muse: The Mouse in Art (Monacelli Press, $35). Lorna Owen has compiled an adorable selection of images of "nature's most humble creature," from Roman bronzes to laser-scanned mice on a Prague building.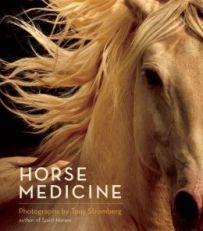 This year's entry into the magnificent equine photography category is Horse Medicine--photographs by Tony Stromberg (New World Library, $45). "Horse medicine" refers to horses being considered wise and healing creatures, and the elegant images in the book attest to their powers.
Rabbits are probably not deemed elegant by even the most die-hard fans, but "elegant" is a perfect word to describe Bunnies (Glitterati $95). Quirky, funny and sweet, the bunny paintings of Hunt Slonem are delightful, and presented in a large format with bunny endpapers, bunny-print fore edge, and bunny ribbon for marking your favorite cottontail. --Marilyn Dahl, editor, Shelf Awareness for Readers