Take a Book, Return a Book
The Little Free Library movement began in Hudson, Wis., in 2009, when Todd Bol built a box for books and stood it in his front yard--a tribute to his mother, a lifelong reader. From that modest beginning, LFLs have spread to 80 countries, with at least 25,000 units and more than 35 million books--book sharing at its most basic, and for some communities, its most effective.
In The Little Free Library Book (Coffee House Press, $25), Margret Aldrich spoke with 70 LFL "stewards," from Uganda to Ukraine to the Los Angeles Police Department. She asked them why they built their LFLs, what makes them special, what are the weirdest books to show up. She proffers advice on getting started; ordering a LFL or building your own; launching a library, from chalking a sidewalk to a press release; curating a selection (the mixture will take on a life of its own, but it can be stocked for an occasion, like Black History Month).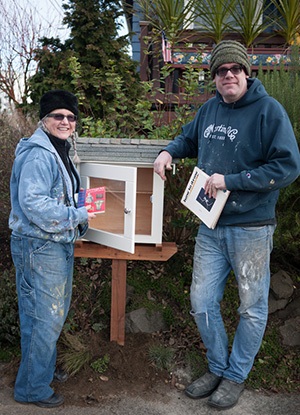 John Kieltyka and his wife, Monika Lidman, show off their Little Free Library.
The book is filled with photographs of LFLs (and their stewards), like a bright blue TARDIS and a house covered with colorful buttons. Our favorite is the one built by Shelf Awareness's John Kieltyka and his wife, Monika Lidman. On the day they went outside to install it, they discovered their neighbors Bob and Karen White placing one across the street. Within the hour, two little street libraries were open for business; their goal now is to get every house on the street to have one.
This is not just a nice book to peruse; it's an inspiration and invitation to share books and conversation and joy. Who doesn't like to walk down a street and see what's new in their neighborhood LFL? --Marilyn Dahl, editor, Shelf Awareness for Readers