In Praise of Mothers
What mother or grandmother wouldn't savor some time reading together with their children? Here are some favorite recent picture books and novels that celebrate mothers in nuclear, blended and extended families.
On a Sunday morning in Last Stop on Market Street, CJ's nana transforms what he sees as misfortune into an opportunity. Author Matt De la Peña and illustrator Christian Robinson capture the essence of what's special about the relationship between grandmother and grandchild. in When Otis Courted Mama by Kathi Appelt, illustrated by Jill McElmurry, Cardell the coyote pup has a "perfectly good mama and a perfectly good daddy." He loves his mother, and his father's new family. But when Otis comes along, Cardell has to share Mama. Otis wisely gives Cardell space to see there's room for both of them in Mama's heart.
Twelve-year-old Twig carries the enormous burden of keeping secret her family's curse in Alice Hoffman's Nightbird. Hoffman contrasts Twig's faith with her mother's fear, and suggests the child has something to teach the parent. The deceptively light-hearted graphic novel Roller Girl by Victoria Jamieson probes themes of friendship, single-parent families and the rewards of perseverance when 12-year-old Astrid enrolls in Junior Roller Derby Camp without her best friend.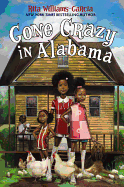 The 12-year-old narrators of both Listen, Slowly by Thanhha Lai and Gone Crazy in Alabama by Rita Williams-Garcia spend the summer with their grandmothers and discover a great deal about who they are. Bà, Mai's paternal grandmother, opens up a world to the girl as the two make a pilgrimage to discover what happened to Bà's husband, missing in action during the Vietnam War. And Delphine and her two sisters travel from Brooklyn to rural Alabama. This is Williams-Garcia at her finest, laying out the complexities of family dynamics and the importance of accepting the past in order to be whole. --Jennifer M. Brown, children's editor, Shelf Awareness