Literature & Libations
If there are two things that keep me busy in my free time, they're books and amateur bartending. It's not uncommon for me to put them together.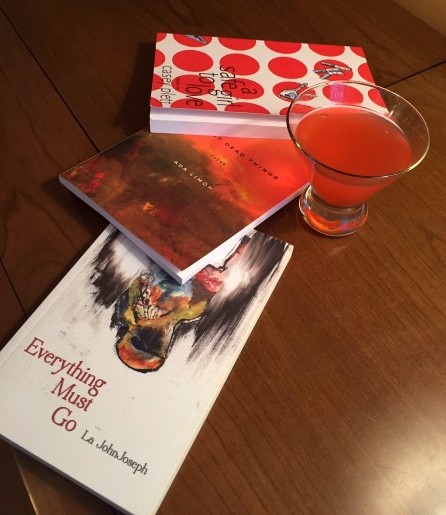 To pair a cocktail with La JohnJoseph's Polari First Book Prize-nominated Everything Must Go (Itna Press, $16), I'd reach for one heavy on the absinthe. Part road trip comedy, part phantasmagoric fever dream, this delicious novel introduces pregnant, teenaged La Diana, who is running away from abuse at home into the open arms of the apocalypse. Kept company by her talkative unborn child and a phalanx of celebrities alive and dead, La Diana frenetically narrates bizarre events leading to a gratifying climax, all the while glittering with wit and splendor. Mix absinthe with lemon juice, simple syrup and seltzer for what's called a Sea Fizz, and settle in for one fantastic ride!
For the short stories in A Safe Girl to Love (Topside Press, $16.95), though, I suggest whiskey. The characters in Canadian Casey Plett's Lambda Award-winning collection often reach for a bottle of this or that, but they're always coming back to rye. So stir it together with Cointreau and Bénédictine, and garnish with rosemary, for the Hotel D'Alsace--an herbal concoction to keep you warm while reading about winters in Winnipeg, the upper Midwest and Pacific Northwest. Plett's potent stories about trans women facing heartache and betrayal to make a home in this world will do the rest.
Ada Limón writes audacious and ferocious poetry in Bright Dead Things (Milkweed, $16), longlisted for the National Book Award. Caught between the Kentucky land and familial loss, these pieces deliver "flower mouth,/ pollen burn,/ wing sweat." I've been reading Limón while nipping a Jasmine cocktail, with its floral mixture of gin, lemon juice, Campari and Cointreau. A drink with complex flavors helps me ruminate on delectable poems.
There's never a wrong drink to sip while reading, though. A new book always deserves a full glass. --Dave Wheeler, associate editor, Shelf Awareness