Gift Books: Sherlock, Shakespeare and More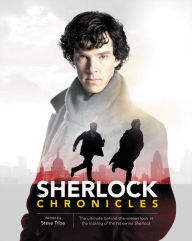 We get excited about new books every day here, but this season brings a greater number of books that elicit excitement, even swoons--like Sherlock Chronicles by Steve Tribe (Dey Street, $29.99)--all you ever wanted to know about the smash PBS series. Casting, sets, costumes and scads of photos (although "the kiss" should have merited a full page).
Fans of the Bard of Avon will be pleased with Presenting Shakespeare: 1,100 Posters from Around the World, compiled by Mirko Ilić and Steven Heller (Princeton Architectural Press, $50). Shakespeare on a skateboard or punkish with tattoos, Romeo i Julia with a heart-shaped bear trap, a Ralph Steadman Macbeth--fromdelicate to horrifying, these posters are arresting.
British bookstore Waterstone's chose The Fox and the Star by Coralie Bickford-Smith (Penguin Books, $20) as its Book of the Year; we think it's a great choice. In this "sumptuously designed picture book," a lonely fox is guided through a dark forest by a bright star. One night Star goes missing, and Fox, bereft, huddles in his den until he finally goes in search of Star. Bickford-Smith is a designer at Penguin, and her fable of loss, courage and friendship is marvelously enhanced by her arts and crafts–inspired illustrations.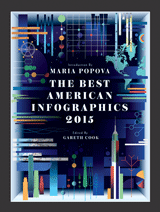 The Best American Infographics 2015, edited by Gareth Cook and Maria Popova (Houghton Mifflin, $20 paperback) ranges from sobering ("All the Guns" and "World's Deadliest Animals"; hint: they're connected) to astonishing (a six-page foldout showing the "Secrets of Il Duomo") to whimsical ("Beer on Twitter"). This year there's a new section of 10 interactive graphics, like "A Day in the Life of a Taxi" and Derek Jeter's career at bat.
There are seven families of bees, and Sam Droege and Laurence Packer showcase them in Bees: An Up-Close Look at Pollinators Around the World (Voyageur Press, $25). More than 100 stunners, like the shimmery-golden Serrated Evening Forked-Tongue, the glowing Wonderful Blue Invader, the fur-trimmed Plush Stealth Cuckoo and the Unknown Cute Bee. --Marilyn Dahl, editor, Shelf Awareness for Readers