Literature & Libations: Four Way Poetry
April is National Poetry Month, and I've greatly enjoyed a few new titles from Four Way Books while kicking back and drinking something tasty.
Wild with supernatural imagery, the poems in The Halo by C. Dale Young detail a rapid spiral into fever dreams as the narrator recovers from a grisly car wreck and comes to terms with the broad wings that stretch from his naked back. Tensions are high as he confesses, "So few of these transformations are ever a blessing." The metaphysics of it all had me craving the Obituary Cocktail, a ghostly gin martini with bianco vermouth in an absinthe-rinsed coupe.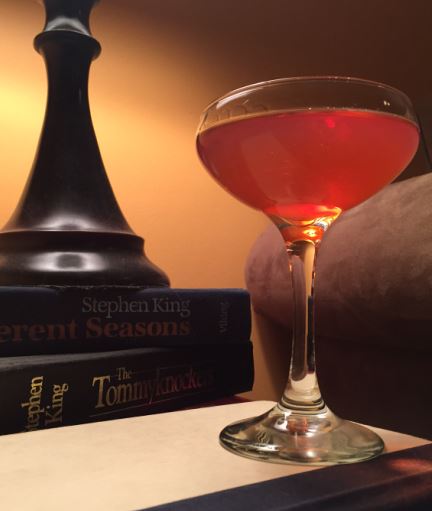 Emoticoncert by Maya Pindyck contains a multitude of intricate, crystalline syllabic structures. Emotion resonates against a dazzling landscape of history and mystery, as in the short poem "Exquisite Corpse": "I sought/ a definition: beetle skin;/ fragile; iridescent; for writing/ on strange paper/ this unfinished story." Poems this magical should be paired with something effervescent; the Seelbach mixes bourbon and Cointreau with Peychaud's bitters and Angostura bitters, and then tops it off with champagne.
In The Taxidermist's Cut by Rajiv Mohabir, "a queer flutter knocks about your ribs." The poet takes instructive texts on taxidermy and pares down lines and phrases until we're left with a new relic from a painful past. These intoxicating pieces puncture the boundaries of identity with the unflinching grip needed to repurpose the tough hide of a carcass. I'd pair this visceral collection with the Red Hook: whiskey, Punt e Mes, maraschino liqueur and cherry garnish.
There are a lot more where these came from, too. With five more titles out this spring, Four Way Books continues to publish an impeccable list of lovely and provocative poetry. So maybe T.S. Eliot was wrong about April after all. --Dave Wheeler, associate editor, Shelf Awareness