The Women Behind the Founding Fathers
This year, celebrate America's origins on July Fourth in a different way: by immersing yourself in the lives of important women connected to our Founding Fathers who have mostly been forgotten by history.
Stephanie Dray and Laura Kamoie have written two engrossing novels set during the American Revolution, told from the perspectives of strong, influential women, and combining historical facts with compelling narratives.
America's First Daughter (Morrow, $15.99) is about Martha "Patsy" Jefferson Randolph, Thomas Jefferson's beloved oldest daughter. Her mother died when she was a child, and Patsy vowed at her deathbed to take care of her father. The novel follows Patsy and her father to Paris, when Jefferson was U.S. ambassador to France, back home to Virginia and on to Washington and the presidential mansion, where Patsy served as "First Daughter" in the absence of Jefferson's wife. Though the novel is Patsy's life story and focuses on her personal triumphs and traumas, she was an integral part of the early years of this nation and deeply involved in her father's work.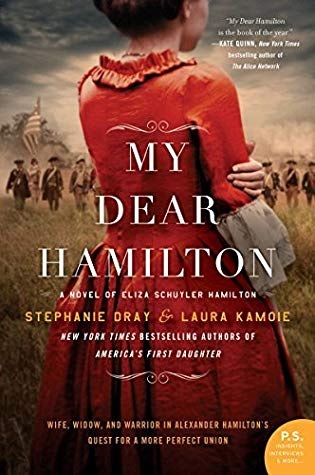 The same winning formula of fascinating history plus an intimate look at a significant woman's life is applied in My Dear Hamilton (Morrow, $16.99), focusing on Eliza Schuyler Hamilton, wife of Alexander Hamilton. Eliza--the daughter of a general--was involved in politics and the Revolution before she ever met Alexander. But with Alexander, she had a front-row seat to the birth and growing pains of our nation and even helped with some of his famous writings. She lived a long and accomplished life decades past Hamilton's death, and Dray and Kamoie bring her to glorious life on the page. --Suzan L. Jackson, freelance writer and blogger at Book By Book