What Lives On at the Chelsea Hotel
The names most often associated with New York City's famed Chelsea Hotel don't live there anymore. They were writers and visual artists and musicians and fashion designers. "For many decades, an aura of fame and creativity emanated from the hotel," writes photographer Colin Miller in a note at the beginning of Hotel Chelsea. Built in 1883, the co-op's affordability made it ideal for working artists. But by the 2000s, the building's bohemian chic had garnered a significant following, and with it came the tides of gentrification.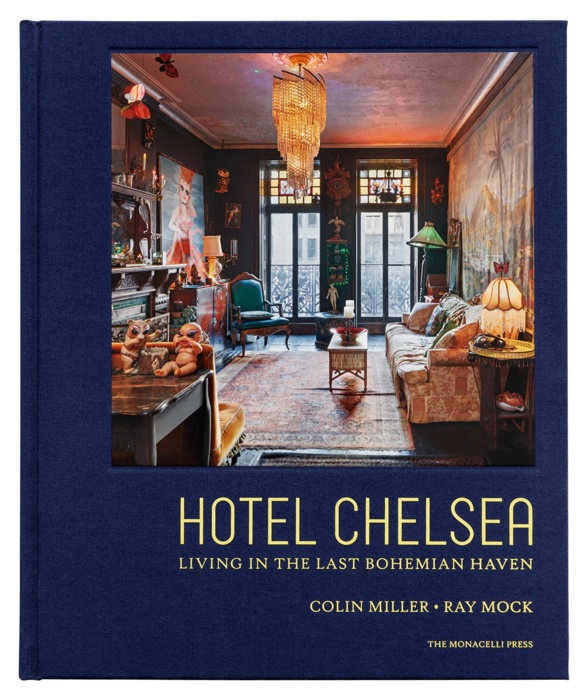 The always polished Monacelli Press delivers a splendid coffee-table book documenting the living spaces of numerous eclectic residents who remain and continue to fight amid ownership changes and renovations. Although the overhaul of the hotel has been slow, Miller and documentarian Ray Mock shot some of the apartments years before a proper interview with residents, whose spaces were altered by new building owners in the interim.
Miller's impeccable photographs highlight each resident's distinctive decor. There are colorful rugs and textiles tenderly strewn about writer Raymond Foye's renovated apartment to "keep a sense of that old vibe." Sybao Cheng-Wilson maintains a sleek, spare aesthetic as curator for the artistic estate of her brother Ching Ho Cheng, who died in 1989.
Some people are hopeful, but not all are--made crystal clear by a somewhat jaded foreword by former residents Gaby Hoffmann (Transparent actress) and Alex Auder (yoga instructor), siblings raised in the milieu. Distilled from an e-mail exchange between the two, it conjures an ongoing tension between disgust toward the soulless onslaught of gentrification and mistrust of the "sweet sickness" of nostalgia.
Public curiosity about the building continues to grow, however. And what might have been a bleak ode to the past has become something more. "Things are changing, but they're not dying or dead, as I had originally speculated," Miller writes. "Over time, the project evolved from a requiem to a celebration of what lives on at the Chelsea."