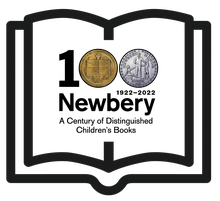 The 100th Newbery Caldecott Legacy Awards banquet, held Sunday evening, June 26, 2022, in Washington D.C., was filled to capacity. The fact that this was the first such banquet to be held since June 2019, combined with the centennial celebration, contributed to high spirits and excitement all around. Librarians cheered for their favorites as a montage of 100 years of Newbery Award and Honor book covers, with audio clips from many of the creators, played on large screens flanking the dais.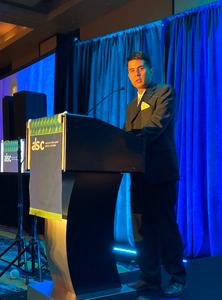 Jason Chin
First to deliver his acceptance speech was Jason Chin, Caldecott Medalist for Watercress (Neal Porter/Holiday House), written by Andrea Wang, who received a Newbery Honor for her text. He called the 2022 Caldecott Medal "the honor of a lifetime," particularly being able to accept it in person. He asked the audience to applaud the two winners who did not have the opportunity to celebrate in person: Michaela Goode, the 2021 Caldecott Medal-winning artist of We Are the Water Protectors by Carole Lindstrom; and 2020 Caldecott Medalist Kadir Nelson, for The Undefeated by Kwame Alexander (who was awarded a Newbery Honor for the text).
Chin recalled how, as a second-grader, his favorite thing was doodling and drawing dragons and knights in shining armor. His family had just moved to New Hampshire, and drawing afforded him an escape. One day, an artist visited his classroom; she had won a Caldecott Medal for drawing dragons and knights in shining armor. The book was Saint George and the Dragon, and the artist was Trina Schart Hyman. "Here was a woman who was famous for doing the thing that I loved," Chin recalled. "It was a ringing endorsement of the value of art and artists."
That day, the seeds were planted for a lifelong friendship. In high school, Chin called Hyman and asked if she'd be willing to look at his art; she said yes. He visited her every few months and joined her Monday painting group when he was home from college. "She lived in her stories," Chin said. "She knew her characters' histories, secrets and passions. In a sense, she became her characters." In college, Chin read an essay by Simon Leys that said, "Nothing should come between the painter and what he observes." Chin felt he was pointed toward a "universal truth: to breathe life into your art, become one with what you are painting."
"This idea came to the fore in Watercress," he said. "I was impressed by the layers of emotion Andrea [Wang] had packed into this spare text." Watercress centers on a child of immigrant parents who is mortified when they stop their car at a roadside ditch to pick "weeds"--until she comes to understand the reason. Wang and Chin discussed their shared heritage, and Chin's ideas of how to represent her text began to take shape visually. Chin spoke to his father who confided that he, too, had been embarrassed by the food his family ate; and Chin plumbed his own similar memories, as well as the times he felt "ashamed of being ashamed."
Chin finished the art at the end of March 2020 just after the country went into Covid-19 lockdown. While he was painting, he focused on the emotional lives of the characters, their grief and shame and loneliness. Editor Neal Porter told Chin that "the story had hope in it," but Chin was having trouble seeing it. Then children began writing to Wang, including one child in the second grade who called it "a life lessons book: be happy with what you have, be proud of who you are." Chin said that those who wish to ban books "believe there is only one American story, or at least a correct American story." He thanked the librarians who, "by protecting our First Amendment rights, [make] it possible for us to continue sharing the stories that connect us, build bridges and strengthen community."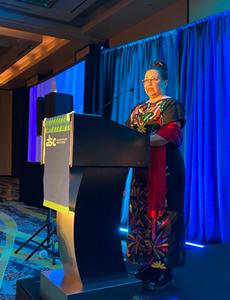 Donna Barba Higuera
2022 Newbery Medalist Donna Barba Higuera declared, "I lied by fabrication, and I was a bold-faced liar." At the age of five, she told her family that alien ships had landed in their front lawn, her version of the tale growing with each telling. But Higuera turned the act of lying--a "sin" in the eyes of her Sunday school teacher--from a fault to a virtue in service of storytelling, in her Newbery-winning novel The Last Cuentista (Levine Querido). Her lavender-haired next-door neighbor would serve up pickled okra and stories on her porch each day, and each night Higuera's father told her a bedtime story, wild adventures and fantasies of traveling through portals like a bathtub drain or electrical outlet. And then Higuera discovered there were others like her: writers of books who "were doing what I was doing, making stuff up. Did they think they were going to hell, too? If so, would hell be so bad?"
Like Petra, the heroine of her novel, Higuera also had a grandmother who was a storyteller, but instead of Petra having spaceships land on her family's front lawn, Petra and her family were leaving Earth in a spaceship--in order to survive. "If you were leaving Earth and could take one thing along what would that be?" asked Higuera. "For me, that is story."
"The word cuentista means storyteller," Higuera explained, "But as words are often nuanced, the connotation for cuentista is that this particular storyteller might not be the most reliable of narrators." The idea of a world without story, Higuera said, "is not only terrifying, it is the thing that frightens us most." In fact, she thinks that "much of what is happening with erasure of books now is based in fear." Like Chin, Higuera thanked librarians for their courage in placing stories in the hands of children and defending them from erasure.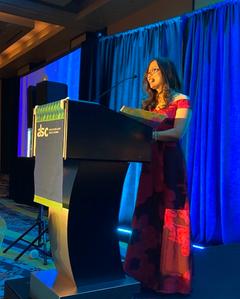 Grace Lin
Grace Lin, after receiving the call that she had won the 2022 Children's Literature Legacy Award, remembers being seized by a case of imposter syndrome. It touched off a story her mother had told her long ago, of moving to the U.S. and struggling financially. Their first New York City apartment was "small, dark and grimy," and no amount of scrubbing seemed to help. At night, small bugs came out, "the stuff of nightmares and horror movies," and each place they moved, the bugs followed. When they could afford a house in the country, Lin's mother hung out all of their belongings for days, "for all the world to see," to get rid of the bugs.
Lin compared these bugs to her thoughts contributing to imposter syndrome. She spoke of the more persistent bugs, yet also offered an antidote to each. Interspersed with these disclosures, Lin paused to ask audience members to follow three directions on the development of a simple drawing.
To those who disparage the work of creating children's books ("When are you going to write an adult book?"), Lin countered, "We are the ones who are actively advocating what we as a society value." There are those who would not see the Asian American community as comprised of individual human beings; Lin has spent the past 24 years showing that "Asians are not 'other.' That Asians are people who have best friends and families... myths and delicacies and jokes and love," she said. And there are those who would try to obstruct the work of educators and librarians, and to them she said, "You are true essential workers--you are essential workers of the spirit."
The last three steps of the drawing Lin led the audience through revealed a firefly: "When others will only see us as bugs, let's show them that we are fireflies. That is our legacy. When humanity is ugly and dark, it is our lights that will remind the world that humanity can also be beautiful." --Jennifer M. Brown, senior editor, Shelf Awareness