A big thank you for all of you who have peeked in, dropped by, and helped us reacclimate to having visitors! It's been a bit like learning to ride a bike all over again--familiar, thrilling, and just slightly wobbly.
--Solid State Books, Washington, D.C., in its June 7, 2021, newsletter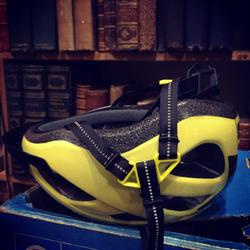 At Armchair Books in Edinburgh
More than a year later, we're all still learning to ride a bike again, every single day. As Covid variants continue to unbalance life in general--and the book trade in particular--we just keep on pedaling, trying not to fall.
As you may have guessed, I've been thinking about bicycles lately, having spent mornings throughout July watching every stage of the Tour de France, followed by the Tour de France Femmes avec Zwift. In addition, though I'm a very casual (read slow and steady) bike rider, I traded in my old wheels this spring for a new model and have been hitting the bike paths regularly. And I'm not riding solo in that regard. Forbes just reported that compared to 2021, "cycling levels in England rose by 47% on weekdays and 27% on weekends in the five months to the end of July."
This weekend Gramercy Books, Bexley, Ohio is supporting Team Bexley in Pelotonia 2022, which raises money for cancer research and is one of Columbus' biggest cycling events. Last Saturday, the bookshop posted: "TODAY IS PELOTONIA DAY! Shop for good in-store, 10% of the day's sales will be donated to Team Bexley. When you support Pelotonia, 100% of all participant-raised funds go toward innovative cancer research!"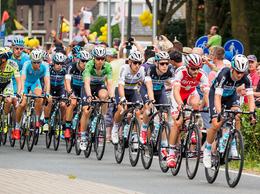 Naturally, Pelotonia made me think of peloton, the main group of cyclists in a race. In the Tour de France, for example, this often means more than 150 cyclists riding for miles at high speed, side by side, wheel to wheel, aware that the slightest mistake by one rider could result in a crash. Now I'm not saying that the book trade is a peloton, or that we're in a race, or that one mistake can bring down the whole industry (if that were the case, we'd all have crashed out long ago).
What I did start thinking about, however, were the many stories Shelf Awareness has run since the early days of Covid-19 about enterprising booksellers taking to their bikes for home deliveries.
Maybe there's a kind of bookseller bike peloton riding out there, a Tour de Bookbike in full flight. Maybe the tour's first stage got underway in March 2020, when Charm City Books, Baltimore, Md., posted: "In light of Governor Hogan's announcement, Joe and I are breaking out the tandem bicycle! We are now delivering for free if you live in Baltimore City and $5 or less if you live outside of the city. During this time, we need to all lift each other up."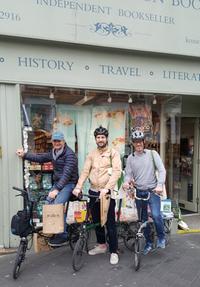 In the U.K., South Kensington Books soon joined the nascent peloton: "Local Book-bike delivery gang ready for action. Stuck at home? Contact us and our booksellers will help you select any books you require. One of these happy chaps will whizz your books round to you." Australian indie booksellers were also "getting on their bikes and taking out their 'bookmobiles' to deliver purchases for free to readers who are in isolation at home due to the ongoing spread of Covid-19." During lockdown in the Indian city of Kochi, the Books by Bicycle initiative launched.
By April, Jen Morrow, owner of Bards Alley, in Vienna, Va., told CNBC that the bookshop was delivering books via bicycle with a neighboring bike business; and bike deliveries were also ramping up at Boneshaker Books, Minneapolis, Minn.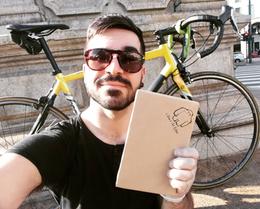 In May, NPR spoke with Italian bookseller Mattia Garavaglia of La Libreria del Golem, who was making about 40 deliveries a day in his car or on his bike, riding through the empty streets of Turin. And Armchair Books in Edinburgh, Scotland posted: "Absolutely nothing--but NOTHING--is more metal than doing bicycle deliveries down Edinburgh's Old Town closes. Will you find the right door? Will you be eaten by a mighty dragon? Will you find the right door but then have to earn the begrudging respect of the guard dragon through the cunning use of gladiatorial poetry recitation?"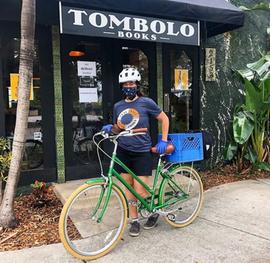 A year after the initial lockdowns and panic, Alsace Walentine, owner of Tombolo Books, St. Petersburg, Fla., said, "I do love my bike, obviously. We did over 200 deliveries while we were shut down.... I've been a bookseller for 20 years and we've never done anything like this. It's fun to change an old tradition.... The great part about (deliveries) is we get a little bit of face time with people. Some people really are still indoors at their homes and that's it."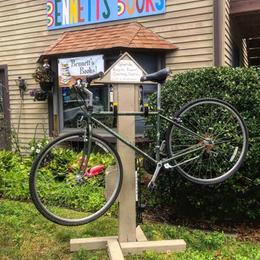 As recently as this June, Shelf featured Bennett's Books, a used bookstore in Deep River, Conn., that offers a free bicycle repair station for customers and community members to use, featuring a bike rack as well as tools and an air pump. Located outside of the bookstore, it is accessible to all during daylight hours.
Owner Colin Bennett told the Middletown Press that the store's focus is on creating community and helping others: "If there's any money left after paying our bills, what's left goes into the community--helping people by encouraging and fostering bicycle culture here; making sure no kid goes to bed hungry, and kids have access to books."
Tour de Bookbike has turned out to be a long, long race, but a strong and focused peloton is still the key success.