Shelf Awareness for Friday, June 22, 2012

Quotation of the Day
NBA Champion LeBron James Was 'Reading a Little Bit More'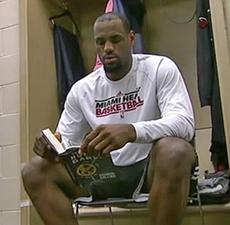 Maybe it was the secret to his success. "For me, it's relaxing honestly. You spend so much preparation for the games, sometimes you just need to get away from it for a little bit. The reading has helped me get away from the game a little bit, and I'm able to zero in once I'm done and get ready for the games.... I wanted to try something new in this postseason honestly. I'm not watching much TV so I'm reading a little bit more.... People have seen me walking around with [books and] they've been given lists of books to read."
--
LeBron James
, whose Miami Heat team won the NBA Championship last night.
USA Today
reported that since the playoffs began, James had read
West by West: My Charmed, Tormented Life
;
The Pact: Three Young Men Make a Promise and Fulfill a Dream
;
The Tipping Point: How Little Things Can Make a Big Difference
; and, most recently, Suzanne Collins's Hunger Games trilogy and Jay-Z's
Decoded
.


News
Pew Study: Library Patrons & E-Borrowing
While three-quarters of the nation's public libraries now offer e-book lending services, their patrons may still lack awareness of the full range of options available. A phone survey of 2,986 Americans--ages 16 and older--conducted by the Pew Research Center's Internet & American Life Project from November 16 to December 21, 2011, found that only 12% had borrowed an e-book from a library during the previous year and 62% did not know whether their library offered e-book lending.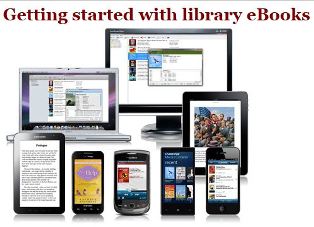 According to the survey, 58% of respondents have a library card and 69% consider the library important to them and their family. Also of note:
58% of all library cardholders do not know if their library provides e-book lending services.
53% of all tablet computer owners do not know if their library lends e-books.
48% of all owners of e-book reading devices do not know if their library lends e-books.
47% of all those who read an e-book in the past year do not know if their library lends e-books.
"It was a genuine surprise to see these data, especially after all of the attention that has been paid to the tension between libraries and major book publishers about whether many of the most popular books should be available for lending by libraries," said Lee Rainie, director of the Pew Internet Project.

The Pew survey found that e-book borrowers read an average (the mean number) of 29 borrowed or purchased books during the past year in all formats (e-book, printed book, audiobook), compared to 23 books for readers who do not borrow e-books from a library. The median (midpoint) figures for books reportedly read are 20 in the past year by e-book borrowers and 12 by non-borrowers.

Asked about the most recent book they had read, 41% of those who borrow e-books from libraries purchased their most recent e-book.

Among e-book readers who also have library cards, 55% prefer to buy e-books, while 36% prefer borrowing them from any source (friends or libraries). For library card holders, 46% prefer to buy print books and 45% prefer to borrow print books. When it comes to e-book borrowers, 33% say they generally prefer to buy e-books and 57% say they generally prefer to borrow them.

Regarding e-title availability, 32% of e-book borrowers say the selection at their library is "good," 18% "very good" and 16% "excellent," with 23% calling the selection "fair," 4% "poor" and 8% saying they don't know.

Other notable findings:
18% of e-book borrowers say at one point or another they found that an e-book they were interested in was not compatible with the e-reading device they were using.
46% of those who do not currently borrow e-books from libraries would be "very" or "somewhat" likely to borrow an e-reading device that came loaded with a book they wanted to read.
32% of those who do not currently borrow e-books would be "very" or "somewhat" likely to take a library class on how to download e-books onto handheld devices.
32% of those who do not currently borrow e-books say they would be "very" or "somewhat" likely to take a course at a library in how to use an e-reader or tablet computer.
Kathryn Zickuhr, a research specialist at the Pew Internet Project, said the findings suggest ways that libraries might be able to build awareness: "First, these data show that public education campaigns might add to the numbers of those who are aware that e-books can be borrowed and enjoyed on new technology like tablet computers and e-book reading devices. Second, the data show that a share of patrons would appreciate being helped in their quest to master new devices and load e-books onto them."



ABA's New E-Book Solution: 'Number-One Immediate Goal'

The American Booksellers Association will have a new indie e-book retail solution in place for member stores "well in advance of Google's January 2013 termination of their reseller program," according to a letter from CEO Oren J. Teicher. The association aims to introduce the new program at regional booksellers association meetings this fall and at its IndieCommerce Specialty Institute September 13 in White Plains, N.Y.
Reiterating points made at the ABA annual meeting at BookExpo America (Shelf Awareness, June 6, 2012), Teicher noted that the situation has changed since 2010, when ABA and Google entered their original agreement, because "today there are many more companies operating in this arena, offering a number of options for indie booksellers regarding e-books."

Since Google's announcement in April, the ABA has "met with literally dozens of companies, and have been evaluating all of them in light of three key criteria: whether they can meet the necessary timetable, whether they have sufficient financial resources, and whether they will be able to fulfill their commitments for the full term of our partnership," Teicher wrote, adding that the goal is to have an answer by the fall: "Putting the new e-book solution in place as quickly as possible is ABA's number-one immediate goal."



World's Biggest Bookstore Update: Indigo Wants to Stay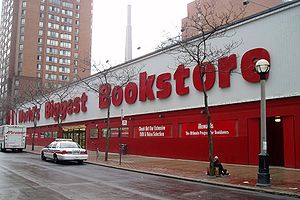 Reports earlier this week that the iconic World's Biggest Bookstore in Toronto would be closing after the lease expires at the end of 2013 may be premature. The Globe & Mail reported that Indigo Books, the current lessee and owner, "is set to fight for the retail space, which it sees as unique in its chain."

"It's a one-off store," said Drew McGowen, Indigo's v-p of real estate and development. "I realize it isn't literally the world's biggest, but you know what, it's the biggest for us. It is an absolute icon." He added that the annual lease of approximately $1.5 million has been relatively stable in recent years.

"What's going to tell the tale is whether we can do a deal with the landlord or not," said McGowen, noting that there are still 18 months before the expiration date. "It's business as usual for us. Like every single lease we have as it comes up for expiry, we do our due diligence.... That's what we're doing here."



Notes
Image of the Day: No Chaperone Required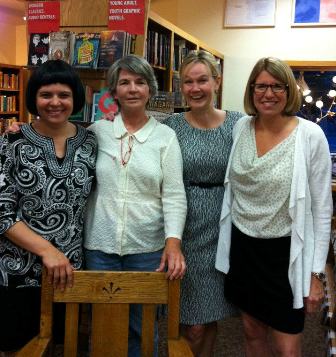 Watermark Books & Cafe, Wichita, Kan., recently hosted an event for author Laura Moriarty, whose latest novel, The Chaperone, is about the woman who chaperoned film legend Louise Brooks to New York City in 1922. A surprise member of the audience was Rosie Brooks, the actress's niece, who brought her aunt's copy of Schopenhauer's essays, which Moriarty portrays Louise reading in the novel. The copy even has Brooks's bookplate. Pictured from l. to r.: Watermark's Beth Golay (in Louise Brooks wig), Brooks, Moriarty and Watermark's Sarah Bagby. The Louise Brooks Society blog has more details.



For Your Viewing Pleasure: Bookish Videos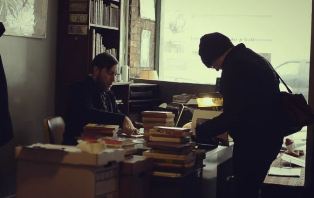 Epilogue--The Future of Print is a beautiful documentary short about the world of print and a moving tribute to books, booksellers and book makers. The student project was "built upon interviews with individuals who are active in the Toronto print community and questions whether or not they expect to see the disappearance of the physical book within our lifetime."

---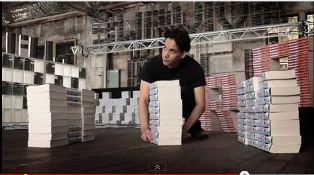 "How does a new book make you feel?" Hachette Australia created a video titled "With new books come new feelings," which is designed to make you feel better about your bookish life--"Great writing is an art form, and we are so very proud of all the authors we publish."



Quick Read, Literally: The Book That Can't Wait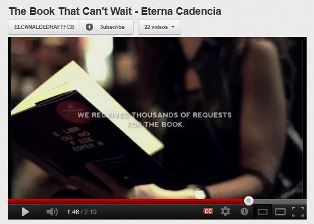 Argentinian publisher Eterna Cadencia has come up with an innovative, even preemptive, method to address the age-old issue of a paper book's tendency to disintegrate over time. The Digital Reader reported that one of the publisher's titles, The Book That Can't Wait, is an anthology featuring work new Latin American authors, "but the most important detail about this book is that it is printed with disappearing ink."

Within two months of being exposed to air, the ink in the book, which is sold in a sealed bag, will oxidize and disappear, forcing the owner "to read the book in a timely fashion," the Digital Reader noted.


Neal Stephenson's Kickstarter Pitch: 'Guitar Hero, with Swords'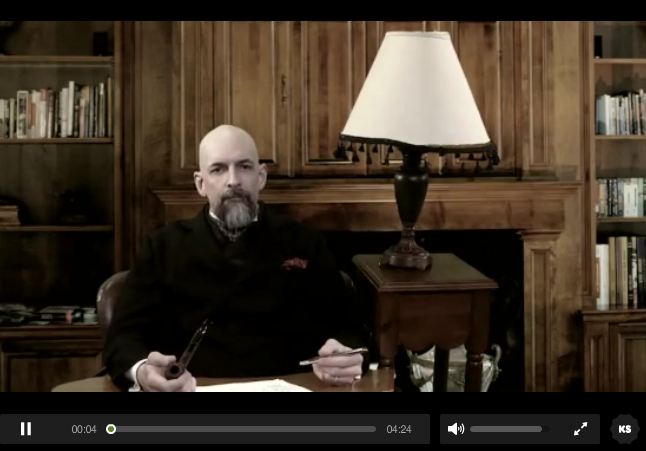 Author Neal Stephenson has launched a Kickstarter campaign "to help fund a motion-controlled sword-fighting game called Clang. It will be, according to the pitch, 'Guitar Hero, with swords,' " Wired magazine reported, noting that the inspiration for the project "comes from Stephenson's self-confessed swordsmanship geekery, combined with his dissatisfaction with how sword-fighting is portrayed in current games."

"We're ready," said Stephenson. "We've got geeks in suits of armor, we've got geeks in front of computer workstations, we've got a lot of people out there who like playing games with sword fighting in them who might be ready to step it up to something more interesting."



Book Trailer of the Day: Resilience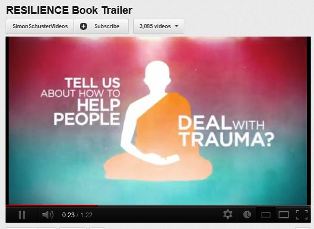 Resilience: Why Things Bounce Back by Andrew Zolli and Ann Marie Healy (Free Press).





Media and Movies
Media Heat: The Obamians
Tomorrow morning on CBS This Morning: Robert Zorn, author of Cemetery John: The Undiscovered Mastermind of the Lindbergh Kidnapping (Overlook, $26.95, 9781590208564).
---
Tomorrow on Weekend All Things Considered: Jim Mann, author of The Obamians: The Struggle Inside the White House to Redefine American Power (Viking, $26.95, 9780670023769).
----
Sunday on Meet the Press: Senator Marco Rubio, author of An American Son: A Memoir (Sentinel, $26.95, 9781595230942).
---
Sunday on PRI's Bullseye: Mark Adams, author of Turn Right at Machu Picchu: Rediscovering the Lost City One Step at a Time (Plume, $16, 9780452297982).


TV: Steve Carell & Art of the Author Interview
Comic actor Steve Carell (The Office) appeared on the Daily Show with Jon Stewart this week as a stunningly prolific and wide-ranging author, promoting his new book The Last Pharaoh: Egypt's Transition from the Mubarak Era.

Apparently Carell is a fast writer ("I like to write a lot of books."); his recent titles include 50 Shades of Yams: The Erotic Adventures of Produce Pete; Steve Carell by Steve Jobs: How I Imagine Steve Jobs Would Have Written a Biography of Me; and Hot Enough for You? A Book I Literally Wrote Today.

Carell scolded Stewart for not reading his works prior to the interview: "I thought you were the type of person who did their homework before the show."



Movie Release Dates: Cloud Atlas; The Paperboy
Warner Bros. will release Cloud Atlas, the adaptation of David Mitchell's book directed by Andy and Lana Wachowski and Tom Tykwer, on October 26 in the U.S. The cast includes Tom Hanks, Halle Berry, Hugh Grant, Jim Broadbent, Hugo Weaving, Jim Sturgess, Doona Be, Ben Whishaw, James, D'Arcy, Zhou Xun and Keith David.

---

The film version of Pete Dexter's novel The Paperboy will get its theatrical release October 5. The movie, directed by Lee Daniels, stars Matthew McConaughey, Nicole Kidman, Zac Efron, David Oyelowo, Macy Gray and John Cusack. Dexter and Daniels wrote the screenplay.



Books & Authors
Awards: Trillium; Runciman
Phil Hall won the $20,000 Trillium Book Award, which honors the best writing by Ontario authors, for Killdeer. Jeudi Novembre by Michèle Vinet was the $20,000 Trillium French-language winner. The $10,000 Trillium awards for poetry went to Earworm by Nick Thran and À tire d'ailes by Sonia Lamontagne.

As part of the Trillium 25th Anniversary celebrations, favorite French and English titles from the previous 24 years of winners were honored. A celebrity critics' panel chose The English Patient by Michael Ondaatje as its overall favorite from the public's top voted titles, while a panel of students from the Toronto French School selected Les Rebuts: Hockey 2 by Paul Prud'Homme in the French language category as its top pick.

---

Peter Thonemann won the the Anglo-Hellenic League's Runciman Award, which honors a book published in English the previous year that "advances a broader understanding and appreciation of Hellenic culture or history," for The Maeander Valley: A Historical Geography From Antiquity to Byzantium.

Chair of judges Dr. John S. Taylor called The Maeander Valley "a book to savor, a book to return to, and a worthy winner."



Book Brahmin: Matthew Batt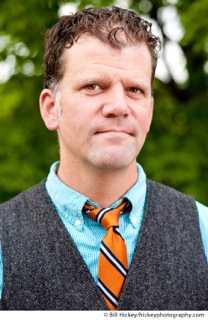 Matthew Batt is the author of the memoir Sugarhouse, just out from Houghton Mifflin Harcourt. He and his wife were having a really crappy year--as was pretty much everybody they knew. Their best friends and family were all getting divorced and/or having babies and/or dying. But instead of giving in and splitting up, Matt and Jenae settled down and bought the best house they could afford. It just so happened it was a crack house. Or at least that's what the new neighbors said. All they knew was that it was a disaster and they were about as prepared to deal with that as they were their semi-midlife crises. But why, they humbly asked, should not knowing what you're doing stop you from doing it? Batt's hilarious book is all about fixing up a house, a life and a marriage.
Batt was born in Colorado, and grew up just outside of Milwaukee, Wis. He did an MFA (i.e., waited upon hundreds of thousands of tables) and has managed to get a job teaching English and creative writing in St. Paul, Minn., where (spoiler alert!) he and Jenae live with their four-year-old son.
On your nightstand now:
Germinal by Zola, in the original French, of course. Or wait. Do I have to be honest? Well, then it's Born to Run by Christopher McDougall. I've actually been running a lot--I'm doing this nutty 50-mile deal in a few weeks--and so it's comforting to know there are a bunch of other insane people. Isn't that really what all books are for? To make insane people feel less alone?
Favorite book when you were a child:
The Giving Tree by Shel Silverstein, I think. Reading it now to my son, I realize how literal a metaphor for love it really is, but nonetheless how actually close to the truth is was for what my mom did for me growing up.
Your top five authors:
Dave Eggers, David Foster Wallace (the essays, not so much the fiction), Billy Collins, Jon Krakauer, Henry David Thoreau.
Book you've faked reading:
Milton's Paradise Lost. Whenever I get stuck needing to pretend like I've read it, I always come back to the one line of the poem I managed to remember: "Sufficient to have stood though free to fall." In most circles that passes as having read the whole thing. At the very least, you can always deflect people. But what about Satan's portrayal as a kind of hero, they might ask. Or what about Eve's seeming complicity? What about Adam's obsession with fruit? "Sufficient to have stood..." you begin, nodding knowingly.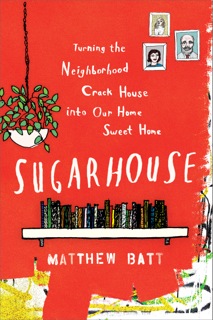 Book you're an evangelist for:
So Long, See You Tomorrow by William Maxwell. It's such a perfect little book. I just love how it takes as its central moment two once-familiar boys passing in a high school hallway and cracks it open to reveal pretty much the entirety of human life--but not in some sprawling, grandiose Proustian way. Just in a little sliver of a book that nonetheless manages to capture all of human experience.
Book you've bought for the cover:
Rambo. I'd include the author, but it was the novelization of the movie. I was probably nine years old. What can I say? I was thinking, What could possibly be better than this classic example of American cinema? Why, the book! (I was wrong, of course, on both counts.) I learned two things here: that books don't have to be good, and that the combination of terrible writing and the act of reading while in a moving car make me physically sick to my stomach.
Book that changed your life:
It was some Hardy Boys book--The Mysterious Case of the Unpeelable Banana or some such--and I read it all in one sitting, under the covers, of course, with a flashlight. The whole shooting match. My favorite books as a kid were really, somewhat sadly, TV. Knight Rider, probably. Possibly also The A-Team. Fantasy Island. But definitely not Three's Company. Man, did that show stress me out. Still does. Anyway, that Hardy Boys book was the first time I discovered that there was a universe inside our heads that can be tapped into with nothing but some smudges on an otherwise clean piece of paper. Pretty miraculous when it comes right down to it. My taste has changed somewhat over the years, but that experience was a real game changer for me.
Favorite line from a book:
"Tell Leif you're the names of things." That's the last line of Robert Hass's poem "Letter" from his first collection, Field Guide. Man, do I love a love poem that doesn't suck. Almost all of them do, of course. "Letter," however, is beatific.
Book you most want to read again for the first time:
The Catcher in the Rye. Now that I know what fencing is.


Book Review
Review: Gold
Gold by Chris Cleave (Simon & Schuster, $27 hardcover, 9781451672725, July 3, 2012)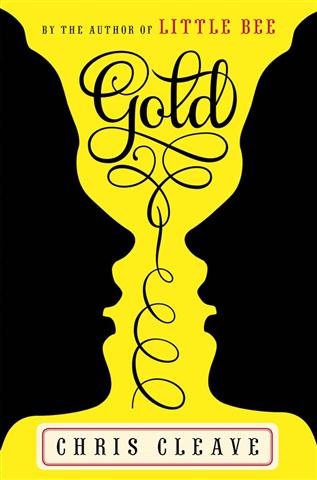 Chris Cleave's Gold spins a tire-ripping velodrama out of two subjects underrepresented in novels: the head-games of Olympic track cycling and the heart-splitting demands faced by female athletes who try to balance motherhood and elite competition in their peak physical years. Despite its unusual subject matter, Gold is not an esoteric novel; readers who don't know an individual pursuit from a keirin will be able to feel the excitement in Cleave's clearly depicted racing scenes and readers who are devotees of high-stakes emotional triangles will find much to untangle.
While the disparate athletic and relationship motivations of lone ranger Zoe Castle and her married teammates Kate Meadows and Jack Argall are complicated by a long-running friendship/rivalry, the novel's deepest human resonance is pumped up by eight-year-old Sophie Argall, whose reliance on a Star Wars fantasy life as she strives to be a champion leukemia patient is depicted with beguiling tough-tenderness.
Cleave shares Gold's stream-of-consciousness perspective among all his main protagonists, as well dipping into the mind of their crusty Australian coach, to yield a many-spoked view of what makes them surge or fall back. The timeline of Gold spans three Olympic Games, beginning with a short set piece in Athens before it focuses on the three athletes' preparations for London 2012, when Zoe, Kate and Jack are all 32 and vying for what is probably their final chance to compete for gold. Cleave, impressed by the physical attributes of his racers, touches frequently on the superhuman theme and how the cyclists meld back into everyday life after performing incredible feats in the velodrome. Gold is further enriched with scenes from the past, including a compelling flashback to the trio's first encounter at a youth selection tournament when they were 19, a high-tension Beijing Olympics and a late plot revelation whose tardiness feels only slightly disingenuous.
To an American reader, the celebrity of British track cyclists might seem far-fetched, and to any cycling fan the dearth of doping references might seem blinkered. Sophie's wisdom (surely the name is intentional) seems one precocious level too far, even for a child-medical-warrior, and the plot has to ratchet through a lot of gears, but Gold is still well worth the ride for its contextual details, its generous supply of dramatic scenes and the steadiness of Cleave's storytelling pulse. --Holloway McCandless, blogger at Litagogo: A Guide to Free Literary Podcasts
Shelf Talker: The author of Little Bee returns with a heart-racing novel about Olympic rivalry, complicated friendships and high-stakes medical parenting.


Deeper Understanding
Robert Gray: Mission Accomplished--I'm Reading Russia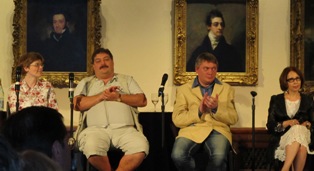 "The only way to reach the American reader is to have the books translated so well they read like they were written in English," said Olga Slavnikova (far right in photo) during a panel discussion called "Contemporary Writers on the Russian Classics," which was held at the New York Public Library June 5, as part of the Read Russia 2012 initiative. Also on the panel were Maya Kucherskaya, Dimitry Bykov and German Sadulaev.

As guest of honor and focus of BookExpo America's Global Market Forum, Russia showcased more than 50 writers, publishers, librarians, journalists and historians in New York City this month.

Some of the news during Read Russia 2012 was headline worthy, like Overlook Press's announcement of an ambitious Russian Library project and Natalia Solzhenitsyn's presentation on the vast Solzhenitsyn Archive. They were big stories, but the stated goal of Read Russia was to attract more American readers for the country's contemporary authors. As one of those potential readers, I had my own expectations regarding the mission and documented them before the show. What did I want from Read Russia? "The answer is deceptively simple: to discover..."

Mission accomplished.

First, I read Slavnikova's fine story "Basileus" in Read Russia: An Anthology of New Voices, distributed free during BEA at Read Russia's 4,000-square-foot display area. Now I'm looking forward to the paperback edition of her novel 2017, which Overlook Press will publish later this year.

Then it was on to Bykov. During the NYPL event, he was discussing the work of Maxim Gorky when he suggested--with tongue planted firmly in cheek--that there were three ways to attract the world's attention to contemporary Russian literature, and Gorky had tried to take advantage of them all a century ago. The first strategy was active government propaganda, the second was to start a revolution and the third was to "write very well, and that's the one we're aiming for right now."

I read Bykov's bone-chilling story "Mozharovo" in the anthology and was immediately primed for more of his narrative voice: "So here they are, the sirens of Mozharovo. These are the people we can't go out and see. We've fenced ourselves off from our own people with steel bars, and we sit here scoffing Strasbourg pâté."

During BEA, the Read Russia booth lured me back again and again with its own siren song (a good one). Often the events were quiet and intimate moments of grace in the midst of the general cacophony that is the Javits Center.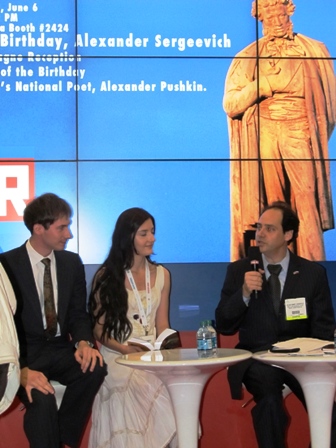 I celebrated Pushkin's birthday there while listening to a pair of young Russian writers read his poems in their native language, followed by Julian Henry Lowenfeld (My Talisman: The Poetry & Life of Alexander Pushkin) reading the translations.

"For several generations Pushkin was a secret code, the key to the preservation of the human in this bedeviled country," wrote Mikhail Shishkin in his Read Russia anthology contribution, "The Half-Belt Overcoat." At a discussion about the Big Book Prize--which he won last year--someone asked if he communicates with many American authors. "My conversation with an American writer takes place in his book," he said. I like that.

I'm currently reading Shishkin's extraordinary novel Maidenhair (Open Letter). From his anthology essay, I learned the book was inspired by his mother's diary as well as the life of singer Izabella Yurieva: "I wanted to write about what I had felt and understood thanks to Mum's diary. I started writing about Bella.... Little of the singer's life remains--there are no diaries no memoirs, leaving us with no more than a spare outline of her life story. In those years people were afraid of their own past--it was impossible to tell what might later put you in mortal danger."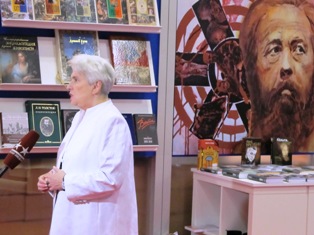 Thus the critical importance of the Solzhenitsyn Archive. A compelling image I retain in memory--as well as photographic form--is of Natalia Solzhenitsyn being interviewed near a Read Russia display focusing upon her late husband.

"What is surprising is how much of the archive is still intact," she had said at one point during her presentation. Reflecting upon the dangerous vagaries of his life, she also noted that he never sought to build a personal library and "loved short pencils," which were easier to hide.

We must treasure what we still have. My quest to "Read Russia" is underway and I can tell already it's going to be one hell of a ride. --Robert Gray, contributing editor (column archives available at Fresh Eyes Now)