Shelf Awareness for Readers for Friday, November 11, 2011
Book Candy
'Humongous' Bookcase of the Day
Eater N.Y. explored the "humongous" bookcase lining the wall in the dining room of Restaurant Marc Forgione in Tribeca. The fixture includes "cookbooks that Marc inherited from his father, Larry, as well as gifts from chefs and customers. The shelves are also lined with good luck charms, including a bundle of sage that was used in a Native American ceremony inside the restaurant the week before it got a glowing two star review from the New York Times."

"If you take a closer look, you'll see that the cookbooks are really, really, really old," said Forgione. "Most of them are from James Beard's personal library. He and my dad were really good friends. My old man got them at an auction."
Great Reads
Further Reading: Alternate History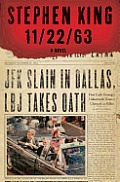 11/22/63 by Stephen King is a long-awaited and--at 944 pages--seriously long novel that combines suspense, the supernatural and superb storytelling powers with a history-jarring idea: What if President John F. Kennedy had not been assassinated by Lee Harvey Oswald in Dallas on November 22, 1963?
Whatever you might think the answer to that question is, King's characters wind up more concerned with their here and now than with any hypothetical aftermath. However, King's take on "alternate history" derives from a venerable tradition of such novels; some favorites follow.
1984 by George Orwell: Although Orwell's novel is futuristic rather than properly "alternate," his dystopian take on what the world might look like if certain habits, trends and movements continued unchecked has, by our 21st-century perspective, taken on the alternate-history tag.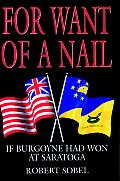 For Want of a Nail by Robert Sobel: Sobel's Pulitzer-nominated novel is subtitled "If Burgoyne Had Won at Saratoga." What would the North American landscape look like under British rule that eventually fails, leaving a "Confederation of North America" at constant war with Mexico?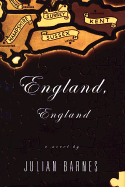 England, England by Julian Barnes: Literary novelist Barnes brilliantly pulls off an alternate-history-within-an-alternate-history, imagining an "All England" theme park on the Isle of Wight (a Harrods at the Tower!), contrasted with a newly rural near-future version of same.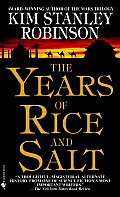 The Years of Rice and Salt by Kim Stanley Robinson: If you read just one "alternate history" book, this should be it. Robinson, an acclaimed science-fiction author, reimagines the world after the 14th-century plague decimates Europe and other countries and cultures take center stage.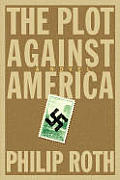 The Plot Against America by Philip Roth: A dark inversion in which President Lindbergh negotiates an "understanding" with Adolf Hitler--making life a terror for American Jews. --Bethanne Patrick
The Writer's Life
Portrait of the Artist: Umberto Eco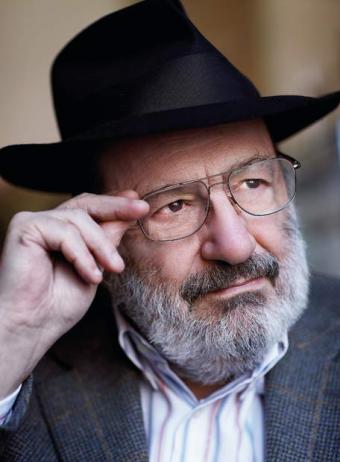 Umberto Eco's latest novel, The Prague Cemetery (Houghton Mifflin Harcourt), is the story of one fictional character, Captain Simone Simonini, whose creepy peregrinations through late 19th-century Europe in search of a loathsome document put him in contact with dozens of historical characters, nearly all of whom are as creepy as Simonini, if not as downright loathsome as the infamous forgery "The Protocols of the Elders of Zion" (more on that document in a moment). Eco explained, "I had to tell a story about a repugnant character, but make readers want to keep learning his story. That isn't easy."
Eco is sitting across from me in the bar of the Jefferson Hotel in Washington, D.C., and the famous author himself is anything but repugnant. Just arrived from his home in Milan, Eco is nattily dressed, a small Dunhill cigar clamped in the corner of his mouth, an on-the-rocks martini (Sapphire gin, lemon twist) within reach. How, I asked him, did someone who clearly enjoys life and all of its trappings become so fascinated with writing about characters who only want to take life away from others?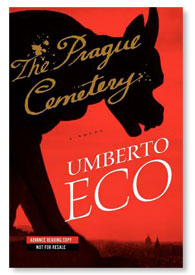 He answered in perfect but richly accented English: "Because I am fascinated by lying! Humans lie. A dog does not lie! When a dog barks, it's for a reason. Lying is a feature of the human mind, and part of lying is forgery. Look, for many many years I have been interested in this document, the Protocols of the Elders of Zion. We know it's a forgery, a complete fake--but not only did people believe it was true for decades, but even after it was proven false, an English writer named Nesta Webster wrote that even if it were a false document, that its statements were so accurate we might as well consider them the truth."
Many readers will be aware of "The Protocols of the Elders of Zion," the anti-Semitic text describing a purported Jewish plan for world domination; it was published in Russia in 1903 and used by Hitler and his cohorts to justify their actions against the Jewish race. In tracing a wholly fictitious path by which that document might have seen the light of day, Eco also traces the wholly historical path of a virulent strain of anti-Semitic thought that flourished in many nations otherwise considered "civilized." "I wanted to tell a story about how an enemy can be concocted out of almost nothing," Eco said. "All of the documents I talk about in this book, all of the characters except for Simonini--they are like pieces of different corpses that I put together, a sort of Frankenstein's monster of a story. I wanted it to be ugly and malformed. What these people did was ugly and malformed. They used whatever information they had about Jews not to clear away prejudice, but to reinforce it."
Eco talks about lying again, pausing to light a new cigar. "Think of the seller of used cars," he said. "It's no accident that people said of Nixon 'Would you buy a used car from this man?' The used-car salesman is a professional liar who will tell you not just what you want to hear, but whatever he thinks you need to hear. I wanted to write a book about liars that would not cheat the reader, would not rely merely on stock characters."
Since Eco spends a great deal of his time as a teaching and publishing academic, he plays games with himself as well as with his readers (who are accustomed to the wordplay, plot machinations and whimsicality of his prose from such works as The Name of the Rose and Foucault's Pendulum). "I always use some constrictions when I start a novel," he aded. "I set Baudolino during the Siege of Constantinople because I had never been to that city and it gave me an excuse to go. I had Simonini, in this book, visit the hospital of Sal Petriere to give me a reason to visit and learn more about it."
That isn't to say all of his narrative tricks work. "I must tell you of what is a great failure," Eco confessed, with a twinkle in his eye. "I meant all of Simonini's eating and restaurant visits to show him as a gross and greedy man--but after all of my research into those dishes and menus, readers keep asking me about them because they are interested in the food!"
Speaking of food, Eco is nursing a drink slowly and not eating because a few hours after our interview, he will be dining with colleagues prior to appearing at Politics & Prose. "I just got here, and then tomorrow I go to Philadelphia, and then...." He proceeds to name half a dozen stops in the States, then several in Canada, and a few in England. "I am a little bit discombobulated right now!" He laughs. "I love that English word, 'discombobulated.' That, and 'flabbergasted.' I think my readers will be discombobulated and flabbergasted by Simonini." --Bethanne Patrick
Literary Lists
Top Funny Books; Travel Tomes; Drinks to Pair with Books
Liz Pichon, this year's winner of the Roald Dahl Funny Prize (7-14 category) for
The Brilliant World of Tom Gates
, shared her
top 10 funny books with pictures
in the
Guardian
. "Some of the books my children would ask me to read at bedtime were so dreary I'd be the one falling asleep!... This might seem a bit sneaky on my part, but it's not easy making fairy fluff stories sound interesting after the 15th time of reading them. So the trick was to try and find books that we all enjoyed reading. Funny books worked a treat for that. I could even get my son (who's older) to come and listen too."
---

Yes, it's that time of year when the holiday gift recommendations begin. To get the season started, the Associated Press offered suggestions for "books with a travel theme--whether practical, beautiful, inspirational or just a good read."
---

While curling up with a good book on a cold night is nice, "cozying up with a great book AND a drink to match" is even better, according to the Huffington Post, which suggested "11 drinks to pair with your favorite books."
---
Everybody loves Staff Picks. Here are a few recommendations from booksellers at Shakespeare & Co. in New York City, part of an ongoing Gothamist series.
---

Stella Tillyard, author of Tides of War, chose her four favorite historical novels for the Daily Beast and explored what makes them so compelling for her.
Book Gatherings
Book Festivals: Connecticut Children's and Kentucky
The 20th annual
Connecticut Children's Book Fair
takes place this Saturday and Sunday, 10 a.m.-5 p.m., in the University of Connecticut's South Campus Ballroom in Storrs. Children's and young adult authors and illustrators will give presentations and be available for autographs. Attendees include Tomie de Paola, Robert Sabuda, Mo Willems and David Macaulay.
---
The
Kentucky Book Fair
celebrates 30 years of shows this Saturday, 9 a.m.-4:30 p.m., at the Frankfort Convention Center in Frankfort. More than 180 authors and illustrators will attend panels, give readings and sign autographs.
Book Review
Fiction
Lucky Break
by Esther Freud
New Jersey Noir
by Joyce Carol Oates, editor
Mystery & Thriller
Hell & Gone
by Duane Swierczynski
Biography & Memoir
The Exegesis of Philip K. Dick
by Philip K. Dick, edited by Pamela Jackson and Jonathan Lethem
History
Lisbon: War in the Shadows of the City of Light, 1939-45
by Neill Lochery
Social Science
Grace Before Dying
by Lori Waselchuk, intro. by Lawrence N. Powell
Shiny Objects: Why We Spend Money We Don't Have in Search of Happiness We Can't Buy
by James A. Roberts
Essays & Criticism
Fear and Loathing at Rolling Stone: The Essential Writing of Hunter S. Thompson
by Hunter S. Thompson; edited and with an intro. by Jann S. Wenner
Bento's Sketchbook
by John Berger
Travel Literature

Crazy River: Exploration and Folly in East Africa
by Richard Grant
Children's & Young Adult
Paul Thurlby's Alphabet
by Paul Thurlby , illus. by Paul Thurlby
Little Women and Me
by Lauren Baratz-Logsted
Saga of the Sioux: An Adaptation of Dee Brown's Bury My Heart at Wounded Knee
by Dwight Jon Zimmerman
SOLITUDE CREEK
by Jeffery Deaver
ISBN-13 978-1455517152
Grand Central Publishing
5/12/2015
#4 in the Kathryn Dance Series


an exclusive interview with
NYT bestselling author Jeffery Deaver
SOLITUDE CREEK is the fourth in the Kathryn Dance series, following the amazing, XO. What's in store for Dance this time around?
Oh, mayhem, chaos, and terror, of course! In this novel, Kathryn gets busted down to "buck private" for making a serious mistake during an interrogation; she's relegated to civil work for the CBI, like checking health certificates and bottle deposit receipts. But you can't keep a strong woman down and she secretly runs an investigation on a villain obsessed with turning people's panic into a weapon.
THE BIG THRILL caught up with Deaver to talk about mayhem, chaos, and of course, SOLITUDE CREEK. Read about it here.

ALSO FEATURED ON THE
the big THRILL…
RUINS OF WAR by JOHN A. CONNELL: It took a decade, four defunct novels, and countless rejections before Connell landed a publishing deal. But the hard work and determination paid off. His novel, RUINS OF WAR—a unique, historical thriller set in postwar Germany—is already garnering national acclaim. And Connell, well, he's considered a debut-to-watch. Read about him in THE BIG THRILL.
THE TAPESTRY by NANCY BILYEAU: As a trained Journalist, whose editorial credentials include Rolling Stone and Entertainment Weekly, Nancy Bilyeau understands the value—and importance—of a well-researched novel. Particularly in the case of her Tudor-inspired thrillers. For THE TAPESTRY, the third book in her bestselling Joanna Stafford series, Bilyeau pits her protagonist against none other than King Henry VIII. Check it out in THE BIG THRILL.
THE SHADOW CARTEL by LAYTON GREEN: International man of action, Dominic Grey, has fought cults and criminals all over the globe. In his next escapade, he takes on THE SHADOW CARTEL. We recently sat down with Dominic's creator, Layton Green, and asked the world-traveler-turned-bestseller about his journey to the top of the bestseller list and where he plans to go from here. Catch the whole interview in THE BIG THRILL.
STONE COLD DEAD by JAMES ZISKIN: A taut tale of mystery and suspense that is at once a reminder of how a sleuth got the job done in the era before CSI and an antidote to nostalgia, James Ziskin's STONE COLD DEAD is just too cool to miss. Read all about it in THE BIG THRILL.
DYING BRAND by WENDY TYSON: In the third installment of Wendy Tyson's Allison Campbell mysteries, Campbell ends up investigating the brutal murder of her former boyfriend. As her hunt for truth reveals each secret, Campbell's past and present collide, in a mystery that is not just deadly, but the most personal yet. Get the full scoop on DYING BRAND in THE BIG THRILL.