Welcome Heather Young!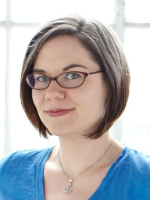 We welcome Heather Young to the Seattle Shelf Awareness team as our new sales manager. After years working in Seattle-area bookstores and a college internship at a literary agency, she headed east. In New York City, she worked in advertising at HarperCollins and as a copy editor for both Time Out New York and Martha Stewart's dearly departed Everyday Food. Eight years later, she returned to Seattle, and New York's loss is our gain.
Heather wins the all-time award for the most unsolicited recommendations in the history of the Shelf! She's already won us over with her ninja organizational skills, her fun and smart demeanor and her incredible baked goods.
---

---