Southern Fried Books to Open in Newnan, Ga.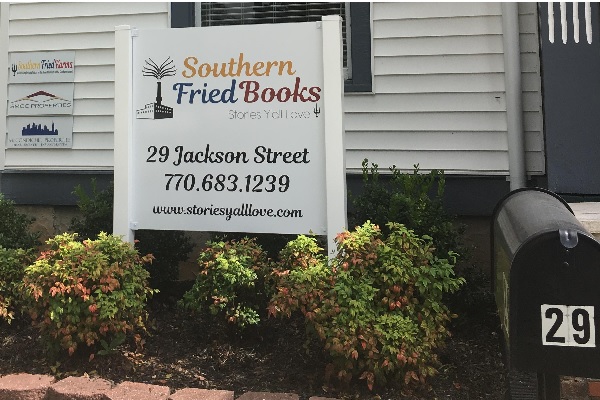 Southern Fried Books is launching this month at 29 Jackson St. in Newnan, Ga. A subsidiary of multimedia company Southern Fried Karma, the pop-up retailer will be open Wednesday through Friday beginning November 14, with expanded weekend hours starting November 23.
"This summer my granddaughter sold copies of our newest SFK Press releases from the front porch of our office," said Southern Fried Karma co-founder and bookstore owner Steve McCondichie. "So, we decided to professionalize the pop-up concept until we can decide on a larger and more permanent location."
The new bookstore will have a regional approach to bookselling, with a focus on catering to a local audience. "We have highly curated content that focuses on Southern authors--both the classics we all know and new voices we want to introduce you to," McCondichie added. "Southern Fried Karma has a mission to tell a million tales of 'Y'all Means All.' Southern Fried Books is another way for us to fulfill that mission."
The "front porch bookstore" will stock some 700 titles, and in the near future plans to develop beyond a bookstore and into a community space that hosts author events and workshops, and partners with other indie booksellers and organizations.
"We have the whole perspective," McCondichie said. "We're readers, we're writers, and we're publishers. We're committed to books and independent booksellers."
---

---