B&N 3rd Quarter: Sales Flat; Comps Up 1.1%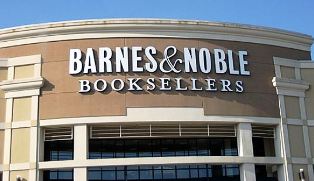 In the third quarter ended January 26, total sales at Barnes & Noble were $1.2 billion, down $423,000 compared to the same period a year earlier, while net earnings were $66.9 million compared to a net loss of $63.5 million in the same period a year earlier. Sales at stores open at least a year rose 1.1%, B&N's best quarterly performance in that category in several years.
Both net sales and net earnings were slightly below analysts' expectations although same-store sales and adjusted earnings were higher than expected. In pre-market trading, B&N shares were down about 10%.
B&N chairman Len Riggio commented: "In fiscal 2019, we have been focused on growing the top line, which contributed to our best holiday in years. Sales benefitted from our new ad campaign, increased marketing and promotions, and an improved omni-channel experience for our customers. We believe these efforts are laying the foundation for sustained growth."
The company predicted fiscal 2019 EBITDA to be between $140 million and $155 million, which "includes the impact of incremental investments the company is making in its business, as well as lower than expected post-holiday sales."
---
In other B&N news, the company has appointed Sasha Quinton v-p and general merchandise manager, bookstore, effective March 25. Quinton has worked at Readerlink Distribution Services (and its predecessor, Levy Home Entertainment) since 2010, most recently as senior v-p, marketing and procurement.
At B&N, she will be what the company calls "the enterprise leader of publisher relations" and will head Barnes & Noble's "business partnership objectives and strategies. She will also lead business development, assortment development and product development in support of Barnes & Noble's Adult Trade, Bargain, and Newsstand divisions."
Tim Mantel, B&N's chief merchandising officer, to whom Quinton will report, said, "Sasha's stellar industry track record of merchandising, marketing and procurement makes her the perfect fit for our company."
---

---