NEIBA and NECBA: Change Is the Constant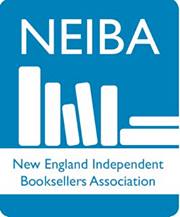 The New England Independent Booksellers Association met last week in Providence, R.I., in a show that received many rave reviews and drew 377 booksellers (up 4% over last year) from 100 stores (up 5% from last year)--and 634 people altogether. Among the standout events were some hilarious and heartrending talks at the banquet from prizewinners (fiction winner Ocean Vuong's serenade and talk brought tears to many people's eyes) and prize-givers, as well as powerful talks at the various author events (see story below). The trade show floor was busy and NEIBA had to turn away some vendors, so next year the organization may increase the amount of space it takes at the Rhode Island Convention Center.
NEIBA executive director Beth Ineson commented: "The conference has always been a joy for me, when I was on the publisher side and even more so now that I'm in a planning role. Having (nearly) everyone under one roof, wearing name tags(!) is so satisfying. This year I'm particularly pleased because the new things we tried worked, and anyone who runs events and changes things up year to year understands that you don't really draw breath until you've seen the results of new initiatives."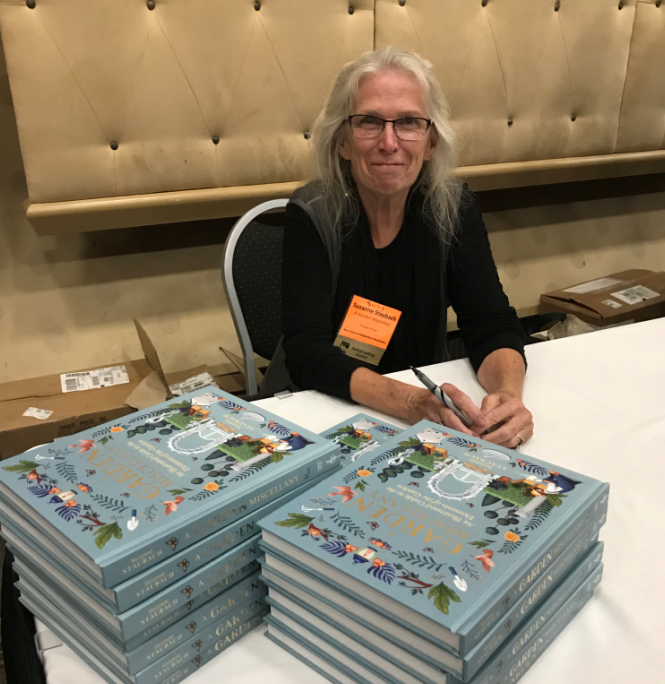 At the Author Cocktail Reception, retired longtime bookseller Suzy Staubach signed copies of her third book, A Garden Miscellany: An Illustrated Guide to the Elements of the Garden (Timber Press).
Show changes included having the winners of the New England Book Awards revealed at the banquet, Oscars-style, rather than in the weeks ahead; reviving editor buzz panels for adult and children's books, which were sold out; and holding the author reception in one room. In addition, panels and seminars addressed a range of issues in the industry (more about them tomorrow).
The association itself has been going through many changes in the last year and a half, and they'll continue. These include the retirements of executive director Steve Fischer and administrative coordinator Nan Sorensen and the arrival of Ineson and marketing coordinator Ali Schmelzle. At NEIBA's annual meeting, outgoing president Laura Cummings of White Birch Books, North Conway, N.H., joked, "It's not intentional, but it appears I presided over the wholesale turnover of NEIBA staff. Beth informed me that I'm not an agent of destruction but more an agent of change."
Among other changes: the NEIBA office is moving from dedicated space in Cambridge to a co-working space with many meeting rooms in Boston, which will cut the association's rent in half; NEIBA is installing a new CRM system that will improve communications, and lead to a new Web and e-mail look; and All About the Books will become a two-day event and move around New England (taking place in Portland, Maine, next April). The association is in solid financial shape. ("Steve [Fischer] did a wonderful job keeping the association financially sound," Ineson said.)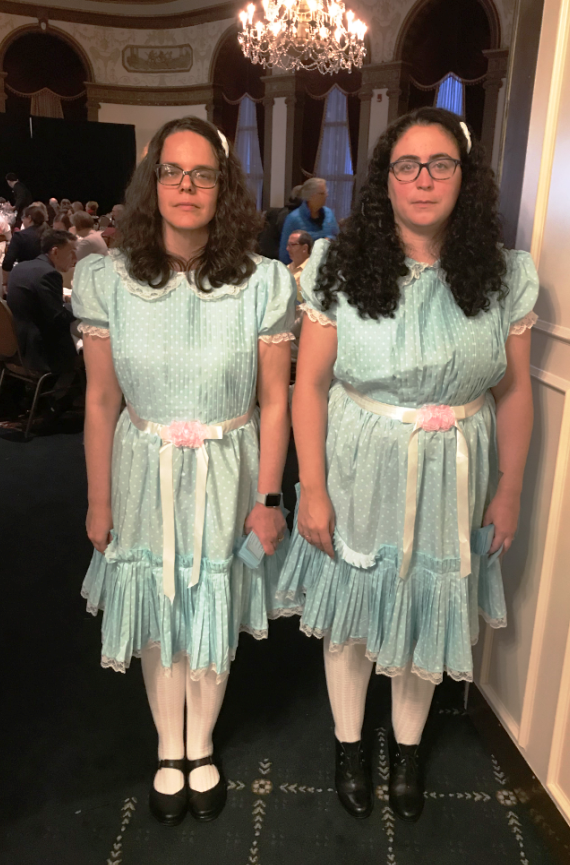 The password was "redrum." Collecting tickets at the banquet, where Stephen King won the President's Award, were incoming NEIBA president Beth Wagner and incoming v-p Emily Russo. Verdict: best association new heads intro ever.
A new group of officers were welcomed at the annual meeting: Beth Wagner of Phoenix Books Essex, Essex Junction, Vt., is the new president; Emily Russo of Print: A Bookstore, Portland, Maine, is the new v-p; and Emily Crowe of An Unlikely Story, Plainville, Mass., is the new secretary/treasurer.
At the annual NECBA meeting, NECBA co-chair Nicole Brinkley announced Windows & Mirrors Committee co-chair Clarissa Hadge as the incoming NECBA co-chair; the 2020 Windows & Mirrors committee co-chairs will be Tildy Banker-Johnson and Read Davidson. Brinkley pointed out some upcoming changes for NECBA, including a nomination process for the selection of co-chairs and a children's and YA-only All About the Books event to be held in January.
The NECBA Windows & Mirrors Committee announced its 2019 Windows & Mirrors book picks at the conference. The list, which included 31 picture book, middle-grade and young adult titles, uses "the concept of windows and mirrors popularized by Dr. Rudine Sims Bishop to develop a thoughtful, inclusive reading list of well-written and well-illustrated 'diverse' books." --John Mutter and Siân Gaetano
---

---