Notes from New York Comic Con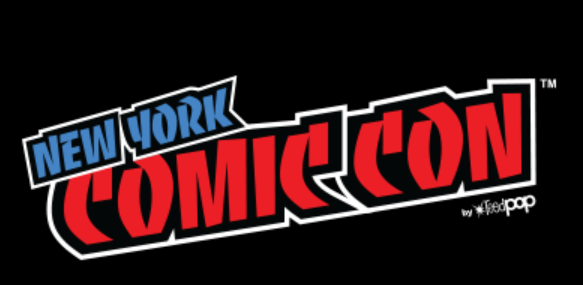 ReedPOP's New York Comic Con, the East Coast's largest pop culture event, took place this past weekend at the Javits Center in New York City. More than 200,000 tickets were sold for the four-day event at which fans of comics, film, television and books attended screenings, walked the show floor, interacted with new products and celebrated their personal fandoms. Like last year, there was an excellent publishing presence, with tons of book-related panels. And those panels were wonderfully diverse. As event director Kristina Rogers noted, she was particularly pleased about having a "representative line-up of panelists talking about topics that are balanced out. I love 'people of color and comics' panels, they're really cool, but what I love more is seeing people of color on all of our panels about comics. And the same with women. And the same with anybody--everybody--else."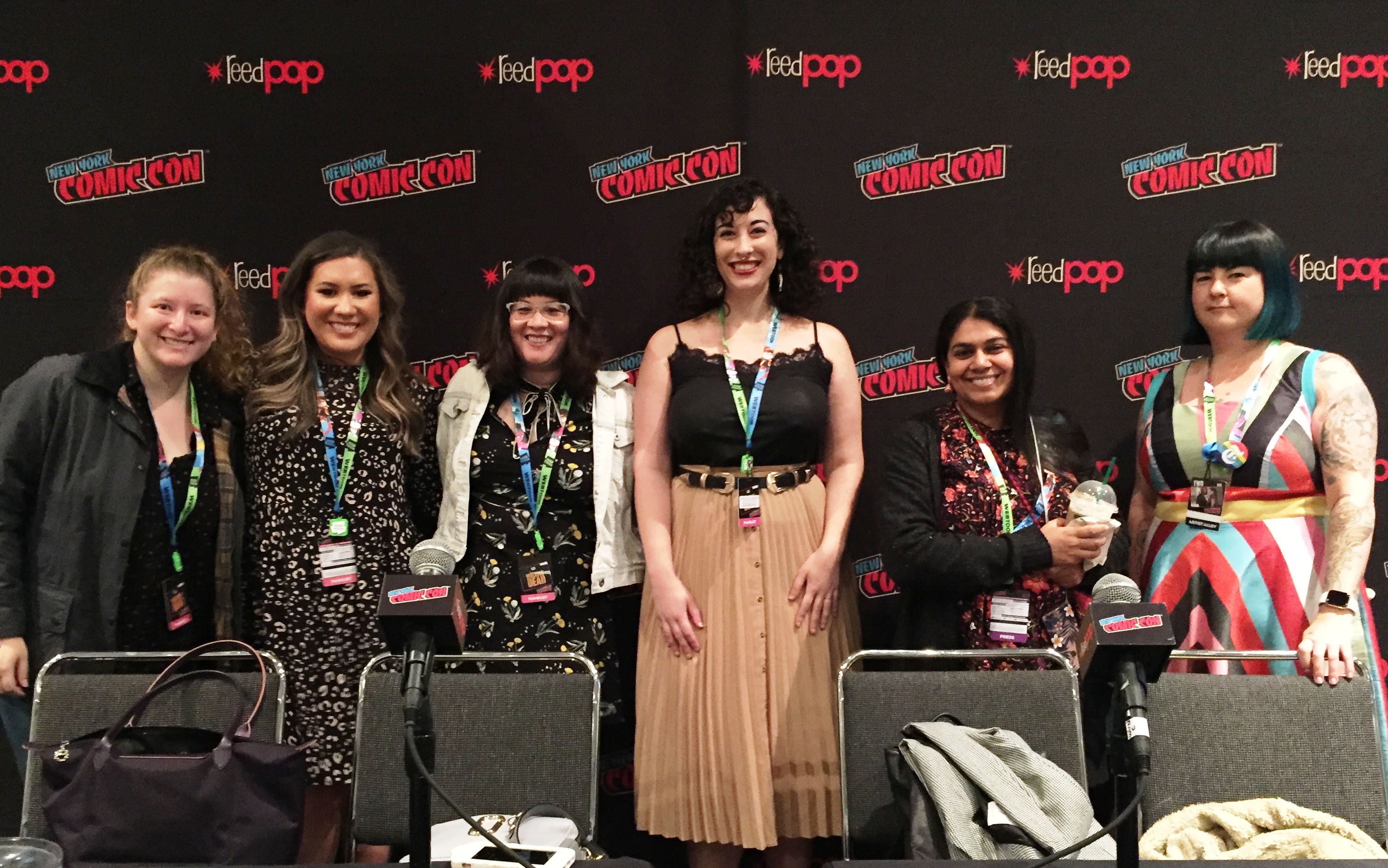 Lily Herman, Renée Ahdieh, Sarah Kuhn, Rosemary Valero-O'Connell, Sona Charaipotra and Mariko Tamaki
On Saturday morning, moderator Lily Herman (Refinery29 contributing editor) chatted about the romance genre with creators Renée Ahdieh (The Beautiful, Putnam), Sarah Kuhn (Heroine Complex, DAW), Sona Charaipotra (Symptoms of a Heartbreak, Imprint) and Rosemary Valero-O'Connell and Mariko Tamaki (Laura Dean Keeps Breaking Up with Me, First Second) in a panel titled "Is This a Kissing Book?" The panelists discussed the craft of the romance novel and their own personal experiences writing the genre for teens and adults. Ahdieh suggested that a romance writer is trying to achieve for the reader "that feeling around your heart where something tightens when you read it." "When it's done really right," Kuhn said, "you're tortured by the book." Discussing Happily Ever Afters, Happily for Nows and True Love Always, the group chatted about their personal fandoms and favorite ships, and Tamaki said, "I think everybody who writes should be a nerd." Immediately following this panel, Herman did a one-on-one interview with author Marie Lu, whose Rebel (Roaring Brook Press), the final book in her bestselling Legend series, was recently released.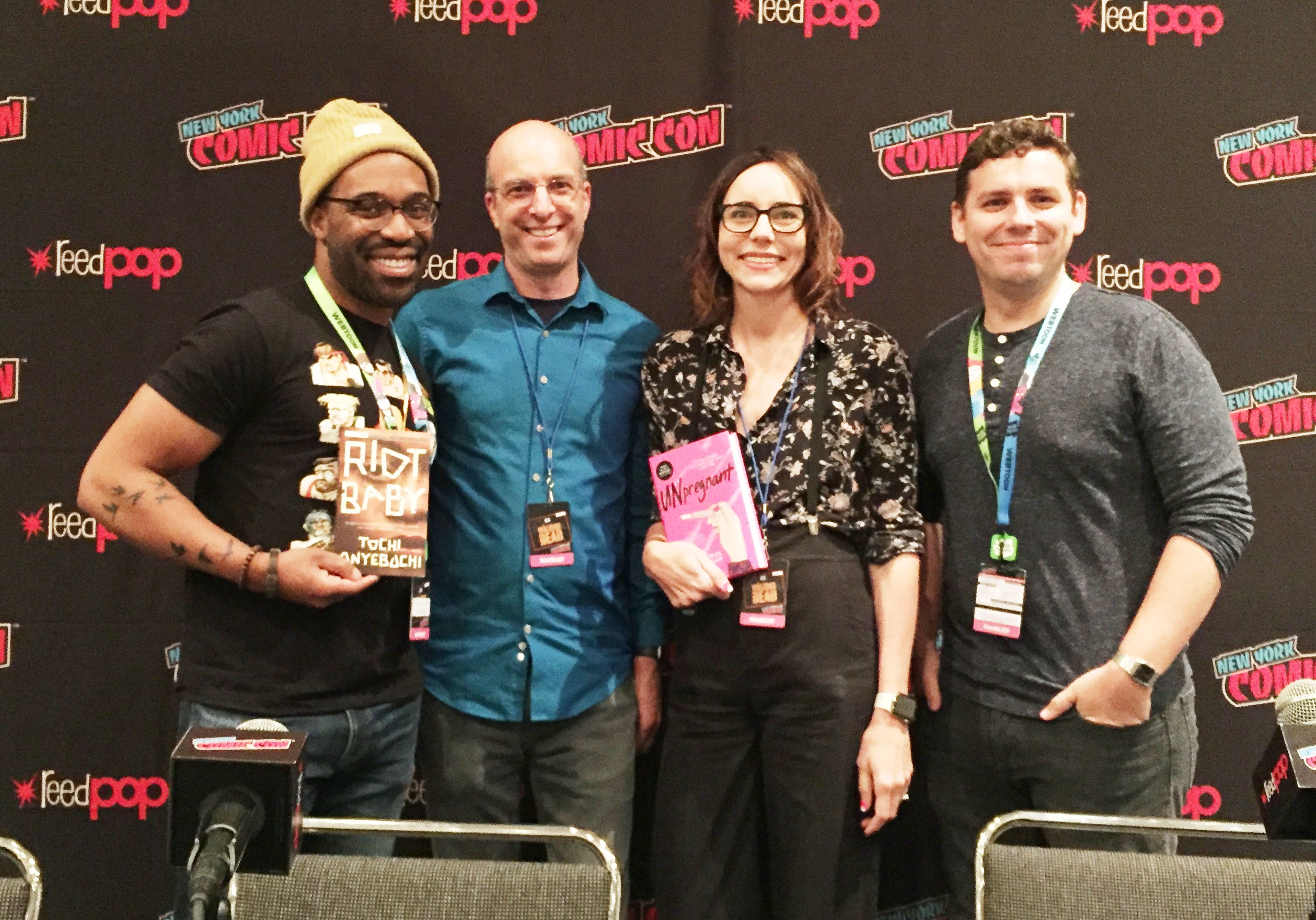 Tochi Onyebuchi, Ted Caplan, Jenni Hendriks and Max Brallier
Later Saturday morning, authors Tochi Onyebuchi (Riot Baby, Tor, January 2020), Ted Caplan and Jenni Hendriks (Unpregnant, HarperTeen) and Max Brallier (The Last Kids on Earth and The Midnight Blade, Viking) spoke about their experiences writing "From the Screen to the Page." Brallier suggested that he "only figured out how to structure books after [he] figured out how to structure a movie." Hendriks and Caplan, who are both screenwriters, explained that, as Hendriks put it, the main difference between writing for the screen and writing books is that "you can use all the words in a book!" And Onyebuchi left the aspiring writers with a piece of advice he was given that he will never forget: "Fail brilliantly."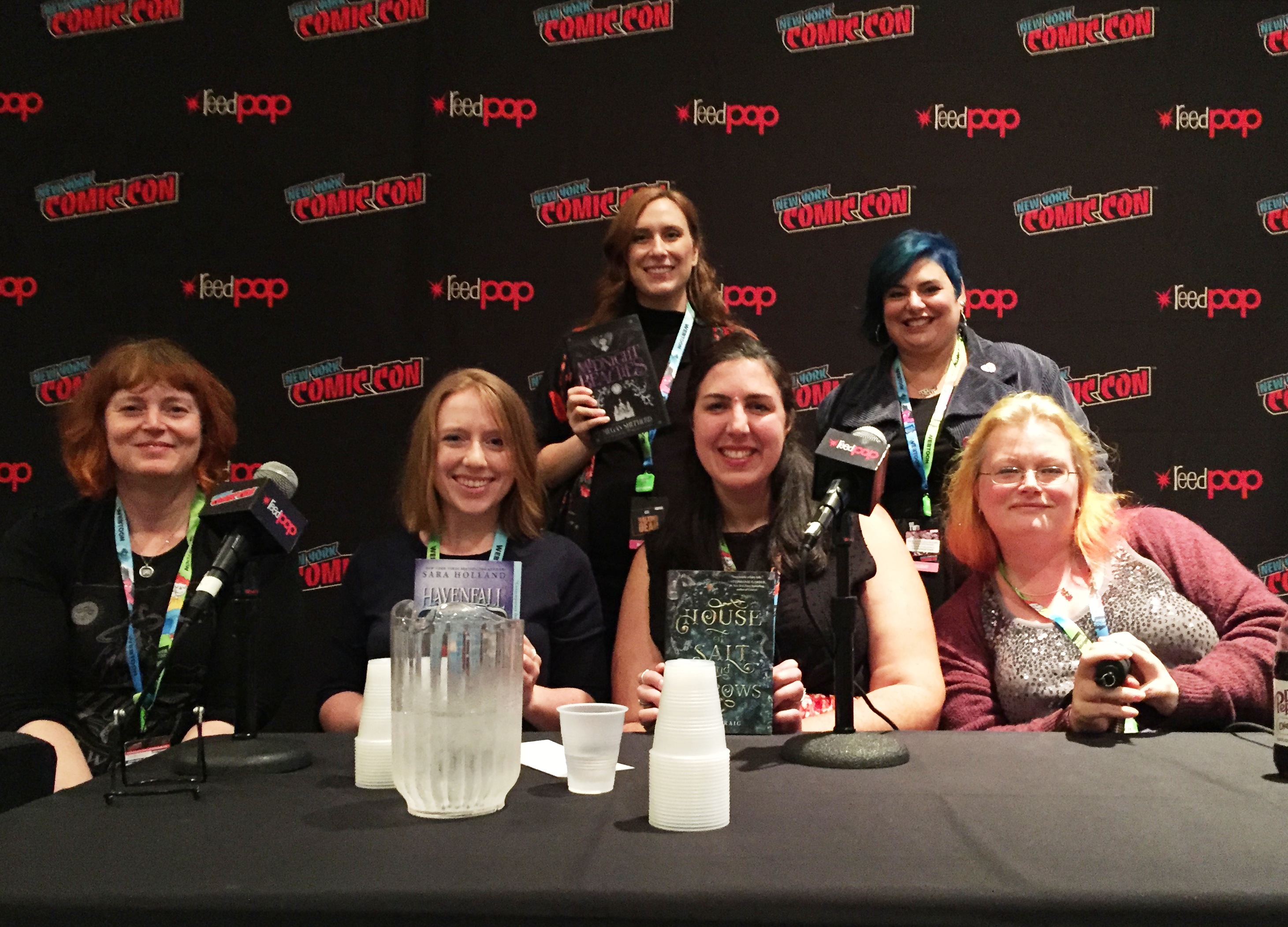 Petra Mayer, Sara Holland, Megan Shepherd, Erin A. Craig, Holly Black and Seanan McGuire
On Sunday morning, NPR Books editor Petra Mayer talked about fairies, fairy stories and fairy tales with authors Sara Holland (Havenfall, Bloomsbury), Megan Shepherd (Midnight Beauties, HMH), Erin A. Craig (House of Salt and Sorrows, Delacorte), Holly Black (Heart of the Moors, Disney-Hyperion) and Seanan McGuire (Come Tumbling Down, Tor). McGuire set the tone of the conversation, explaining to the audience that "fairies would straight up cut a b*tch" or perhaps turn a person "into an equal volume of spiders," noting that even Tinkerbell was "a murderous little brat." Taking a deep dive into the how and why of writing about fairies, the panelists discussed origin stories, their attraction to the world of fairies and Faerie itself as "an ecosystem" (Black). McGuire left the attendees with a strong piece of advice: "It is courteous to leave a bowl of milk on the doorstep; it is stupid to set up a fairy door in the nursery."
Kuo-Yu Liang, ReedPOP's global director of business development, noted that "different people come here for different reasons. Some people just want to wander. Some people want to go to artist alley and spend eight hours a day talking to artists and buying art. Some other people may just want manga. Others may say, 'I don't read at all,' and want to only meet movie stars. It's a different show for different people. And we have to provide a road map for all of those people. We've spent a lot of extra effort [to make the show feel more welcoming] this year, too. More multicultural, working with ADA--you'll notice a lot more people in wheelchairs doing cosplay this year. It's great! And every year we ask ourselves how to do it better next year." --Siân Gaetano, children's and YA editor, Shelf Awareness
---

---