New Voices, New Rooms: The Immigrant Experience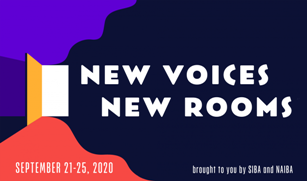 All three authors featured in last night's New Voices, New Rooms session "The Immigrant Experience" are children of immigrants who found themselves straddling the cultural traditions and values of their parents and the traditions they made for themselves in the United States.
"In Once I Was You, that was my thread," said Maria Hinojosa of her newly released memoir (Atria). "In some ways I was at war with my father. A traditional Mexican father wants you to get married--I was always fighting against that. For all immigrant women, this is our essential struggle. Or you can make peace with it. Then you realize this thing that we have is actually our superpower. It's given the writers here the capacity to do what we do."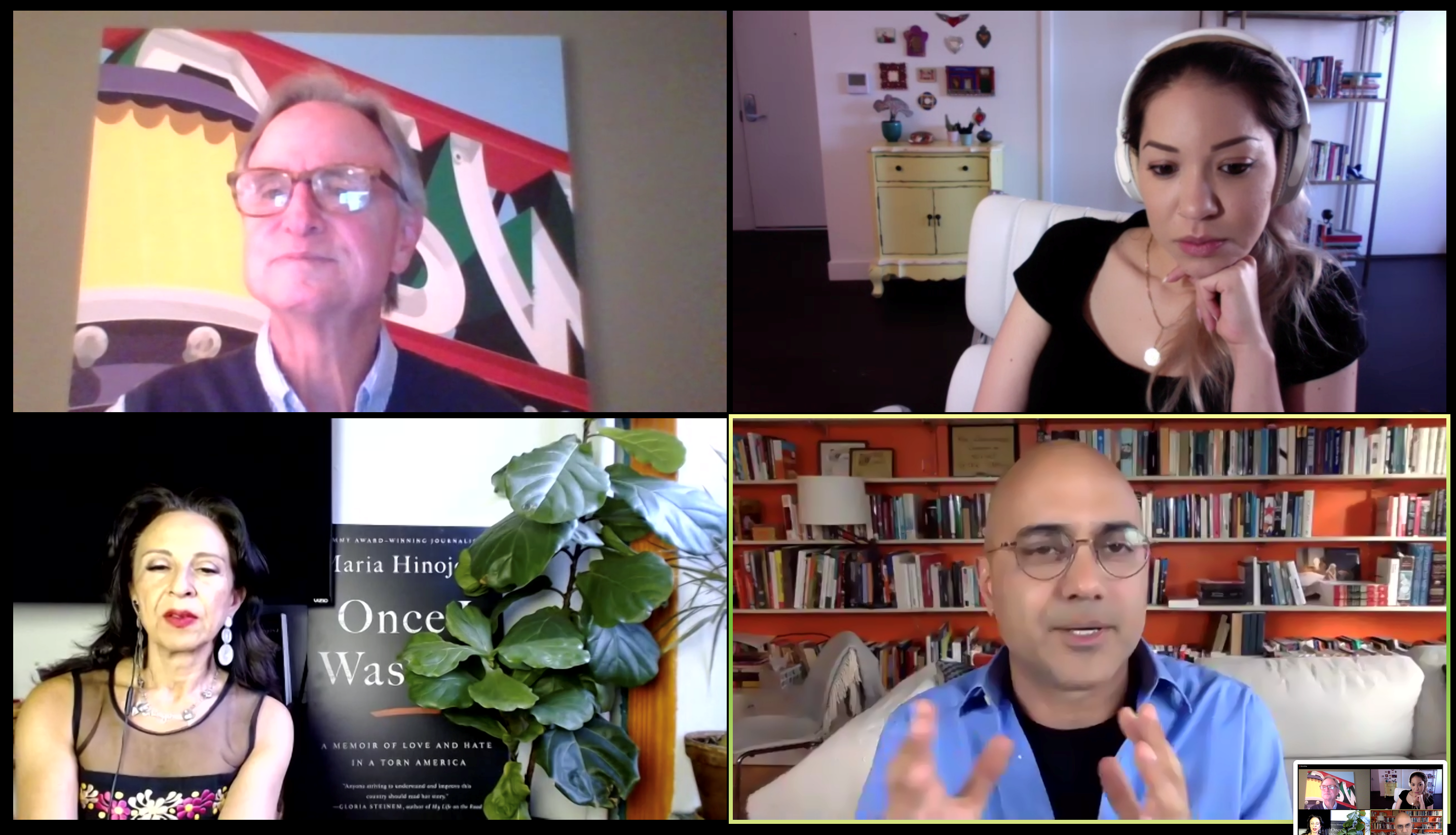 Clockwise from top left: Bill Reilly (moderator), Gabriela Garcia, Ayad Akhtar, Maria Hinojosa.
Garcia, whose forthcoming debut novel, Of Women and Salt (Flatiron, April 6, 2021), draws on her experience growing up in Miami as the daughter of a Cuban mother and Mexican father, also had to make her way in the world. "I was born in the U.S., but Spanish was my first language, and I didn't learn English until elementary school. I was the translator for my parents," Garcia said. "I was interested in that space in particular--thinking I didn't belong here, feeling like an outsider in Mexico and Cuba, grappling with the privilege of that."
For Ayad Akhtar, too, that space, as Garcia put it, was "a source of constant conflict: me espousing values [my parents] didn't have." He described it as fodder for drama and storytelling. "Neither was particularly married to the Old World, but they never really left it emotionally or spiritually." He explained that he includes a lot of this in his new novel, Homeland Elegies (Little, Brown).
Moderator Bill Reilly, co-owner of the river's end bookstore in Oswego, N.Y., asked Hinojosa, "As a reporter, you've been covering this issue of immigration and the immigration crisis for some time, what keeps you going?" Hinojosa responded, "What keeps me going is my understanding that I'm part of a long arc of reporters in America whose job is to tell our truths. Frederick Douglass, he's my Founding Father. He's born into slavery, gets free, publishes and edits the first Black newspaper here, the North Star. Jovita Idár, a Mexican American like me, who stood up to the Texas Rangers. Ida B. Wells, an investigative reporter who reported on lynching."
Garcia took inspiration from Toni Morrison's quote: "If there's a book you want to read that's never been written, you should write it." Garcia saw the different experiences her parents had in America. "My mother was Cuban and had an easy path to citizenship. She was escaping Castro," the author said. "My father faced racism and xenophobia as a Mexican immigrant. I wanted to write a book about what a Latinx background means."
Reilly asked Garcia about the timeliness of her novel, "given that it describes immigration, detention and family separation." She responded with a knowing smile, "It's interesting to me because I started writing the chapter that takes place in detention centers during the Obama administration--that's when separation was first starting. The change is in how much media attention there is on ICE and on these places. It was based on my own work in detention centers and my conversations with women there."
Out of fear, post-9/11 America foreclosed Muslim lives for a generation, Reilly stated, asking Akhtar, "You reference an uncle who, after adopting Christianity and changing his name to Luke, felt safe. What needs to happen for Muslim Americans, American Muslims, to feel safe today?" Akhtar replied, "I have no idea. I do believe we're in a period where 9/11 is still an unprocessed wound. Our response to the trauma ended up destroying the world order. We're all suffering from the collapse of our nation. I was writing in response to that." Admitting that his book includes aspects of memoir, he gives his story the ending his father would have preferred, calling it "a fiction that expressed a deeper truth." --Jennifer M. Brown, senior editor
---

---