National Book Award Winners
Hosted by Jason Reynolds, a two-time National Book Award finalist and current National Ambassador for Young People's Literature, the 71st annual National Book Awards ceremony was held virtually last night. The winners are:
Fiction: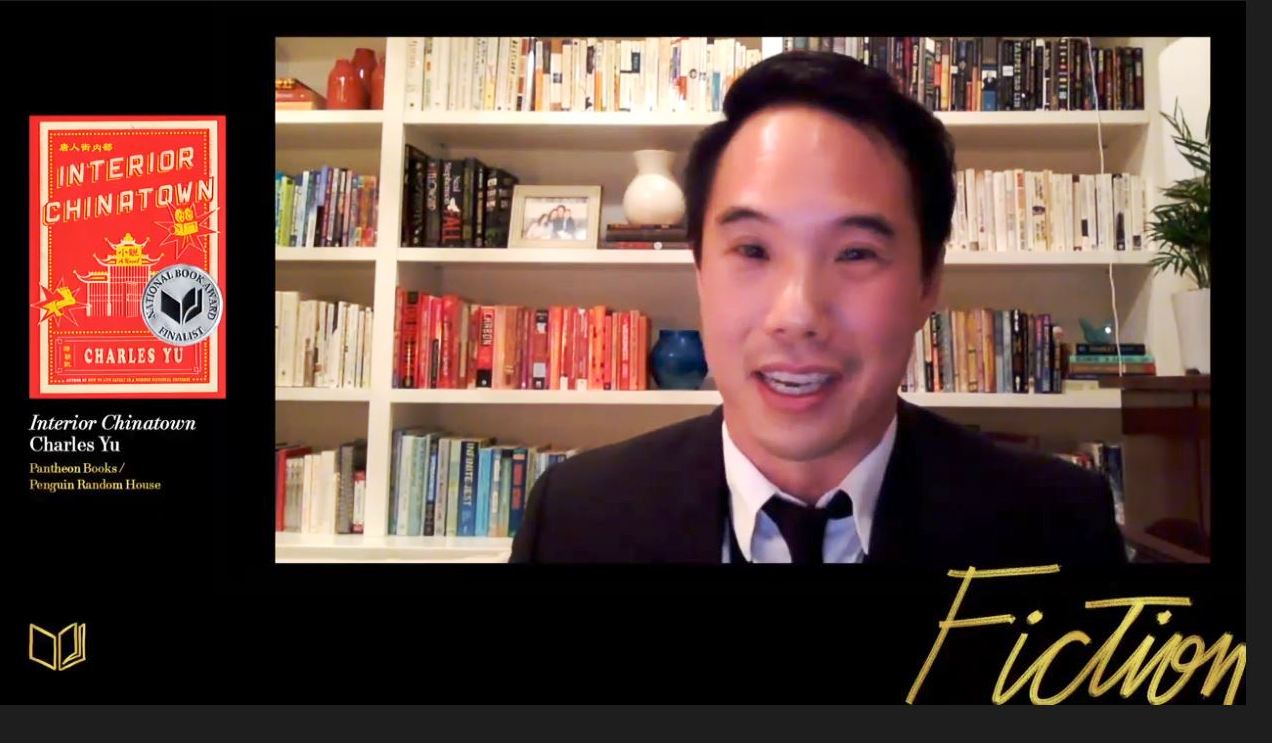 Interior Chinatown by Charles Yu (Pantheon Books). "There're not many reasons for hope right now, but to be here, hearing about all these books, having read some of them, going on to read many more of them, is what keeps me going. And I hope that this community can sustain other people the same way. I hope in some small way my book can also do that for people."
Nonfiction: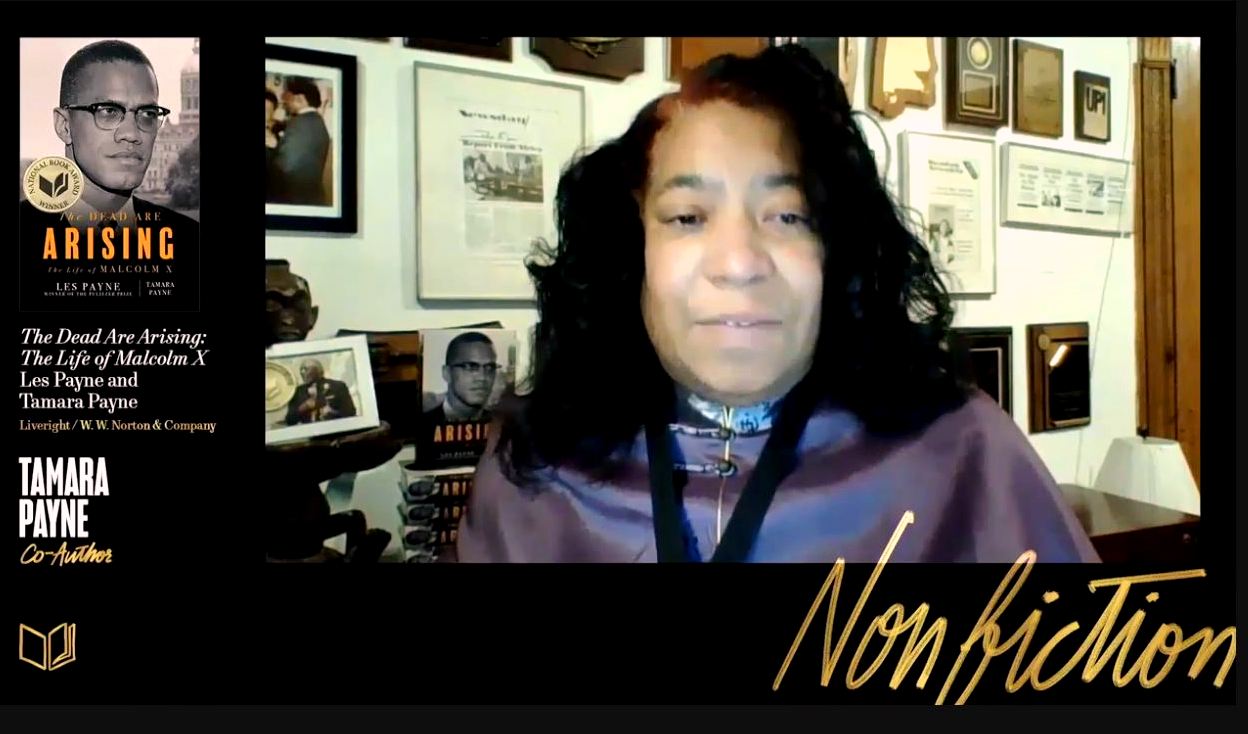 The Dead Are Arising: The Life of Malcolm X by Les Payne and Tamara Payne (Liveright/Norton). Tamara Payne: "This is such a bittersweet moment. I really wish my father was here for this... [He decided to write] a book that would bring one of the most important Americans of the 20th Century into clearer focus, to show not just his family, but the world in which he was born, to provide context, and who more than any other leader of the 1960s moved Blacks to consider who we are, from whence we come, and to plan what we could become. Since beginning the journey to finishing The Dead Are Arising, we've seen how Malcolm X has influenced people internationally. Today we see the youth all over the world continue to embrace him because his message still rings true."
Poetry: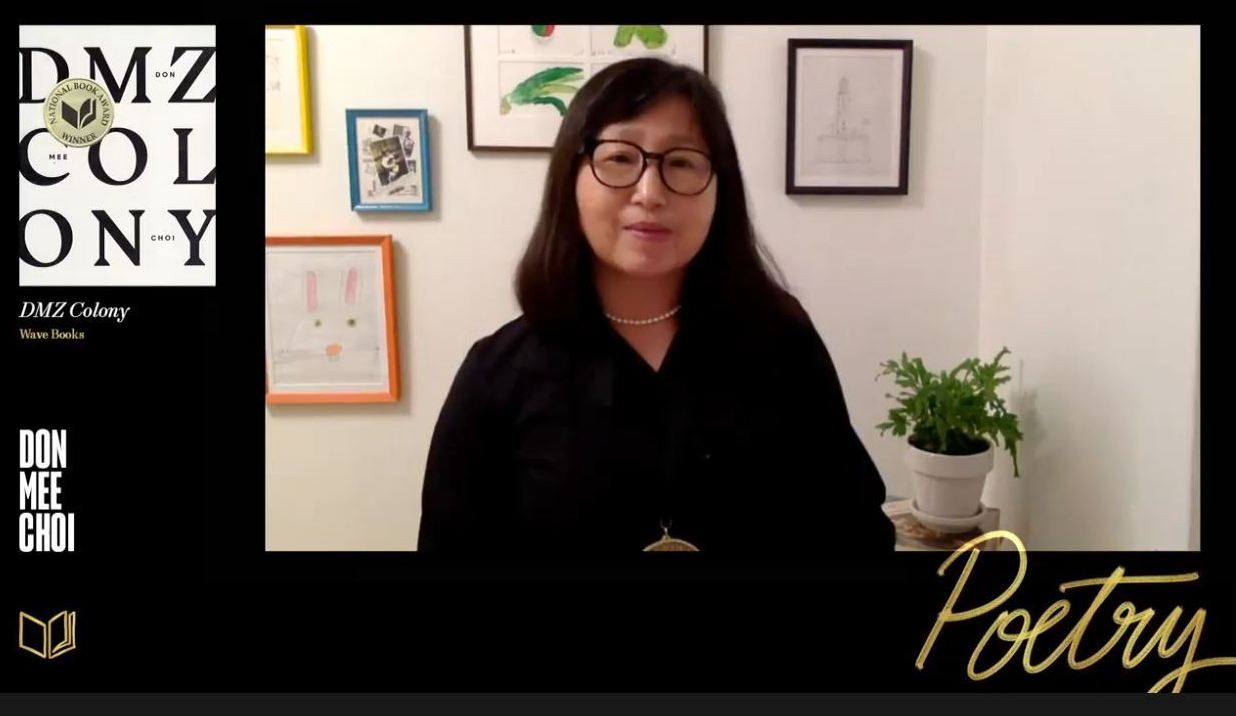 DMZ Colony by Don Mee Choi (Wave Books). "Poetry and translation have changed my life. For me, they're inseparable. The international women's network against militarism has taught me to think critically about translation, and these wonderful and small and independent presses have generously published my translations of Korean feminist poets and translation-related writings.... It is more important than ever that we engage in the non-predatory idle labor of writing and reading poetry in translation and be on the side of the struggles of those sat upon here and abroad."
Translated Literature: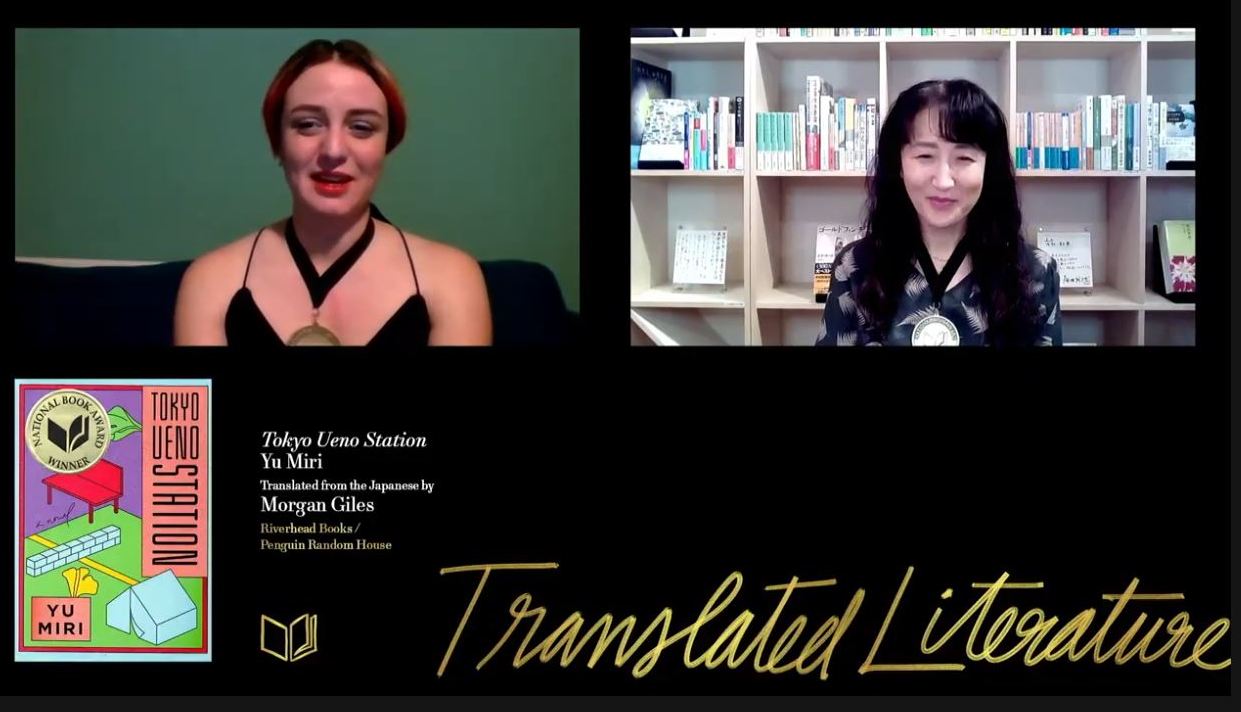 Tokyo Ueno Station by Yu Miri, translated by Morgan Giles (Riverhead Books). Miri: "It is a shame that [Morgan and I] can't be together on stage right now. I'd like to give her a high five and a hug... I live 16 kilometers from the nuclear plant that exploded in March 2011, and I run a bookstore and write. The main character of Tokyo Ueno Station is a man from Minamisoma and the speech is mostly written in this region's dialect, not standard Japanese. It is a very difficult work to translate. Tokyo Ueno Station is the first novel that Morgan translated. I want to thank her... Finally I would like to share this joy with the people of Minamisoma, who [have faced such] hardship after the earthquake, tsunami and nuclear disaster. This is for you."

Giles: "Most importantly of all, I have to thank Yu Miri for trusting me, a first-time translator, with her very precious novel. Thank you to the people of Fukushima for being so gracious and helping me."
Young People's Literature: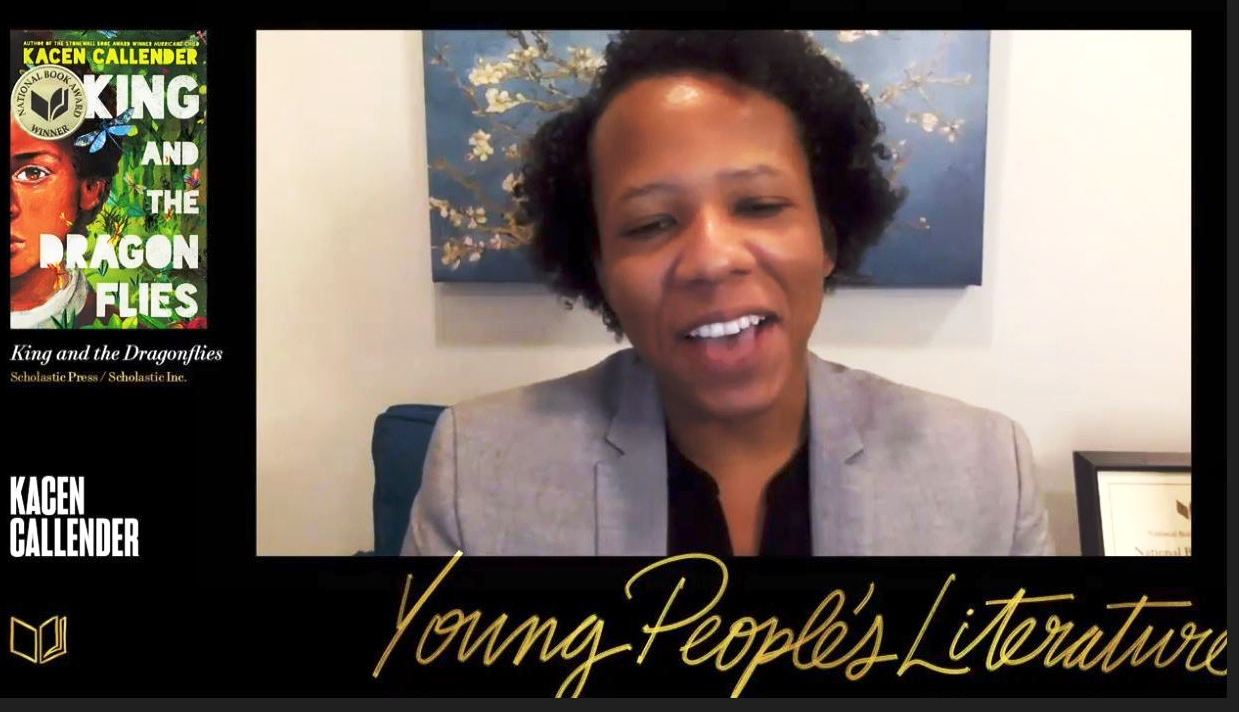 King and the Dragon Flies by Kacen Callender (Scholastic Press). "This has been the hardest, most painful, most devastating year in many people's memories, in their lifetime. But this has also been an empowering year for many, a year when we're forced to pause and reflect, not only on ourselves but on the society we live in, to look at the wounds internal and external, and to heal and to grow. I know I'm not the only one who believes that these next generations are the ones who are meant to change everything. Young people already have changed the world in so many ways, and it's an honor and a privilege to be given a platform and the opportunity to help in their guidance through the magic of story and to be impacted by the power of young people, too. As an author for young readers, I often talk about the necessary balance between pain and hope and joy. This has been a difficult year, but I'm grateful for this moment of joy, too."
---
At the beginning of the program, previously announced lifetime achievement awards were presented to Carolyn Reidy, the Simon & Schuster president and CEO who died suddenly in May and was a longtime National Book Foundation board member, and to author Walter Mosley.
Reidy was remembered by authors including Walter Isaacson, Bob Woodward, Rachel Kushner, host Jason Reynolds as well as by former American Booksellers Association CEO Oren Teicher, the recipient of the same award last year.
Stephen Reidy accepted the Literarian Award for Outstanding Service to the American Literary Community on Carolyn Reidy's behalf, saying that his wife "did not have just a passion for books but that she had an intellectual curiosity in reading itself. In her words, in the magic that comes from the interaction between the author's words and the reader's mind. That intellectual curiosity drew Carolyn to an understanding of publishing as the promoter of that author-reader magic. And the result of promoting that magic was to Carolyn the expansion of the audience for books and reading. And that audience expansion was critical to Carolyn because she believed that authors and publishers through the power of the words and the books do not just reflect our culture, but they help to create it.
"Yes, you've heard Carolyn was a reader. Yes, you've heard Carolyn was a book person. But I think she was proudest of being a publisher because as she said, in publishing we are the shepherds to this gift of the book, doing everything we can to help bring the author's voice to the reader."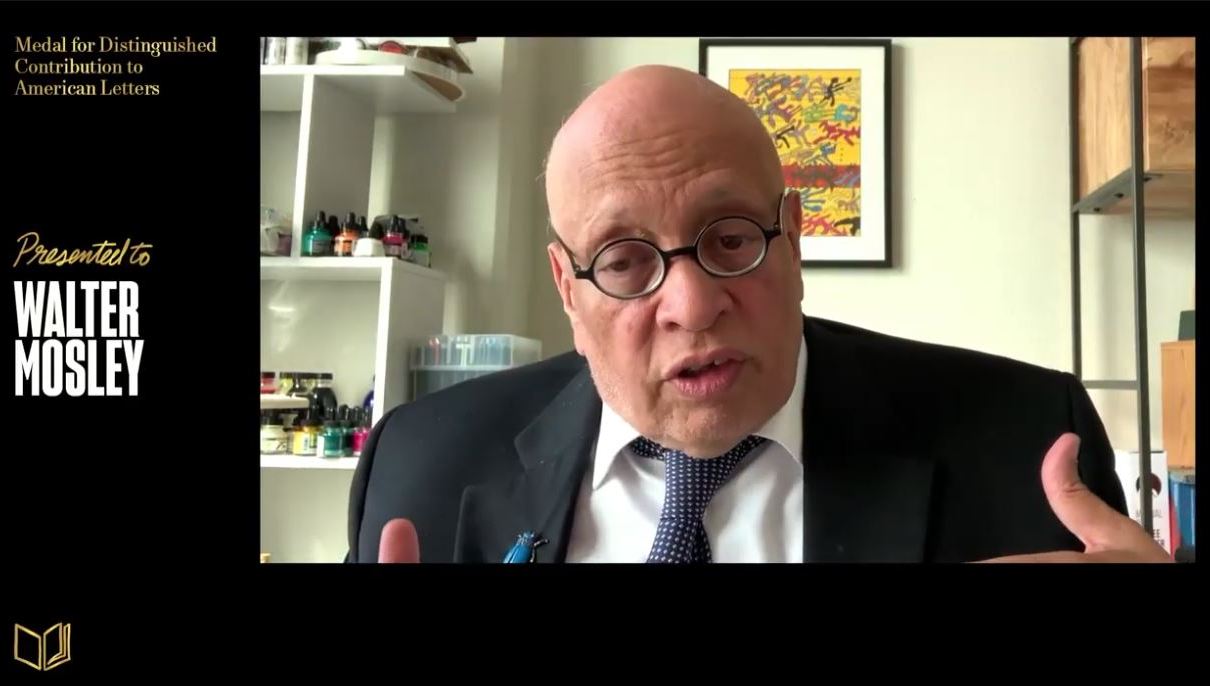 In accepting the Medal for Distinguished Contribution to American Letters, Walter Mosley said in part, "I love writing, its slippery slopes and foolish errands and silly puns and bone-shaking metaphors, its ability to offer over the millenia of the deep well of human invention in defiance of despots, wars, poverty and ever-encroaching technobabble. Stories can be transmitted via fiber optics, but they have yet to be surpassed by that or any other medium. Stories keep their deep connection to the human heart word by word, sentence by sentence. We, my fellow writers and I, and our readers, talk about love and solitude and dreaming and reality and truths that might not ever be uttered except by the word and the book that we read, that we write, that we interpret."
Saying there is "a great weight hanging over the reception of an award" by "the first black man to receive" the award, he continued: "We the people who are darker than blue have been here on this continent, in this storm, for 400 years. As a matter of course, we have been chained, beaten, raped, murdered, robbed of our names, our history and often even our dignity. This has been an ongoing process, an unending anguish... Is [my winning this award] a dying gasp or a first breath? Is today different from any other day over the past 400 years? I prefer to believe we are on the threshold of a new day, that this evening is one of 10,000 steps being taken to recognize the potential of this nation."
---
This year's edition of the National Book Awards was the last to be led by Lisa Lucas, executive director of the National Book Foundation since 2016, who in January is becoming senior v-p, publisher of Pantheon and Schocken Books at Knopf Doubleday Publishing Group.
David Steinberger, chair of the National Book Foundation board, thanked Lucas for "five incredible years. We are so thankful to Lisa and so proud of her. We look forward to her great success as a publisher at Pantheon and Schocken." Addressing Lucas, he added that he will "miss our whirlwind weekly calls, your energy, your drive, your belief in what we could make happen, and the difference books could make in the world."
Promising not to cry, Lucas thanked and praised the Foundation staff and board. (Calling the board "the aunties and uncles of great change in this industry and my life," she said, "They didn't just give me the freedom to do my work; they gave me the tools.") She said she was so proud of the Foundation and all it has accomplished while at the same time setting out what more it can do.
Reflecting on this "challenging year," Lucas said that when the pandemic hit, the Foundation responded. "Instead of pulling back, we doubled down," placing even more books in public housing; creating more platforms for authors and readers to connect; and co-launching the Arts Emergency Literary Fund, which gave $3.5 million in relief funding to a variety of literary arts organizations.
"If we've learned one thing this year, it's that books and book people are resilient," she added. "We've all lost so much. We've lost so many luminaries. It's been a tough year. We've also seen sadly the very real limitations of the book business. We haven't been bold enough in our vision. We haven't been brave enough in our choices. We've haven't been confident enough in our values to make sure that this industry, this community, is as strong and inclusive and vibrant as it could be, as it should be, as it will be. The ways that this year has tested us proves that we are capable of imagining new solutions to unprecedented problems, and it's time to take that imagination and that fortitude and use it to address the problems that have always been with us. We can do better. We know that we can do better, and we must do better."
---

---