Heartleaf Books Coming to Providence, R.I., Next Spring
Next spring, sisters and librarians Caroline Vericker and Mads Vericker will turn their pop-up bookstore Heartleaf Books into a bricks-and-mortar store in Providence, R.I. The Verickers have found a 2,300-square-foot space in the city's West End/Armory neighborhood, right across from the Dexter Training Ground park, and are eyeing a tentative opening date of March 2022.
They've chosen to make Heartleaf Books a cooperative, and are in the process of raising funds for the store as well as searching for board members and founding members. The pair has launched a campaign with Kiva, a nonprofit based in San Francisco, Calif., that provides crowdfunded loans with 0% interest to new businesses around the world. The sisters are aiming for a loan of $9,500, and in just a few days have raised $2,400.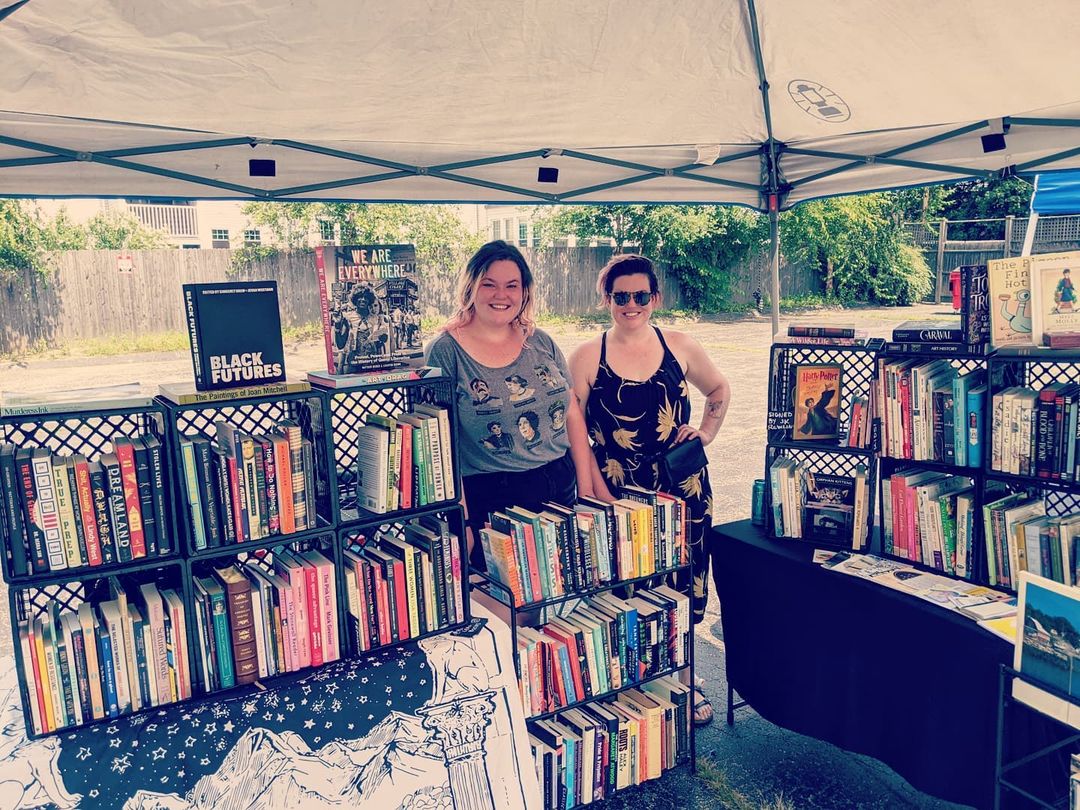 Caroline Vericker (l.) and Mads Vericker
Mads Vericker explained that they chose the co-op model because they want the store to be "community owned and operated" as well as "owned by the people who work there." It will be both a consumer co-op and a worker-owner co-op, and Vericker pointed out that this model gives them some fundraising options that aren't available to private ownership. Next month, for example, they'll be applying for a loan from the Cooperative Fund of New England.
"We want consumers to be able to invest from the very beginning," Mads said, adding that there is a lot of "momentum" in Providence as far as co-ops are concerned. A local coffee shop recently went co-op, and a new cooperative grocery store opened. "The neighborhood is becoming a little co-op corner."
The bookstore, which debuted as a pop-up shop at the Providence Flea market in July, sells titles for all ages while centering books by people of color and by queer authors. Inititally they sold only used books, but that was more of a "convenience to get started." The bricks-and-mortar store will have an inventory mix of about 75% new titles and 25% used titles, with Vericker noting that some genres are particularly tricky to source used.
Elaborating on Heartleaf's inventory plans, Mads Vericker said she wants to curate a collection of metaphysical titles, astrology books and books about witchcraft. She's particularly interested in books on those subjects published by women of color and queer people, which is happening more and more these days. "My sister," she continued, "is an expert on fiction," with an "amazing knowledge of authors" and a knack for connecting with them on social media.
Houseplants, meanwhile, will play a big part of the store's nonbook plans. Vericker has a green thumb and more than 80 plants in her home; ideally she would like about 20% of the store's sales to come from plants. The owners also have plans to partner with local presses to sell art, zines and self-published work.
Vericker said they plan to make their space available for any kind of community event, from traditional author events and book clubs to things more out-of-the-ordinary. They're looking to partner with local schools on book fairs and with a nearby cafe and arts space to host events at the bookstore.
So far, Vericker reported, the response to their plans has been fantastic. While Heartleaf was still only a pop-up, shoppers would frequently ask them when the store is opening, and people in the West End neighborhood have told them how much they want and need a bookstore. There are some community members who are already "really in our corner," and there are a few folks interested in being founding members.
"Our two biggest skeptics are our parents," Vericker remarked, laughing. But on a recent Saturday when Caroline was unavailable and their mom helped out at the pop-up, they sold around 100 books and she began to come around. "It was really cool to show her this is a viable thing." --Alex Mutter
---

---