NEIBA Fall Conference: Celebrating Books, Authors, Being Together Again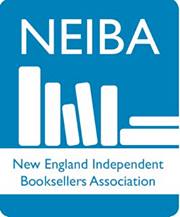 In many ways, the New England Independent Booksellers Association fall conference picked up where it left off before the pandemic in 2019, a well-run, energetic show that introduced and re-introduced a range of authors to eager booksellers. But this year, most attendees were in a special mood of celebration at finally gathering in person again and seeing old friends and making the random kind of new connections and friends that happens at conferences.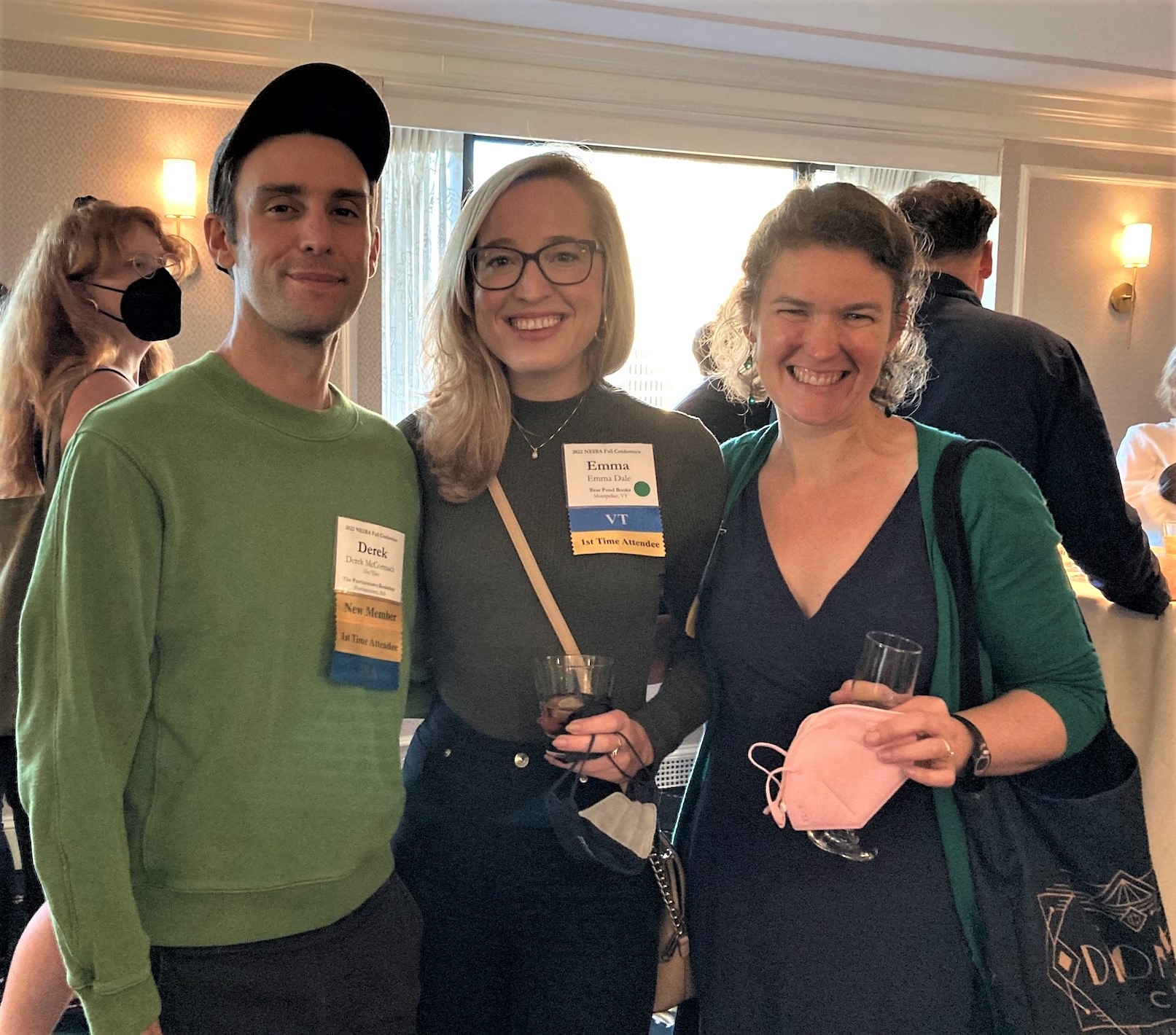 First-time NEIBA attendees Derek McCormack (The Provincetown Bookshop, Provincetown, Mass.), Emma Dale and Cora Kelly (both from Bear Pond Books, Montpelier, Vt.) at Thursday evening's awards banquet cocktail party.
Gratitude was an informal theme of the conference--for being able to meet in person, for the work that NEIBA and so many did in the past two and a half years to make it possible for stores and booksellers to survive and in many cases thrive during the pandemic, for the sense of community that helped members cope, for publisher support during the difficult times.
Gratitude was also a large part of the annual meeting (see more below), where staff and board members spent more time than usual expressing their thanks and appreciation of everyone's work, particularly to NEIBA executive director Beth Ineson, marketing manager Ali Schmelzle and president Beth Wagner of Phoenix Books, Essex Junction, Vt., who Ineson called "our wartime president." (Wagner's two-year term was extended a year because of the pandemic, and Friday's annual meeting was her first and last in-person annual meeting as president.)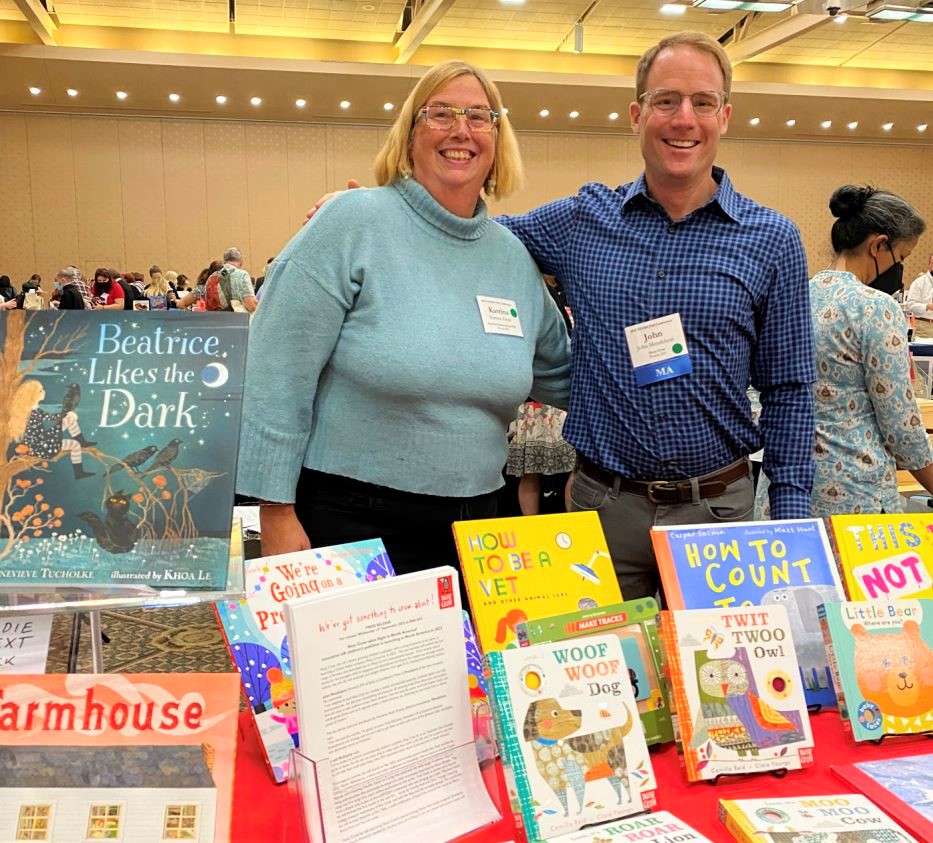 John Mendelson, head of the newly founded U.S. branch of Nosy Crow, with Katrina Kruse of Hachette Book Group, Nosy Crow's distributor.
For the association, there was a lot of good news. Total attendance at the show was 484, which was down from 2019 by 24%, but which "exceeded my wildest expectations," Ineson said. "I expected maybe half." There were a sizable group who registered on location, making "game-day decisions," and many attendees were first timers.
She added that NEIBA was delighted with how it all went, especially considering that logistics in planning such events have been "extraordinarily difficult in these times. It seemed like a miracle to pull it off." She praised booksellers and publisher partners alike for their enthusiasm and support.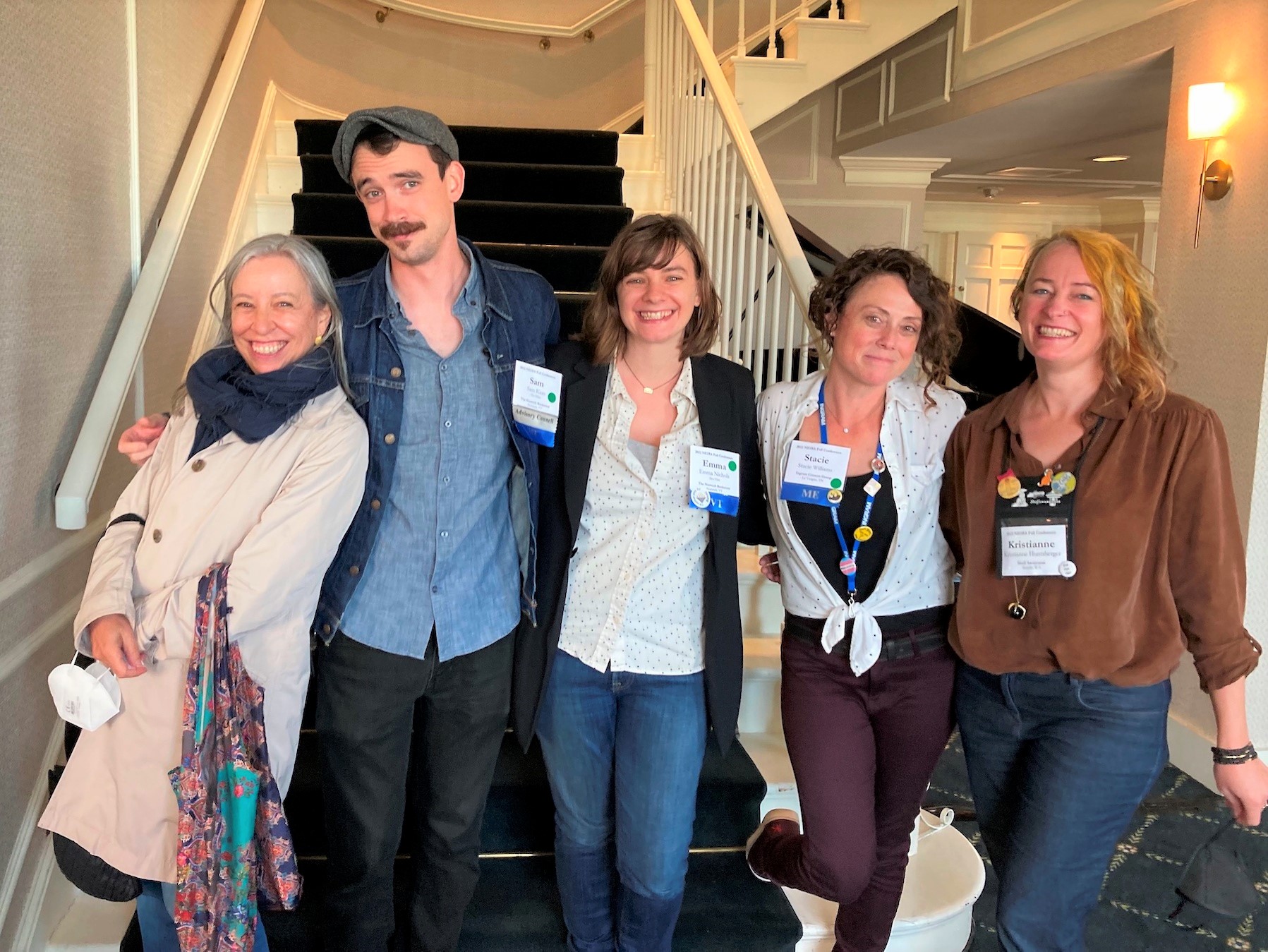 From l.: Ruth Liebmann, v-p, account marketing at Penguin Random House; Sam Kaas and Emma Nichols, owners of the Norwich Bookstore, Norwich, Vt.; Ingram sales rep Stacie Williams; and Shelf Awareness partnership program manager Kristianne Huntsberger.
At the annual meeting, Beth Wagner reported that NEIBA welcomed 27 new member stores in past fiscal year.
NEIBA's finances are "strong and stable," treasurer and clerk Meghan Hayden of River Bend Bookshop, Glastonbury, Conn., reported. The association had net income in the last fiscal year of slightly over $70,000, which exceeded the original budget "by a huge margin." She attributed some of the gain to the successes of the holiday catalogue, the summer reading campaign, the spring forum and advertising programs.
The association aims to use the revenue to invest in a variety of things, including upgrading office laptops, buying equipment to broadcast more events live, provide members "more and more varied" in-person events and replacing some money taken from the association savings account in 2020 when membership dues were suspended. NEIBA is also considering hiring someone to handle some back-office, logistical matters like invoicing.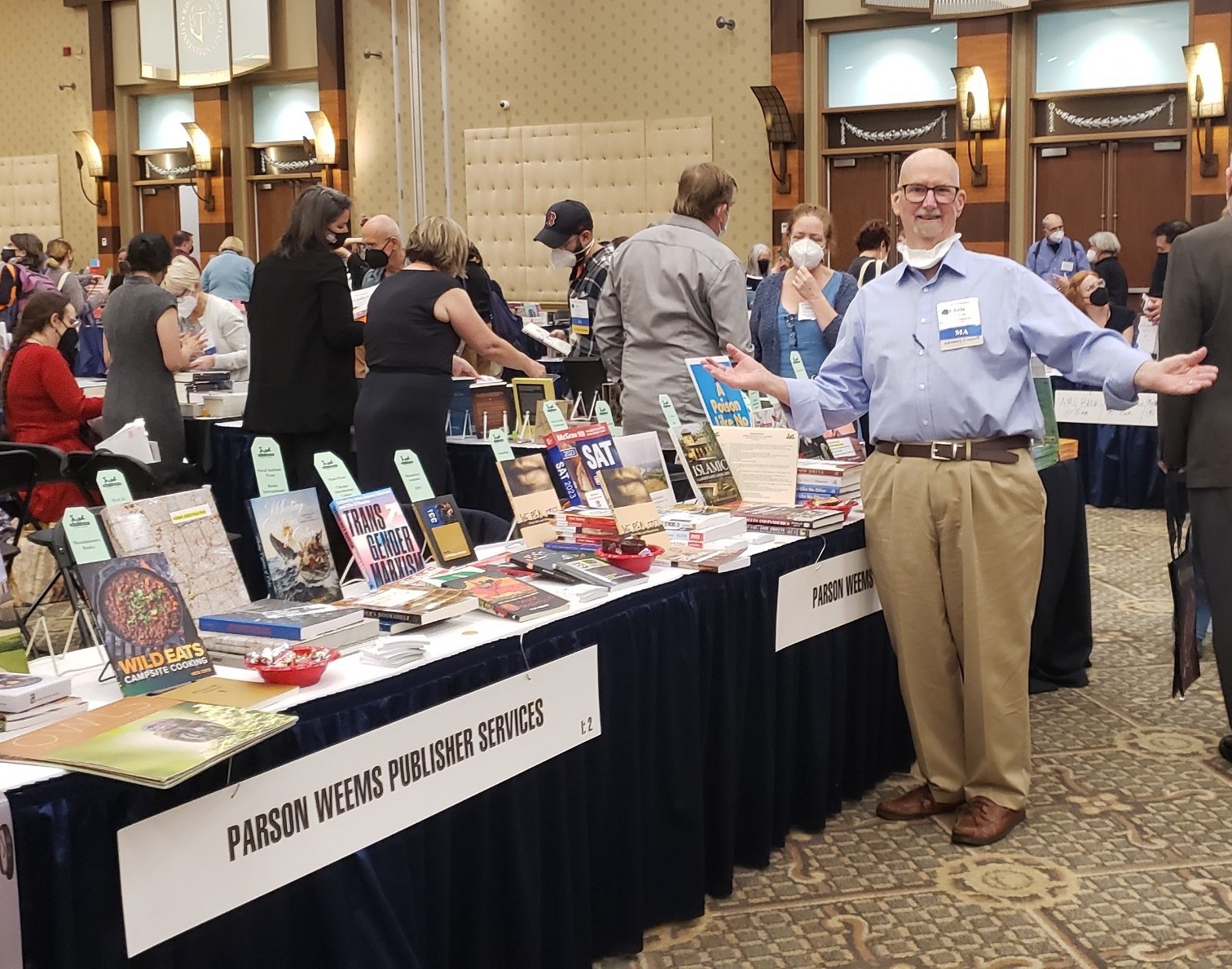 Welcome!: Chris Kerr of Parson Weems Publisher Services, which celebrated its 25th anniversary at the conference.
NEIBA also plans to offer a bookseller boot camp at next year's spring forum, reintroduce shop talk meetings by state in the region's six states, create a new strategic plan and continue exploring the idea of being able to give bookstore grants (which is difficult for a trade association to do).
Several times it was noted that next year is NEIBA's 50th anniversary. Ineson said the association plans to celebrate at the 2023 fall conference, possibly by adding an extra day and expanding the space it takes and events. It'll be "a monster event," she said.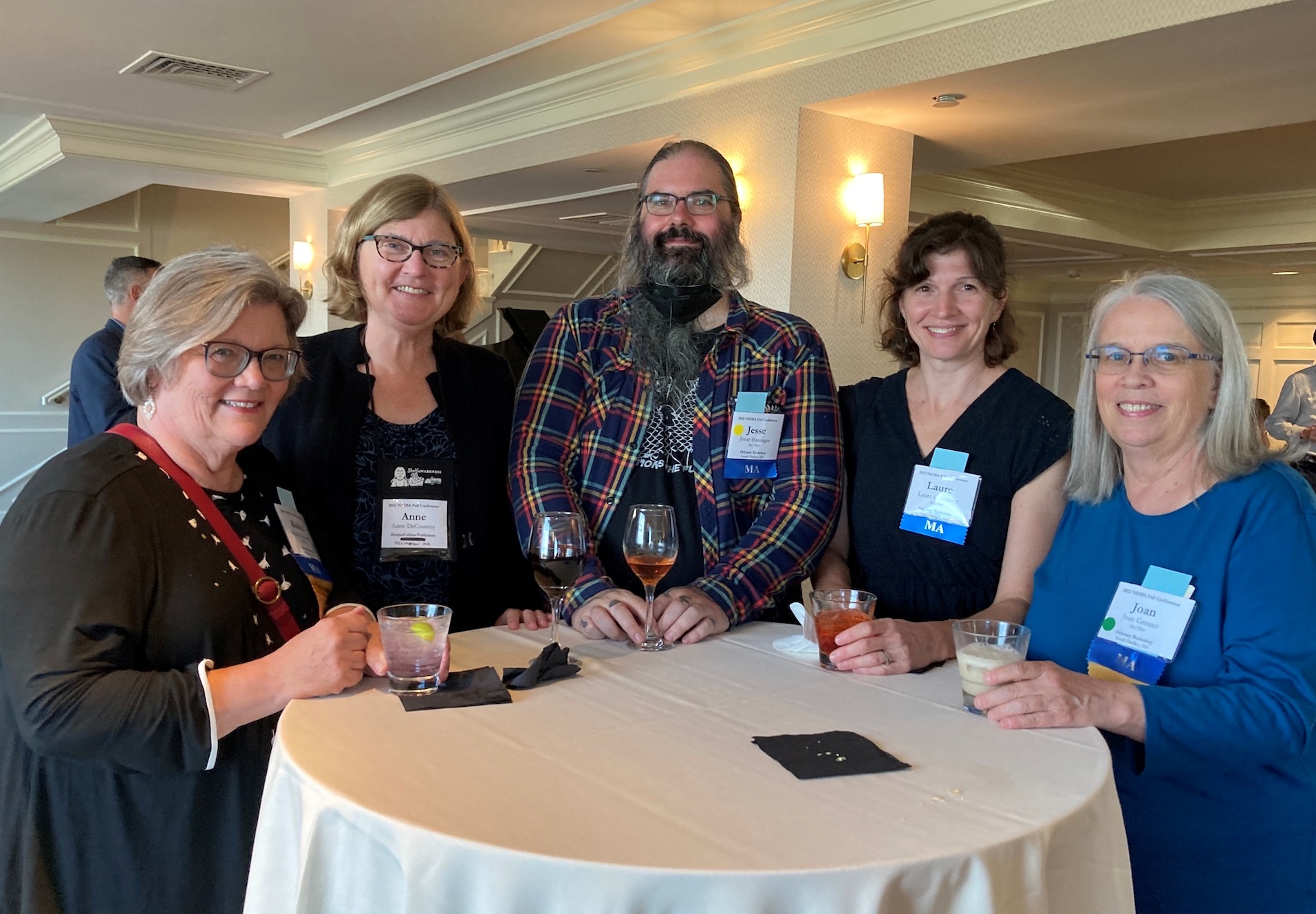 Odyssey Bookshop (South Hadley, Mass.) booksellers Robin Glossner, Jesse Hassinger, Laura Colodner and Joan Grenier with HarperCollins field representative Anne DeCourcey (second from left).
In board changes, Emily Russo of Print: A Bookstore, Portland, Maine, is becoming president; Kelsy April of Bank Square Books, Mystic, Conn., Savoy Bookshop & Cafe, Westerly, R.I., and Title IX, New London, Conn., becomes v-p; and Meghan Hayden is becoming secretary and treasurer. New board members are Liz Whitelam, Whitelam Books, Reading, Mass., and David Sandberg of Porter Square Books, Cambridge and Boston, Mass.
In a poignant overview, Beth Wagner said, "It still feels like a miracle being with you, in person... And I do mean miracle. I often marvel at the sheer number of people involved in getting books into the hands of readers. The authors, the illustrators, the agents and editors, the designers and printers, the packers and the shippers, the sales reps, the buyers, the frontline booksellers. It takes countless acts of cooperation to produce and sell every single title. These days it's understandable to focus on what goes wrong. The last two and a half years have thrown a lot of improbable situations at us. We've weathered illness, paper shortages, labor disputes, cargo ships sinking, shipping delays. The list goes on. Things that shocked us pre-pandemic are barely worthy of a raised eyebrow now. And yet, here we are, tired yet ever hopeful, because we, the New England bookselling community, have decided that we're better together, that when we share our experience and our expertise, all of us benefit... We created our own miracle." --John Mutter
---

---