Italian-American Pilgrims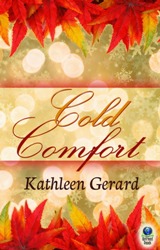 In my novella Cold Comfort, a workaholic photojournalist returns to an Italian-American enclave in Rhode Island to spend Thanksgiving with her only remaining relative, a hip 96-year-old aunt who texts and blogs. Challenged by a blizzard and a blackout, the aunt is intent on serving the family's traditionally Italian, seven-course Thanksgiving feast when a character off-handedly remarks, "Maybe your aunt thinks the pilgrims were Italian?"
With Italians, it's always about the food. But Italian-American culture has brought more to the American table than just culinary prowess. Their immigrant influence has distinctly touched all the arts--especially the literary landscape heralded by Gay Talese, Francine Prose, Mario Puzo and Adriana Trigiani.
Joseph Luzzi launches My Two Italies, his deeply personal Italian-American memoir, with a story about how, as a boy, a beloved aunt arrived at his house one morning and gave him a pet rabbit that, hours later, wound up served on the family dinner table. This is just the beginning of Luzzi's historical examination of the contradictions imbued in Italian culture both in the U.S. and abroad.
In All This Talk of Love, novelist Christopher Castellani lovingly explores the hopes, wishes and dreams of the Grasso family, Italian-American immigrants and their offspring, who, in this last book in a sweeping trilogy, must cope with their roots, the price of sacrifice and loss, myths and memories.
Italian-American writer Ann Hood chronicles a strongly feminine point-of-view in her novel An Italian Wife, a multi-generational saga centered on Josephine Rimaldi, a young woman who journeys from Italy for an arranged marriage and how the trajectory of her life is sensuously infused by family, faith and love.
Maybe after you whip up some Turkey Tetrazzini and Pumpkin Pie Gelato from your Thanksgiving leftovers, you'll be inspired to crack the cover on a book penned by a "pilgrim" of Italian-American descent. -- Kathleen Gerard, blogger at Reading Between the Lines