Halloween Treats for Toddlers
Halloween is only two days away! Little ones picking up on the treat vibe--but who are nowhere near ready for the tricks--may enjoy some of these spooky board books.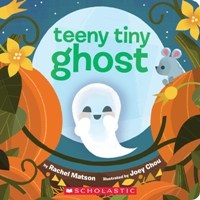 Rachel Matson and Joey Chou's Teeny Tiny Ghost (Cartwheel Books, $5.99) brings pre-readers into "the teeny tiny barn/ of a teeny tiny house" where two creatures live: "a teeny tiny ghost/ and a teeny tiny mouse." The teeny tiny mouse goes about its mousy business; the teeny tiny ghost works up the nerve to "cause alarm." (It turns out that teeny tiny ghosts aren't all that scary but they do make great friends.)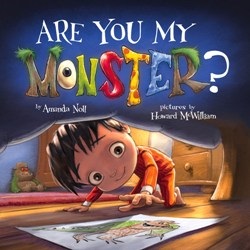 In Are You My Monster? by Amanda Noll, illustrated by Howard McWilliam (Flashlight Press, $8.99, ages 0-3), a boy draws the monster he wishes lived under his bed. The monster is green and brown and has "sharp teeth, scratchy claws, and a long tail." One by one, creatively concocted, not-too-scary monsters audition for the role. When none fit all the criteria (allowing for toddlers learning colors and shapes to judge the monsters along with the boy), the young artist worries he'll never find his monster.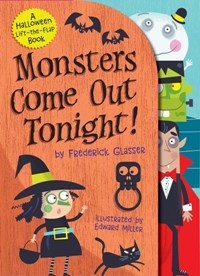 Children knock on themed lift-the-flap doors in Monsters Come Out Tonight! by Frederick Glasser, illustrated by Edward Miller (Abrams Appleseed, $8.99, ages 3-5), inviting ghosts, witches, mummies and other monsters to join them at the Monster Ball.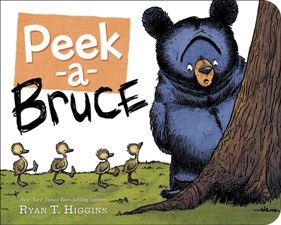 Finally, if you know a little reader who really wants some trickery, caretakers can turn to Peek-a-Bruce by Ryan T. Higgins (Disney-Hyperion, $7.99) for children ages zero to three. The cantankerous bear, Bruce, tries to hide from his friends--in a tree, behind some rocks, under the water in a bubble bath--but the tiny geese find him everywhere. It's up to readers to decide who is doing the tricking in this amusing board book.
--Siân Gaetano, children's and YA editor, Shelf Awareness