NAIBA: A Thriving Fall Conference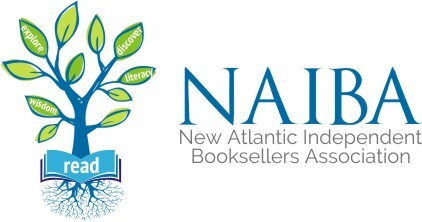 Members of the New Atlantic Independent Booksellers Association thrived in Cherry Hill, N.J., last week, even with the distractions of the Democratic debates and baseball's division playoffs. Eileen Dengler, NAIBA's executive director, reported that the conference drew 402 attendees, 213 of whom were booksellers representing 121 stores. Over the past two years, 28 new stores have opened in the region.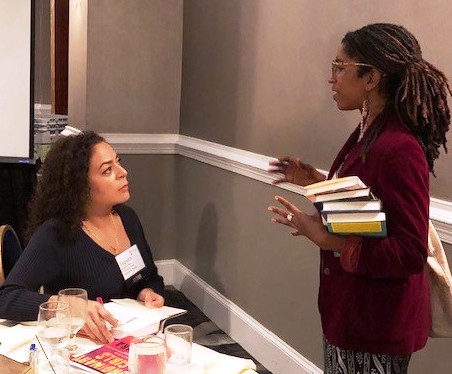 Jaquira Díaz (l.) signs copies of Ordinary Girls.
On Tuesday night, an array of authors spoke about their books. Among them was debut author Jaquira Díaz, whose memoir Ordinary Girls (Algonquin)--a November Indie Next pick--took 10 years to write and chronicles her years as a young woman of color who knew she was gay and felt rejected by her white Catholic mother and Puerto Rican and Miami Beach community. Also featured was National Book Award finalist Ibi Zoboi, who hopes young people of color who love science and science fiction will see themselves in the smart, curious heroine of her middle grade novel My Life as an Ice Cream Sandwich (Dutton).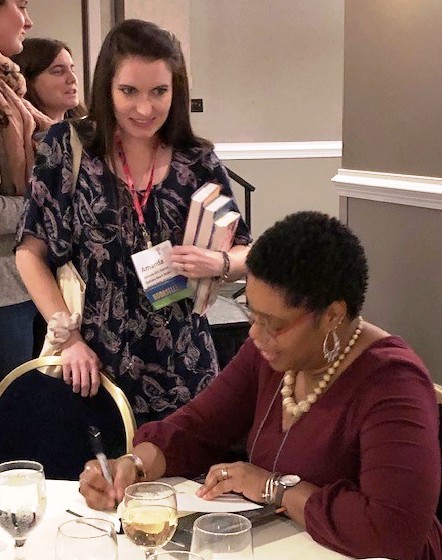 Ibi Zoboi (right) signs copies of her National Book Award finalist My Life as an Ice Cream Sandwich.
Laura Zigman spoke about Separation Anxiety, coming from Ecco in March 2020, about a couple who can't afford to divorce, and Tom O'Donnell shared how, as an adult shortly after the election in 2016, he retreated into his adolescent comfort zone of Dungeons & Dragons and was inspired to write Homerooms & Hall Passes (just out from Balzer + Bray), a similar retreat from middle school for the characters in his novel. Cecile Richards, former president of Planned Parenthood and daughter of the late Texas governor Ann Richards, spoke about adapting her book Make Trouble (Margaret K. McElderry/S&S) for young readers and told a hilarious story of her first day of high school in a new town in Texas--her principal called her to his office to discuss a black armband she wore in protest of the Vietnam War. Principal: "Do your parents know you're wearing this?" Richards: "I'm pretty sure they do."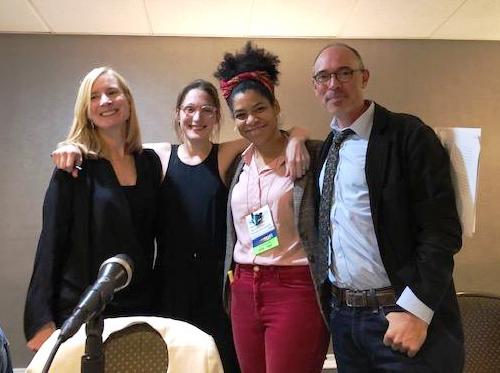 Adult Editors' Buzz Panel: (l.-r.) Riverhead's Sarah McGrath, LB's Jenn Garnett, moderator Hannah Oliver Depp (Loyalty Bookstore, Washington, D.C., and Silver Spring, Md.) and Norton's Matt Weiland.
At Wednesday's author breakfast, Susan Isaacs (It Takes One to Know One, just out from Atlantic Monthly Press), wowed the crowd by confessing she started with "the usual 25-page outline." Kaela Noel recounted how her debut novel for middle-graders, Coo (Greenwillow, March 2020), was inspired by observing a flock of pigeons taking off from an abandoned factory in Jersey City. Elisha Cooper recalled that while he was a Sendak fellow near Henderson Lake, he began sketching these headwaters of the Hudson River, and from his sketches, drawings emerged, and then the story of a solo female canoer, the star of his picture book River (Orchard). Emma Straub spoke of being a new mother and new bookseller (she's co-owner of Books Are Magic in Brooklyn, N.Y.), and the seeds of her novel All Adults Here (Penguin, May 2020), which is rooted in her experience of her child attending preschool at the same school she did. Susannah Cahalan thanked booksellers for not only championing her first book, Brain on Fire, but also for its tour, which led to her most recent book, The Great Pretender (out next month from Grand Central): a couple of neuroscientists approached her at a book signing and called her a "modern-day pseudo patient," which led to her investigation of a 1973 study that shattered public trust in the field of psychiatry, the subject of her new book.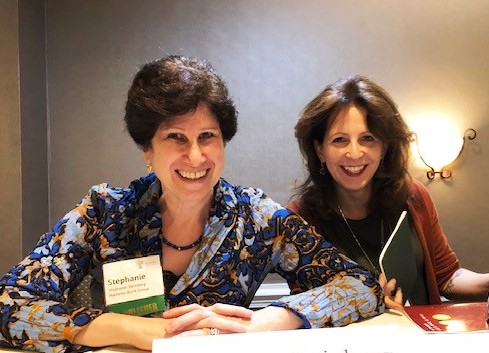 Stephanie Steinberg (l.) and Rebecca Fitting
Roughly 150 booksellers attended the workshop "Managing Our Greatest Assets: Our Staff," led by Stephanie Steinberg, HR director at Hachette, and Rebecca Fitting, co-owner of Greenlight Bookstore, Brooklyn, N.Y., and incoming NAIBA vice-president. They discussed everything from what to ask potential new hires to how to handle dicey conversations with staff inherited after a bookstore change of ownership whose "joy" seems to be gone. Steinberg said that when interviewing job applicants, the "candidate should do 80% of the talking." Fitting advised reading Malcolm Gladwell's Talking to Strangers (Little, Brown) because, after all, "You're hiring a stranger." For new hires, Fitting recommends 30/60/90-day check-ins. For problems with long-term employees, Steinberg suggested going into the conversation with "I want this to work," but outlining what needs to change. "Always give them warning--it should never come as a surprise," Steinberg said. Fitting also talked about how to be an ally both to staff and customers; she suggested posting a "Code of Conduct" in the office and in the bookstore where customers can view it. A common point of reference helps to make everyone feel welcome, sets expectations for behavior in the store, and allows people to express to supervisors or staff when they feel unsafe.
The author buzz panels for both children's and adult titles were standing room only, and the exhibits floor was bustling the entire day.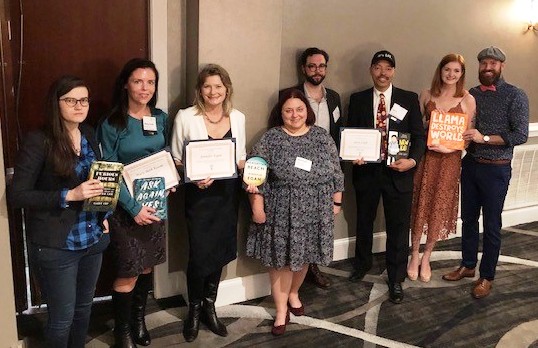 (l.-r.) Award winners Casey Cep, Mary Beth Keane, Jennifer Egan; Melissa Grecco; Jarrod Annis, Jerry Craft, Heather Fox & Jonathan Stutzman.
The Wednesday night awards banquet was a celebration of books and authors. A highlight was Legacy Award winner and PEN America president Jennifer Egan, who spoke of books as a rallying point for people to come together--even during her teen years, she recalled, she and her mother "discussed books during brief periods of détente." Just looking at the bestseller lists, she points out, "attests that readers come in all stripes." Books ask us to "think deeply, question authority, and above all, to look at the world from points of view other than our own," she said. "A community of readers is a bulwark of democracy." Other winners included Casey Cep (Furious Hours, adult nonfiction Book of the Year); Mary Beth Keane (Ask Again, Yes; adult fiction Book of the Year); Chronicle's Melissa Grecco (Kristin Keith Sales Rep of the Year); Greenlight Bookstores' Jarrod Annis (Joe Drabyak Handseller of the Year); Jerry Craft (New Kid, middle-grade fiction Book of the Year); Heather Fox & Jonathan Stutzman (Llama Destroys the World; picture book Book of the Year); Jarrett Krosoczka (Hey Kiddo, Carla Cohen Free Speech Award); ABA CEO Oren Teicher (Legacy Award); and Elizabeth Acevedo (With the Fire on High, YA fiction Book of the Year).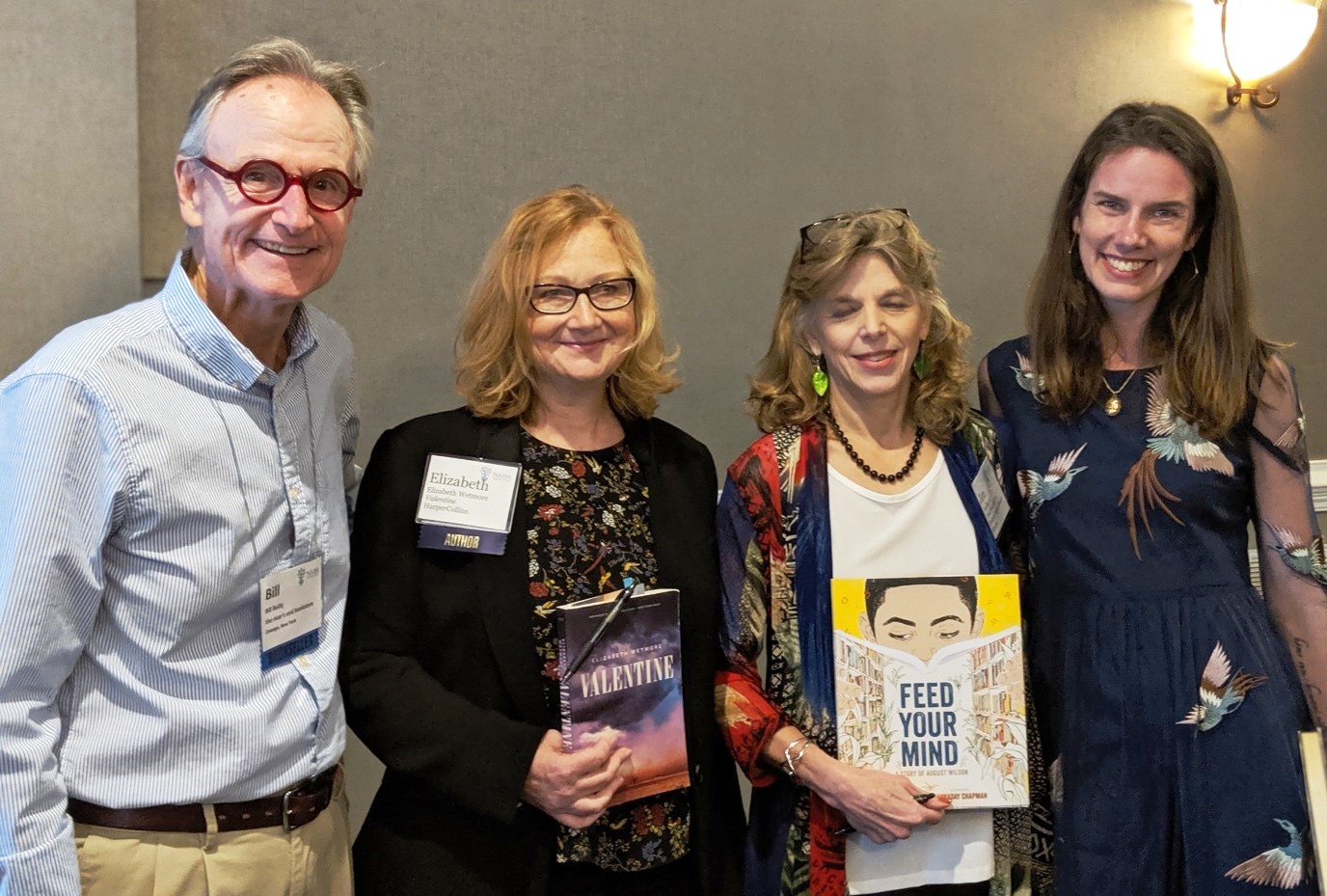 (l.-r.) NAIBA president Bill Reilly; Elizabeth Wetmore (Valentine, Harper, April 2020); Jen Bryant (Feed Your Mind, Abrams, Nov.); and Leslie Jamison (Make It Scream, Make It Burn: Essays, Little, Brown)
At Thursday morning's annual meeting, NAIBA president Bill Reilly of the river's end bookstore in Oswego, N.Y., encouraged members to sign up for the waiting list for the sold-out Winter Institute (to be held in Baltimore, Md., January 21-24, 2020). Dan Cullen, ABA's senior strategy officer, said the highly anticipated Batch (the electronic invoicing system for booksellers and publishers first developed in the U.K.) will be discussed there--and ABA is in a "productive testing phase." While there's not much to report yet on the health care front, it continues to be a "clear focus," Cullen said. --Jennifer M. Brown
---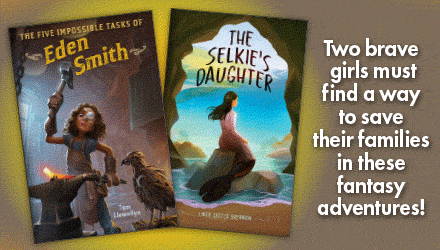 ---