NVNR: Alone Together: Telling Our Stories During the Pandemic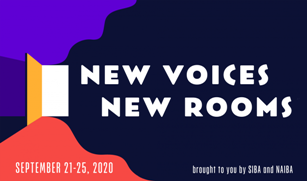 Wednesday's New Voices New Rooms breakfast program, centered on Alone Together: Love, Grief, and Comfort in the Time of Covid-19, edited by Jennifer Haupt (Central Avenue Publishing), was as much about a publishing miracle--putting together a book in less than six months (it pubbed on September 1)--as it was a moving reflection of how these six authors managed to create and also survive during Covid-19. All profits benefit the Book Industry Charitable Foundation.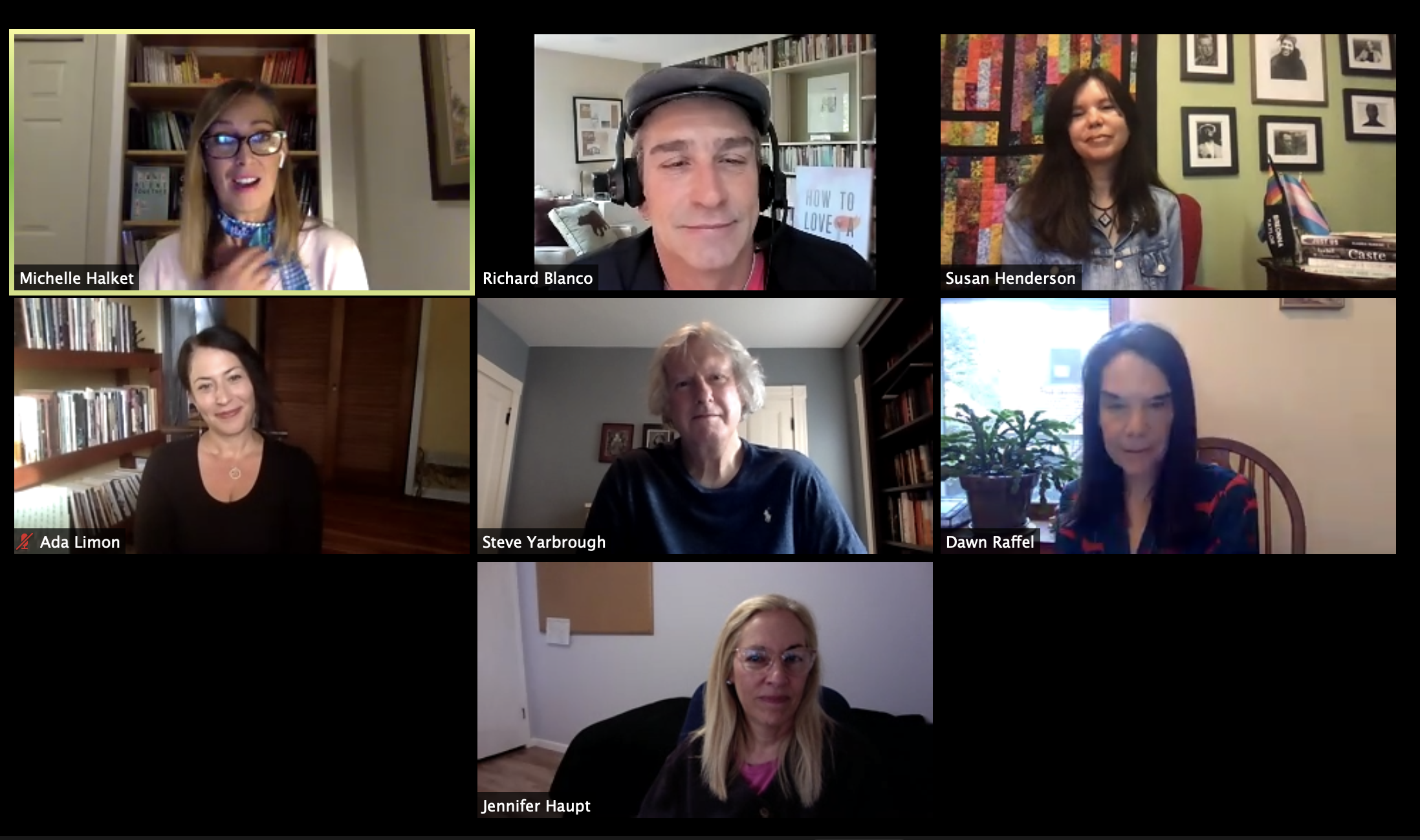 (Top, l.-r.) Michelle Halket, moderator, Richard Blanco. Susan Henderson; (middle) Ada Limón, Steve Yarbrough, Dawn Raffel; (bottom) Jennifer Haupt
Haupt included essays, poems and short stories from 90 contributors (including her own "Why Get Out of Bed?") and calls the book her "lovely monster" because it reminded her of Frankenstein. "The pieces were spread all over my corkboard; it was a monster because it was so big," Haupt said. "Nikki Giovanni's ("At Times Like This") was one of the first poems I received, and I knew how wonderful the book would be."
Susan Henderson read "Quarantine," which addressed her final month with her father, who was dying--"I wanted my dad to have an appetite again.... I didn't know his belly was full of cancer"--and then grieving with her mother in masks and gloves. Michelle Halket, publisher of Central Avenue Publishing and moderator of the session, observed how well Henderson put into words what so many people have been feeling during this time of separation and grief. "Grief is such a small word but it encompasses big things," Henderson said. "Thank God for our chosen families, the people who allow us to feel what we feel."
Ada Limón's poem "Not the Saddest Thing in the World" describes the composing of a letter--"I write/ the date at the top of a letter, though/ no one has been writing the year lately/ I write the year, seems like a year you/ should write, huge and round and awful." Later, "I go about my day which isn't/ ordinary exactly because nothing is ordinary/ now even when it is ordinary."
Halket asked Limón if she'd had any "ordinary" times since completing the poem. Limón said she hadn't. "Everything feels like ceremony right now, even in the moments of joy and when I can safely gather with a friend from social distance, even as we're laughing, there's a weight," she said. "I am working toward not apologizing for finding joy. As this goes on for undetermined days in the future, we need that."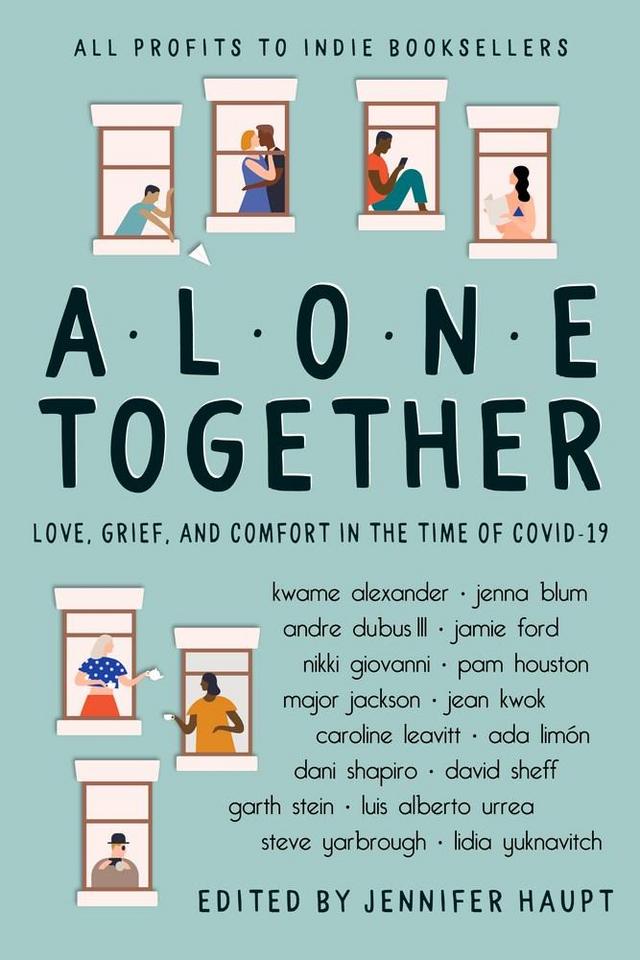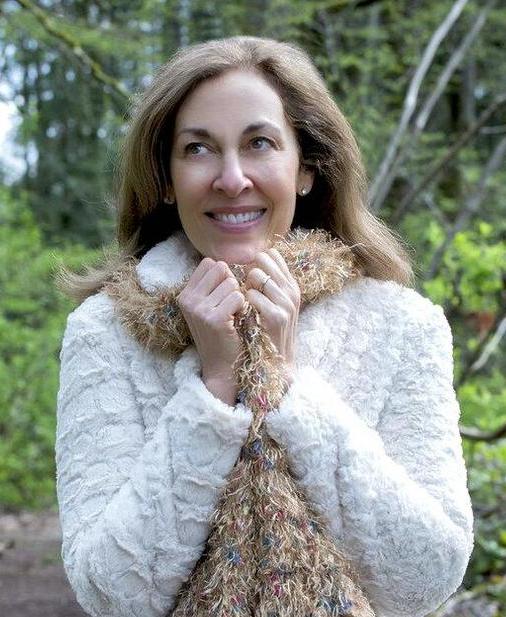 Jennifer Haupt
For "Zooming the Subtle Body," author Dawn Raffel asked listeners to close their eyes: "Imagine you are walking along a beach in the late afternoon at the end of summer.... You can feel the breeze on your skin and in your hair. The sand is warm and soft under your bare feet./ .../ Up ahead you see a large conch shell. You admire its spiraling shape, and you know this shell was once a home.... This is yoga nidra via Zoom." Halket confessed to Raffel that she was a yoga practitioner who has found she's "less likely to practice right now." Raffel answered, "I think when we're in a crisis, the first impulse is to reach for what you already know that gives you comfort." But with yoga, if you're used to going to a studio and now it's on Zoom, it can do the opposite of comfort you. "I read that the cure for sadness is to learn something new," said Raffel, so she took another 50 hours of training to learn a new teaching practice.
Steve Yarbrough's "In the Absence of Others" talks about how he missed making music with others, in particular bluegrass with his neighbor across the street, Edmund Jorgenson. The two wrote a song in February--"The Old Dusty Door"--that they'd planned to debut in March. The lyrics, which Yarbrough read aloud, seemed especially prescient in these lines, "Each man is born with a portion of days/ His pleasures and his burdens to bear." The essay ends with the two neighbors playing solo in their homes, as musical notes waft across the street, looking forward to the day when they can play together in person once more: "Hard times, we remind ourselves, never last forever."
The program closed with Richard Blanco reading his poem "America the Beautiful Again," with its childhood recollection of singing the title song with his mother, "her Cuban accent scaling-up/ every vowel: O bee-yoo-tee-ful yet in perfect/ pitch, delicate and tuned to the radiant beams/ of stained glass light." On the shoulders of his father at their first Fourth of July parade: "How the timbre of our bodies mingled,/ breathing, singing as one with the brass notes/ of the marching band playing the only song/ he ever learned in English."
With great warmth, Halket said that, as a Canadian, she felt unqualified to comment on the emotion his words brought up. "A country is a constant work in progress, especially such a young country, and there have to be moments of reckoning," Blanco said. "There's a new kind of not-so-silent majority, led by the arts. I'm thinking of us as cathedral builders: it may not happen in our lifetime, but we have to show up. My parents have survived a lot, but they've also shown me an appreciation of this country, through the eyes of an immigrant, that's so vital to keep this country going." --Jennifer M. Brown, senior editor
---

---