CALIBA's First Annual Meeting; Golden Poppy Winners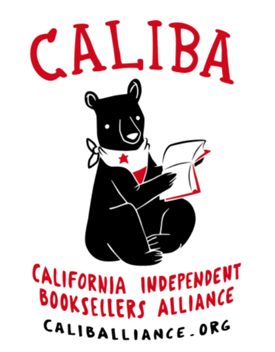 Like so many events in the pandemic era, yesterday's first annual meeting and town hall of the California Independent Booksellers Alliance following the merger early this year of the Northern California Independent Booksellers Association and the Southern California Independent Booksellers Association took place in a very different form from what was anticipated nine months ago.
Still, the mood was positive. As president Melinda Powers of Bookshop Santa Cruz, Santa Cruz, said at the virtual meeting, "This is not exactly how I thought One California would be, but I do think we are and still have a lot of amazing stuff ahead of us. We are stronger together."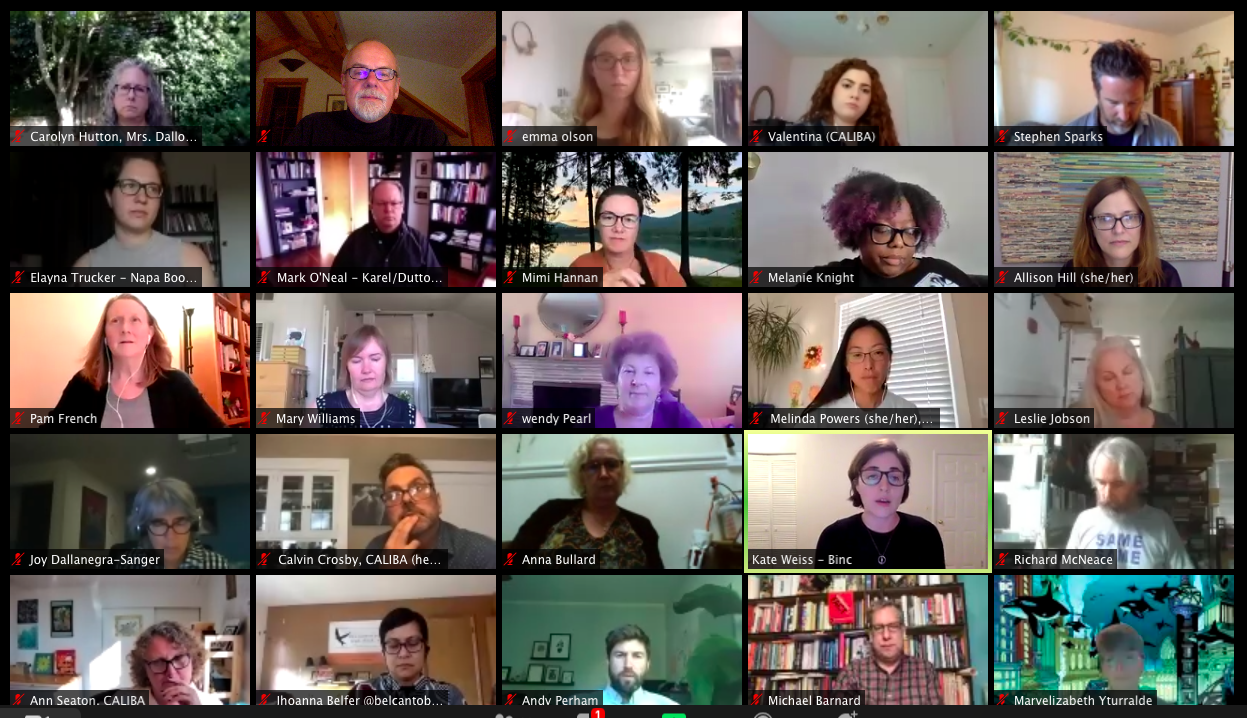 Some of the CALIBA annual meeting participants.
She thanked the board and staff for all their work, which included connecting with its 353 member stores, organizing a range of programming and education, and hosting the Fall Discovery Lab, being held this week.
CALIBA has waived membership dues and has rising expenses but is managing costs. Treasurer Bridget Schinnerer of Vroman's, Pasadena, said that despite lower income this year, the association is "financially on good footing."
The board is forming a "futures task force" that will "explore and evaluate the best ways for CALIBA to move forward," Powers said, adding that for a long time after the pandemic hit, she thought eventually "we'd go back, but there's no back there anymore." And so the task force will consider what the association can do for membership and how to go about it.
CALIBA is also putting together a task force to help its ongoing anti-racist work. "In the meantime," Powers said, "our actions continue, as can be seen in the makeup of our Discovery Lab programming, the authors we have as guests and our holiday catalogue program with our title selection."
As part of the town meeting, the winners of CALIBA's Golden Poppy Awards were announced:


Martin Cruz Smith Award for Diversity and Inclusion: How Much of These Hills Is Gold by C Pam Zhang (Riverhead)
Fiction: The Vanishing Half by Brit Bennet (Riverhead)
Non-Fiction: Home Baked: My Mom, Marijuana, and the Stoning of San Francisco by Alia Volz (Houghton Mifflin Harcourt)
T. Jefferson Parker Award (Mystery, Suspense and Thriller): Heaven, My Home by Attica Locke (Mullholland)
Glen Goldman (Non Narrative): Lost Venice by Sarah Hadley (Damiani)
Romance: The Right Swipe by Alisha Rai (Avon)
Poetry: Wicked Enchantment by Wanda Coleman (Black Sparrow)
Cooking and Food Writing: Oaxaca by Bricia Lopez & Javier Cabral (Abrams)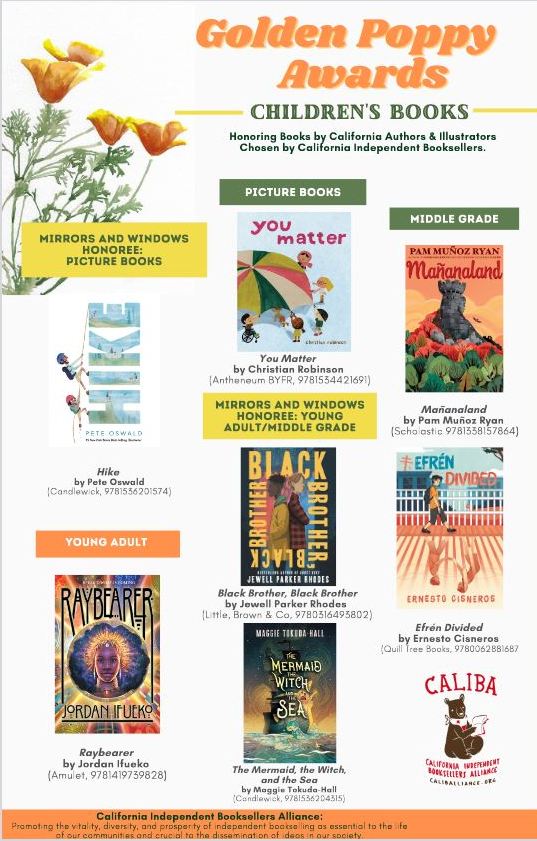 Children's:
Mirrors and Windows Honoree for Picture Books: Hike by Pete Oswald (Candlewick)
Mirrors and Windows Honorees for Young Adult/Middle Grade (tie):
Black Brother, Black Brother by Jewell Parker Rhodes (Little, Brown)
The Mermaid, the Witch, and the Sea by Maggie Tokuda-Hall (Candlewick)
Picture Books: You Matter by Christian Robinson (Antheneum BYFR)
Middle Grade (tie):
Mañanaland by Pam Muñoz Ryan (Scholastic)
Efrén Divided by Ernesto Cisneros (Quill Tree Books)
Young Adult: Raybearer by Jordan Ifueko (Amulet)
---

---