#BannedBooksWeek: 'We Will Always Support More Ideas, Never Fewer'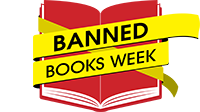 Banned Books Week is underway, and indie booksellers nationwide are posting photos, book picks and opinions on their social media channels. We'll be sharing a selection of them with you, beginning today with: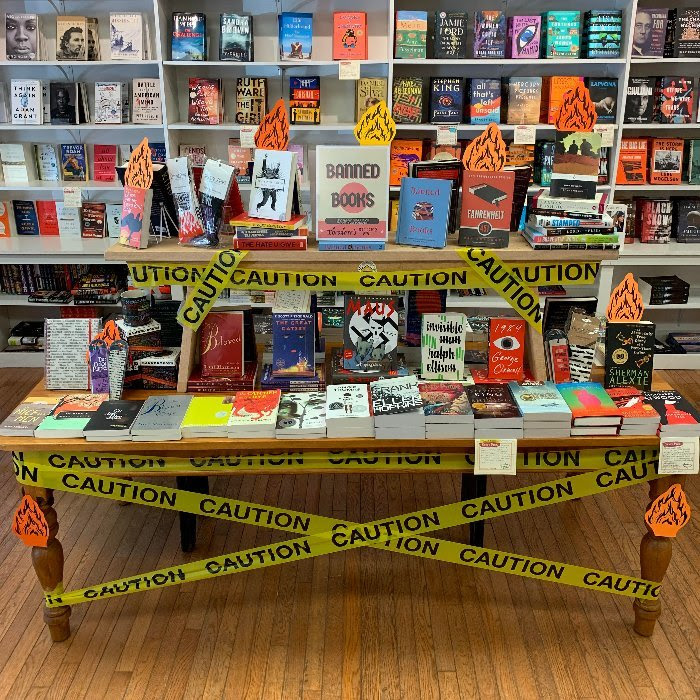 Display at Theodore's Books, Oyster Bay, N.Y.
Curious Capybara Bookshop, Henderson, Tenn.: "Welcome to #BannedBooksWeek! I prefer to think of it in #FreedomToRead terms, but however you say it, it's the week we draw attention to books that have been challenged or outright banned at public institutions or libraries. This week we have banned books on display, Blind Date with a Banned Book for purchase, limited edition Banned Book totes, and more! Stop in to see us and our Dangerous Reads as we celebrate your Freedom to Read!"
Novel Bay Booksellers, Sturgeon Bay, Wis.: "Today starts Banned Books Week and here's a few of what you'll find throughout our little bookshop, including Gender Queer, The Hate U Give, Lawn Boy and so many more. The American Library Association tracks challenges to books and 2022 is on track for a record year."
Wheatberry Books, Chillicothe, Ohio: "It's Banned Books Week! This week is meant to celebrate the freedom to read without censorship. Many books are banned or challenged in schools, bookstores, and libraries throughout the country. Stop in and check out our Banned Books display, which we are proud to say is our most frequently shopped section of the bookstore."
Abalabix Books, Crystal Lake, Ill: "All over the country people are trying to ban books. Please don't let them! Join us for Banned Books Week.... Stop by today and rescue a banned book from our shelves!"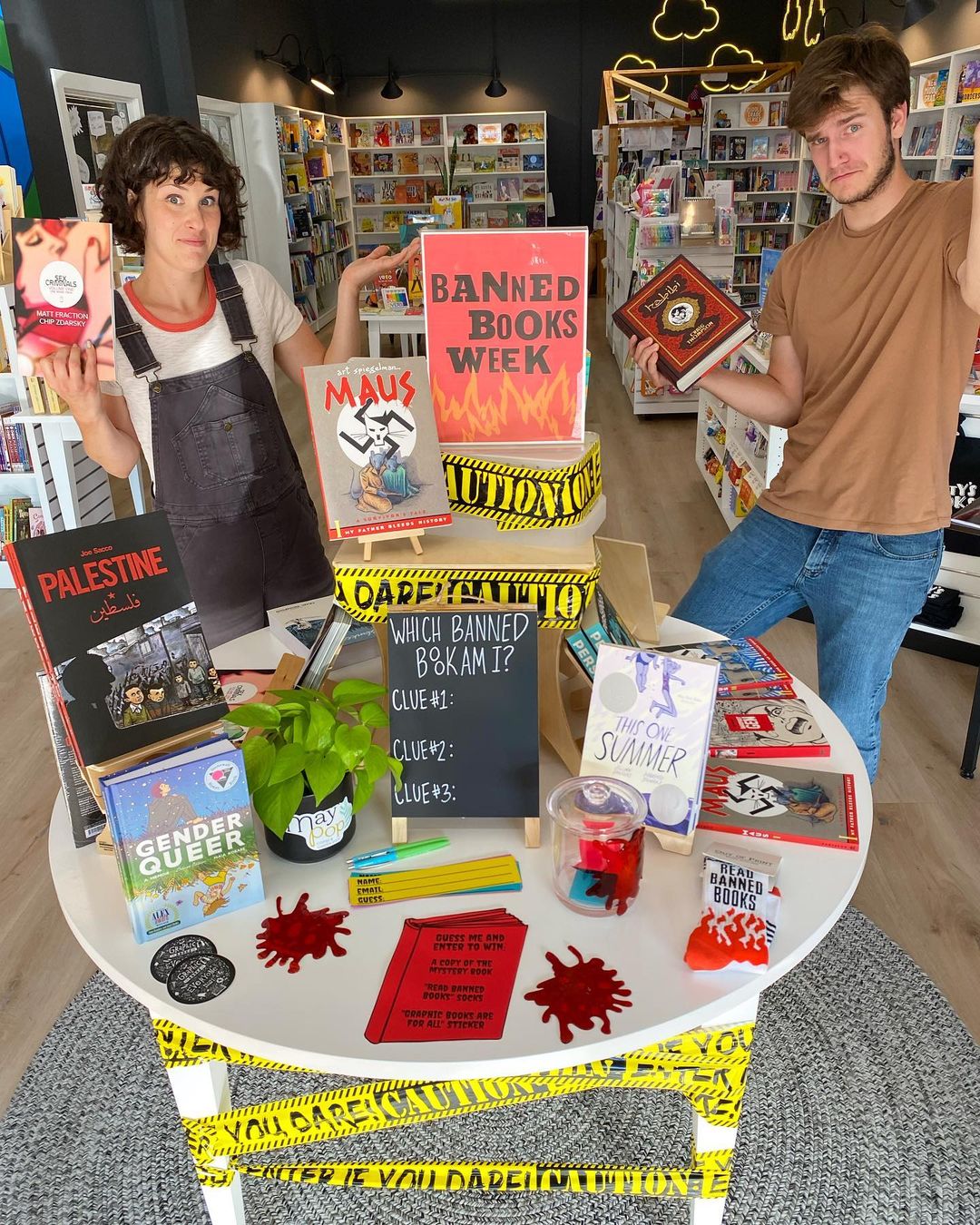 At Betty's Books
Betty's Books, Webster Groves, Mo.: "Although we had fun planning our displays and giveaway for this week, we wanted to take a moment to acknowledge the seriousness of the topic. Organized national efforts to ban books from schools and libraries are at an all-time high. It unfortunately comes as no surprise that the most commonly challenged titles are those covering race, sexuality, and gender. So this year's theme for BBW is an apt one: 'Books Unite Us. Censorship Divides Us.' As a store that specializes in a field of books that's historically been less than welcome to BIPOC and LGBTQ+ folks, the theme hits close to home. In that light, we've decided to donate a portion of the front table proceeds to @leftbankbooks's Literacy & Justice Project."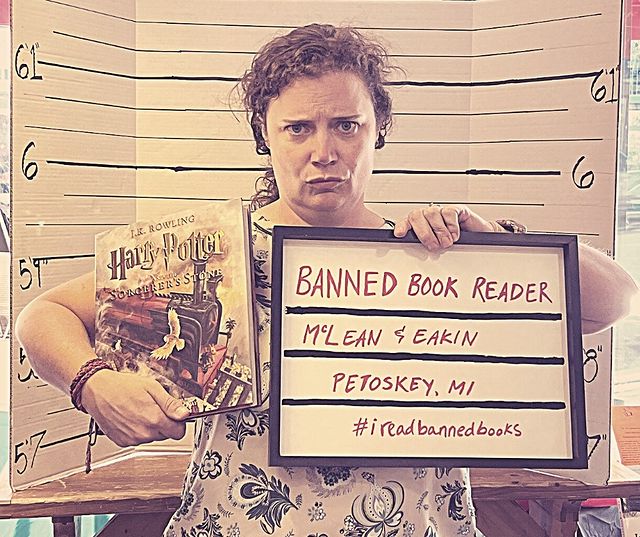 At McLean & Eakin
McLean & Eakin Booksellers, Petoskey, Mich.: "Banned Books Week starts TODAY, but we celebrate the freedom to read all year round, and have been doing so for 30 years. This week on our social channels and in-store we'll be highlighting some of our favorite banned books and sharing reasons that they have been banned at one point or another. We will always support more ideas, never fewer. At the end of the day, we believe every reader deserves to see themselves on the page."
The Booktenders, York, Maine: "Today kicks off Banned Books Week--the annual celebration of the freedom to read. We'll highlight some of the most challenged books throughout the week. We've expanded our banned books section and will add more as the week goes on. Don't forget to pick up your bingo card!"
Northtown Books, Arcata, Calif.: "It's Banned Books Week September 18th through 24th. We encourage you to read dangerously and push back against divisive censorship! We support teachers and librarians!"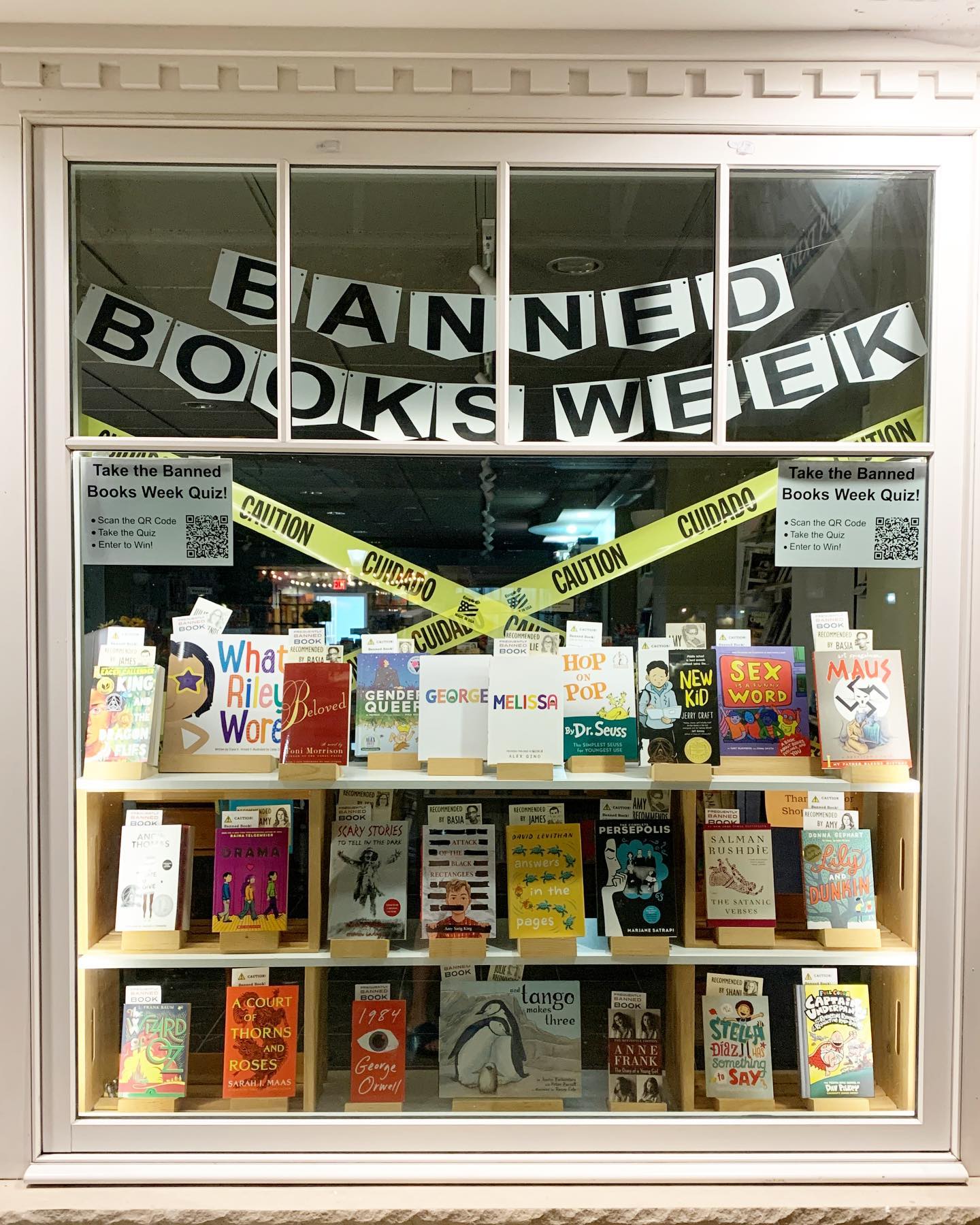 At Inkwood Books
Inkwood, Haddonfield, N.J.: "It's day 2 of #bannedbooksweek. We are closed today but you can still enjoy our window display full of great frequently banned and challenged books recommended by Inkwood booksellers. For extra fun--scan the QR code and take the quiz to learn a bit more and enter to win prizes."
Bluestocking Social, Evansville, Ind.: "It's Banned Book Week and we're bringing some contraband into the shop. You've been warned!"
---

---