Grand Opening for the Understudy Theatre Bookstore & Coffee Shop in Chicago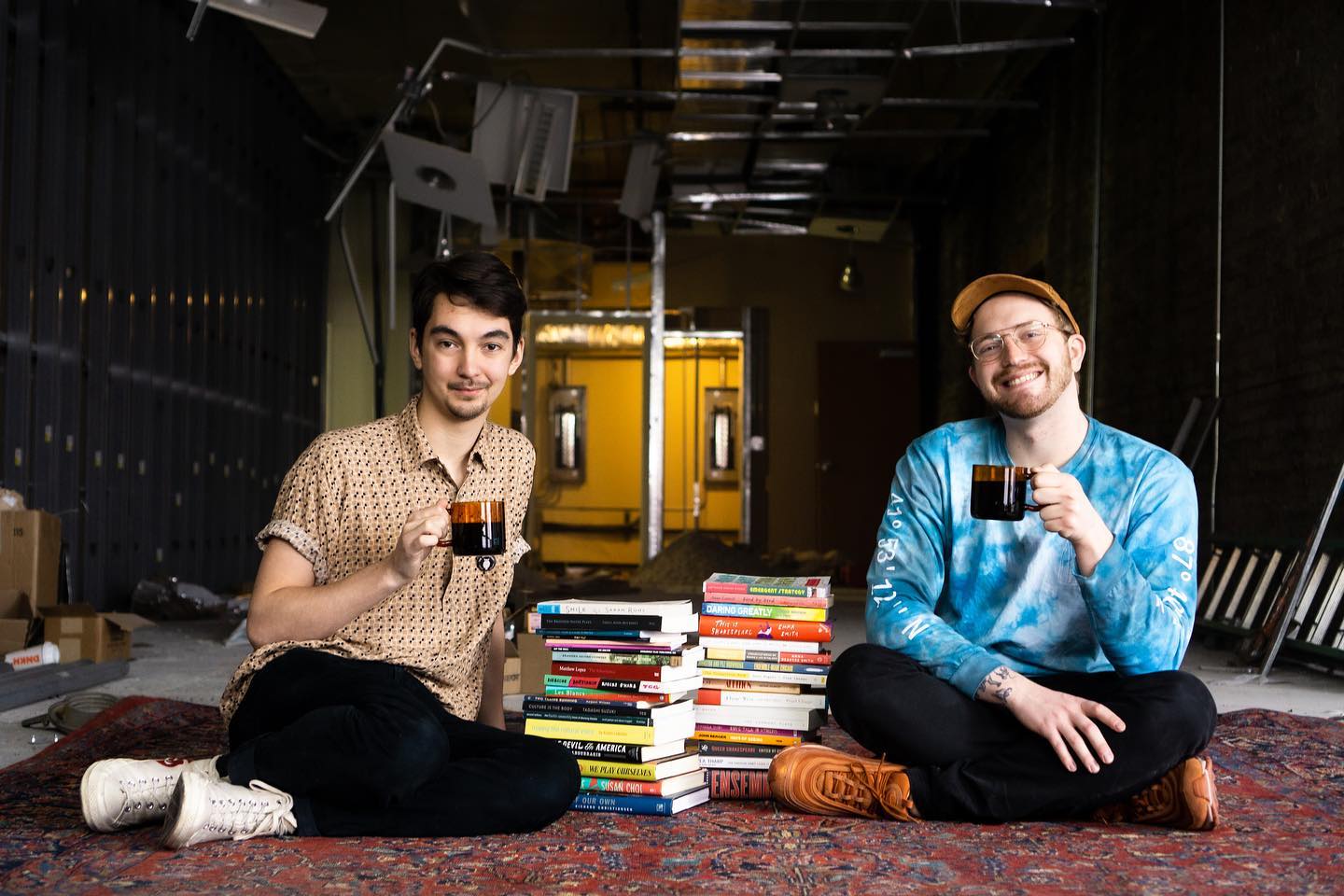 Understudy owners Adam Crawford and Danny Fender.
Almost a year in the works, the Understudy Theatre Bookstore & Coffee Shop will host its grand opening this Saturday, March 25, at 5531 N. Clark St. in the Andersonville neighborhood of Chicago, Ill. Reader reported that owners Danny Fender and Adam Crawford were originally aiming for an August 2022 launch, but "city permits and supply chains being what they are, those plans got pushed back by several months."
The venue, designed by Chicago firm Siren Betty, "feels both cozy and elegant, with a variety of different seating areas scattered throughout," Reader noted. "The shelves already contain a diverse collection of new and used titles in a range of categories, interspersed with a cunning array of antiques and knickknacks. Old posters and production photos cover the walls, and the owners hope to create space for regular theater-related exhibitions of visual art as well."
Regarding their book selection process, Crawford said, "We had to do it kind of the opposite of the way that a typical bookstore would open, [where they say] 'Okay, we have this much space, and we know we want to have these kinds of sections.' And then a lot of the time you'll just go straight to the publisher and they say, 'Oh, well, here's what we think every bookstore should have to start right now.' Like, this is what's hot, this is what's selling.
"We're obviously not like that. Most bookstores don't have any of these [titles]. And so we had to kind of work in reverse of looking at our own shelves with our arms crossed and being like, 'Okay who's that publisher? Or what's that imprint? And do they publish anything else that we want? Or what else can we get from this playwright? And where can we source it from?' And we had to go down these long rabbit holes of university presses and small indie presses."
The space is evenly split between the bookstore and coffee bar. "It's kind of like two spaces running at the same time," said Crawford. "I've been saying it's not like we're 50% bookstore and 50% coffee shop. We're 100% coffee shop and 100% bookstore."
He added: "One of the reasons the Understudy came about is because we wanted to have careers in Chicago theater and to be connected to this community. And I think, ultimately, this is doing that already, just by trying to honor other Chicago artists."
"It's so fun coming here in the morning," Fender said. "We wake up and it's exciting to be here and to work in this space, especially now that we have a team helping us out. They're all so creative and are so good about bringing ideas to the table and giving us feedback. So it really feels like we're working on a show sometimes."
Fender told EATER Chicago: "It has been a big learning curve, to say the least, but one that has been very fulfilling with lots of meaningful surprises. Adam and I have always found ways to mine the positives out of those setbacks and those have allowed us to open a much better version of the Understudy than we would have if we'd opened sooner."
Crawford added: "We're celebrating the process. You can come in here if you're in the process of learning about a new discipline, or if it's something you're coming back to. We can come with you on that journey and say, 'That's something that helped me,' or 'Let's look together.' "
---

---