NBA Champion LeBron James Was 'Reading a Little Bit More'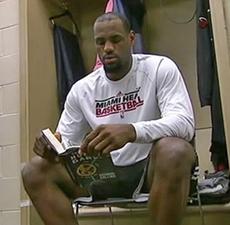 Maybe it was the secret to his success. "For me, it's relaxing honestly. You spend so much preparation for the games, sometimes you just need to get away from it for a little bit. The reading has helped me get away from the game a little bit, and I'm able to zero in once I'm done and get ready for the games.... I wanted to try something new in this postseason honestly. I'm not watching much TV so I'm reading a little bit more.... People have seen me walking around with [books and] they've been given lists of books to read."
--
LeBron James
, whose Miami Heat team won the NBA Championship last night.
USA Today
reported that since the playoffs began, James had read
West by West: My Charmed, Tormented Life
;
The Pact: Three Young Men Make a Promise and Fulfill a Dream
;
The Tipping Point: How Little Things Can Make a Big Difference
; and, most recently, Suzanne Collins's Hunger Games trilogy and Jay-Z's
Decoded
.
---

---