Celebrating with Our Father Figures
Father's Day is this Sunday! Dads, Grandpas and people who inhabit those roles should love these picture books, no matter their or the gift-giver's age.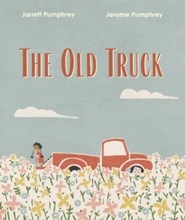 The Old Truck by Jarrett and Jerome Pumphrey (Norton, $17.95, ages 3-5) is an ode to hard work and perseverance. A farming family--mother, father, daughter--cheerfully toils through the seasons, loading their red truck as the vehicle grows older, "and older still," until it settles into the weeds. With her dad, the girl tinkers with the tractor and truck engines. Time passes. Then the next-generation farmer, now a grown woman, hauls out the old truck and works day and night to repair it. The natural, earthy palette expresses the simple joys of self-sufficiency and connection to the land and family.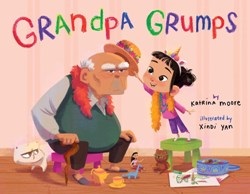 Daisy's goal during her grandfather's visit is surprisingly challenging: "I have to make him smile before he leaves!" But his arrival is marked with grumbles. Daisy asks her mother for advice. "He shows love in other ways," she assures Daisy. Indeed, when Daisy sneaks into Yeh-Yeh's room with her latest surprise, she discovers evidence of his affection. Xindi Yan's Pixar-ready illustrations and Katrina Moore's sweet text about familial communication invite smiles all around in Grandpa Grumps (little bee books, $17.99, ages 4-8).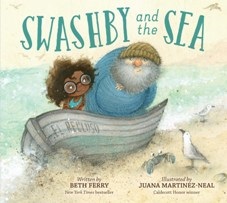 After a few edits from his wise friend the sea, a retired mariner's messages of misanthropy spark an intergenerational friendship in Swashby and the Sea (Houghton Mifflin Harcourt, $17.99, ages 4-7) by Beth Ferry, illustrated by Juana Martinez-Neal. When a lively girl moves in next door to Captain Swashby, he writes "No trespassing" in the sand. The sea "fiddle[s]" with the message, leaving the word "sing." The captain scrawls more rude messages, but the sea rewrites them, encouraging the child to "wish" and "play." When the seafarer corrects her wishing technique and lectures her on using proper sand, she invites him to join her. He pushes back, insisting "Swashbys don't play," but the sea has one more mischievous trick in store. --Siân Gaetano, children's and YA editor, Shelf Awareness