In 15 years, we've posted nearly 50,000 individual stories and items in the Pro edition of Shelf Awareness, according to our server's reliable count. (And that doesn't include our many other publications, particularly Shelf Awareness for Readers, dedicated issues, Max Shelves and more!) The stories and items range from simple media listings and bestseller lists to news stories, in-depth analyses and commentary. After carefully reviewing all 50,000--well, maybe not--we've chosen standout items that highlight the people, books, bookstores and events of the last 15 turbulent years. We regret that we can't include everything, so please excuse any omissions.
AUTHORS
Over the last decade and a half, we've had the honor of being able to interview a range of authors, who invariably are a mix of entertaining, challenging, candid, humorous, thoughtful and mind-bending.
Among the author interviews that stand out for us: Jill Alexander Essbaum, the poet who spoke with us in 2015 in connection with the publication of her first novel, Hausfrau; nonfiction author Bill Hayes, who talked with us in 2017 about Insomniac City, on his life in New York City with Oliver Sacks; a 2010 Max Shelf for Matterhorn by Karl Marlantes that included a playlist (!); in 2011, Christopher Buehlman on the publication of Those Across the River; Jesmyn Ward, just after she won the National Book Award in 2011 for her second novel, Salvage the Bones, and began to receive the attention she deserved; and Christopher Myers and Walter Dean Myers when in 2011 the father and son together published We Are America. And earlier this year, we featured amazing interviews with the Youth Media winners: Sibert winners Kevin Noble-Maillard and Juana Martinez-Neil and Printz winner A.S. King.
Some of our author interviews are part of a series that is now called Reading With... They ask authors to reply to a series of set questions and encourage them to add a question and answer of their own. One completely broke the mold: John Mutter's own Reading With... Other favorite Reading With... columns were in 2010, Jacqueline Woodson, a leader in the #KidLit4BlackLives effort who later became the Young People's Poet Laureate, National Ambassador for Young People's Literature and winner of multiple national and international awards; Héctor Tobar in 2011 just as his novel The Barbarian Nurseries was published. (In August, his next novel, The Last Great Road Bum, will be published by Farrar, Straus & Giroux.) And in 2009, we ran Reading With... columns featuring Iranian American author Gina B. Nahai; Chinese American author Jamie Ford; and, in 2011, Mexican American author Brando Skyhorse, and Pakistani American author Ayad Akhtar.
NEWS
Of all our scoops over the years, perhaps the one we're most proud of was about what had been the top-secret opening of the first Amazon Books store, in Seattle, Wash., in November 2015. Almost all the major news sources writing about Amazon Books attributed the scoop to us, and that day our name was seen by an estimated 35 million people. This was followed by a tour of that store--including amusing details such as that when the doors opened with news cameras rolling, a handful of people waiting on line applauded, some of whom were Amazon employees.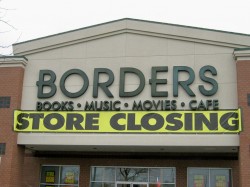 Among landmarks in bookselling over the past 15 years was the collapse of Borders in 2011, which we documented in July when the closing announcement was made. We also had an analysis of the series of bad steps that had led to the closing of the once-dominant chain. (One good thing to come out of the bankruptcy was the in-house employee financial support group that morphed into the Book Industry Charitable Foundation (Binc), which has this year become even more important than ever.)
The saga of Barnes & Noble, which many feared would go the way of Borders, was nearly as dramatic, and took a big shift last year when Elliot Management bought the bookseller and named James Daunt, who is also managing director of Waterstones in the U.K., its CEO. The sale resulted in the retirement of Len Riggio, perhaps the single-most powerful force in U.S. bookselling from the 1970s through the '90s. We offered an appraisal of his mixed 50-year career.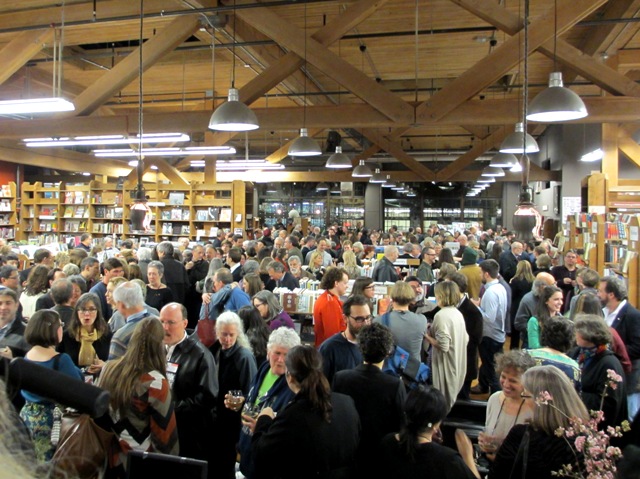 Wi9 opening reception at Elliott Bay Book Company, Seattle.
WINTER INSTITUTE
The first Winter Institute, created by the American Booksellers Association, took place in January 2006, and we feel a kinship with the conference, which has become wildly popular and the single most-important bookseller event in North America. We had a good feeling about it from the beginning, as we expressed in our report on the first show, in Long Beach, Calif. "Grade for ABA's First Winter Institute: A+." In fact, we wrote our very first check as a business to sponsor badge holders, which many of you have collected over the years.
Over the years, Winter Institute programs have featured a range of excellent topics and speakers. Consider New York restaurateur Danny Meyer, who in 2008 expounded on the value of the Hospitality Quotient in setting businesses--and bookstores--apart from the competition. And Daniel Pink, who has spoken at three Winter Institutes over the years, most recently in 2018, when he praised booksellers as "people who care about the life of ideas; people who care about the integrity of the community; people who care about science; people who care about truth."
Winter Institute has also been the place where major issues and trends often are first raised or applied to the book world, like the Town Hall at Wi12 in 2017, just after the inauguration of President Trump, when many called for greater diversity and inclusion at the ABA, in bookselling and in publishing in general. At the same Winter Institute and in a similar vein, Roxane Gay said during her keynote that "everything we do is political as readers, as writers, as booksellers, as people."
And in 2019, Margaret Atwood discussed The Handmaid's Tale and The Testaments, observing that books are "one of the places people go when they feel under both political and psychological pressure. It is actually quite helpful to know that other people have been through similar things before, and have come out of them."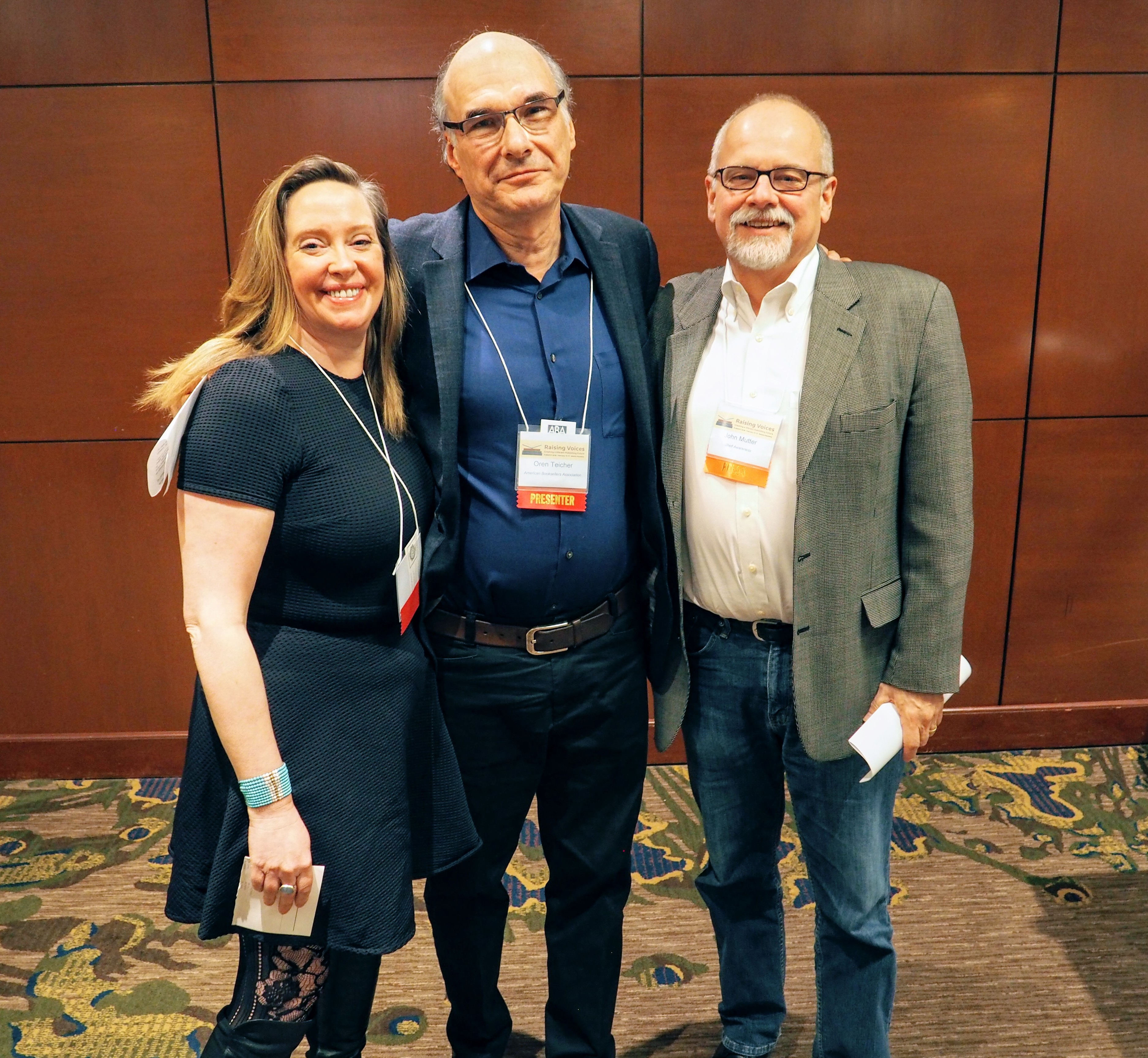 Jenn Risko, Oren Teicher and John Mutter, when Jenn and John won PubWest's Rittenhouse Award.
This year's Winter Institute in January (the last large in-person industry event for many of us) marked a major transition for the host ABA: the retirement of CEO Oren Teicher, who led a resurgence of indies over the previous decade (read our appreciation of all he did for independent bookselling as well as his perspective, early this year, on the accomplishments of and challenges faced by booksellers). At the same time, Wi15 marked the impending arrival of Allison Hill as Teicher's successor (read an interview with her here), whose first day came just as indies across the country were about to close their doors because of the pandemic. (We're glad to know she's doing a remarkable job under the most trying circumstances.)
IN MEMORIAM
Sadly, we've said goodbye to too many special and extraordinary people in the book world over the past 15 years. These include Rusty Drugan, executive director of the New England Independent Booksellers Association, who died in 2006 and had a most wonderful memorial service; bookman, jazzman and birdman Paul Kozlowski in 2014; beloved Carla Gray, shockingly on the eve of BookExpo in 2017; and, late last year, Knopf's Sonny Mehta. Most recently we remembered the delightful and supportive Carolyn Reidy, former president and CEO of Simon & Schuster.
And so many wonderful authors have left us, among them Studs Terkel in 2008, Maurice Sendak in 2012, and Toni Morrison last year.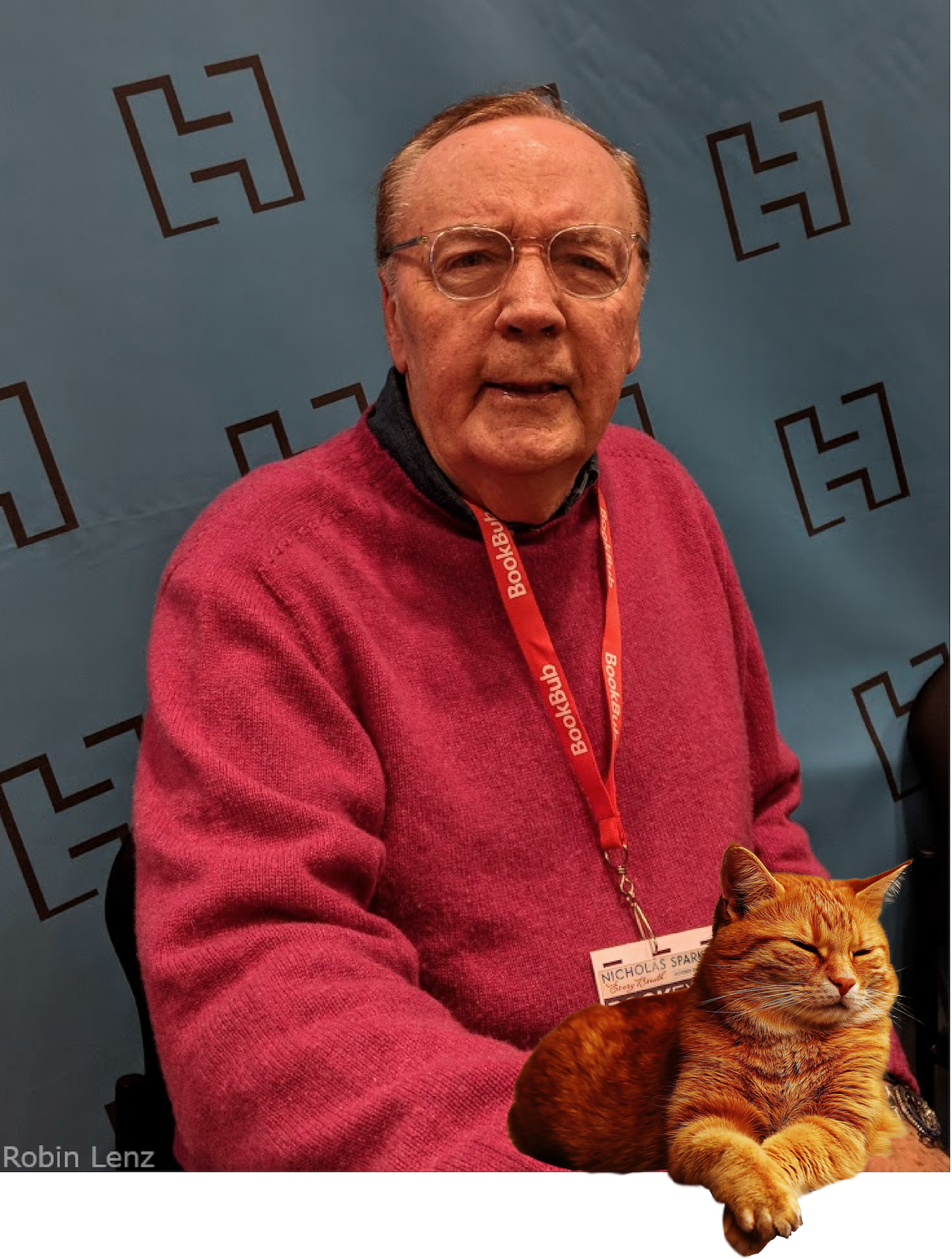 APRIL FOOLS
One of our most enjoyable traditions (sadly tempered this unusual year) has been our April Fools' Day issues. We receive more direct comments on these than any other issues, many of which chronicle just when the reader has realized that everything in the issue is a joke. Most of our April Fools stories continue to make us laugh. Among our favorites:
2008: Perseus Book Group, whose warehouse in Jackson, Tenn., had major difficulties, is buying Ingram's wholesaling and distribution business. The item caused such consternation by readers who didn't notice the issue's date that Ingram's CEO and president at the time, Skip Prichard, new to the job, wound up sending his first company-wide e-mail explaining that the item was a joke.
2014: Barnes & Noble decides to change its name officially to Barnes & Nobles, reflecting the "common usage" of a majority of its customers.
2017: The Trump Prezident Library is already under construction.
2019: James Patterson donates $50,000 for bookstore cat bonuses.
COLUMNS
For 14 years, Bob Gray has been contributing a weekly column that thoughtfully and philosophically explores bookselling and the world of books. He captures the mood and the zeitgeist, such as with his very first column, which appeared June 15, 2006, about bookstores' use of websites, which was so limited that in the column, he repeated the question, "Why do bookstores have websites?"
Among the many standout columns (about 700 altogether!) are "Reflections (Not Resolutions)," from New Year's 2013, outlining his approach to column writing, and "No Hotel ABA in Zoomlandia," from last month, marking the unthinkable: a cancelled BookExpo.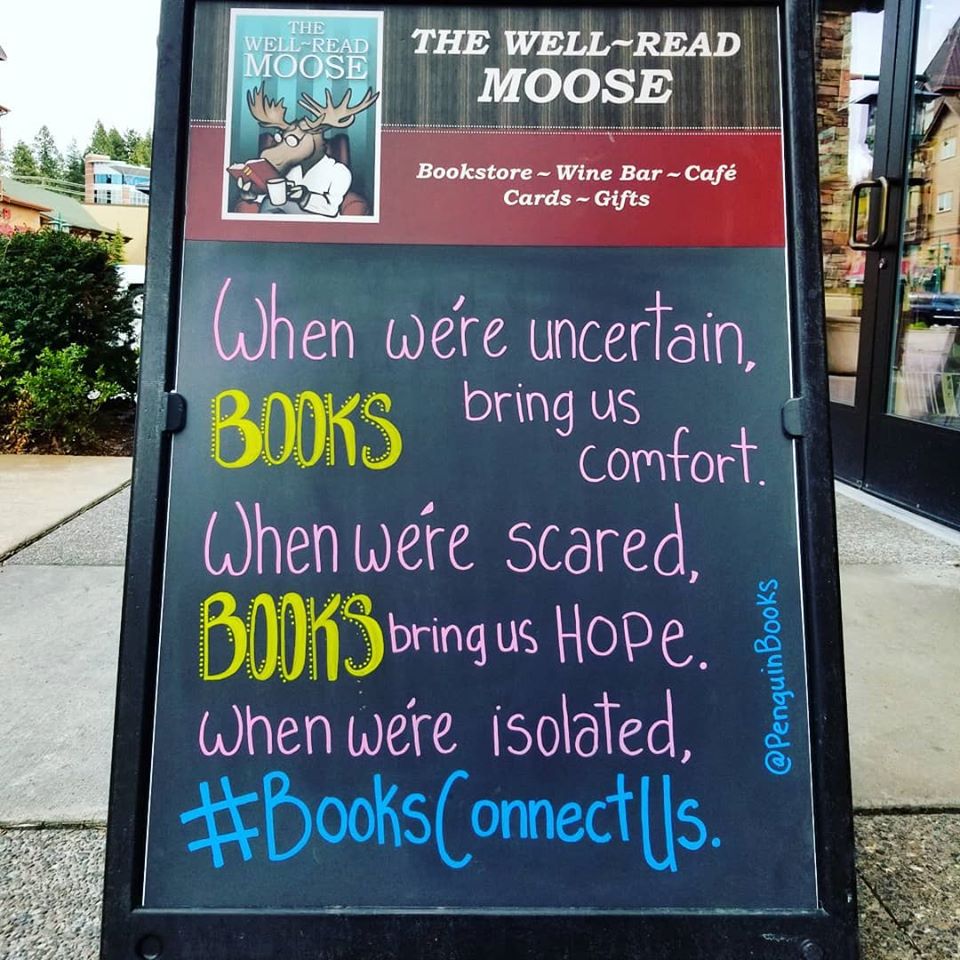 From the Well-Read Moose Bookstore & Café, Coeur d'Alene, Idaho
THE PRESENT DAY
For the past three months, news coverage has been different from what we've ever experienced. Before this year, sometimes we had to search for news to have a respectable amount of stories in an issue, and if there was an in-depth event or series of events to write up, it was like covering a conference--intense for a short while, but then followed by a weekend when one could recoup.
But since March, there's been an ongoing wave of news to report on, as stores began to close, then scrambled to figure out how to stay in business without allowing customers inside, then deciding when and how to reopen--and we've covered how people have rallied to help bookstores financially and in other ways. Then came the murder of George Floyd and protests against racism that rocked the world. Again there has been a steady wave of news to report on, from how booksellers have been supporting the movement and fighting for social justice and Black Lives Matter to how bookstores--and the book business in general--are changing to be more diverse and inclusive in a range of ways, to highlighting anti-racist and other pertinent books.
Our coverage has included daily "how bookstores are coping" store profiles and international updates and more information on individual stores and booksellers. Of course, like everyone else, we've been doing this while sheltering in place and experiencing all the personal tension of being in the midst of a pandemic. We're all a bit exhausted, and we know you're drained, too--but we all need this information to understand what's happening and do our jobs better and live better. We promise to keep the reports coming.